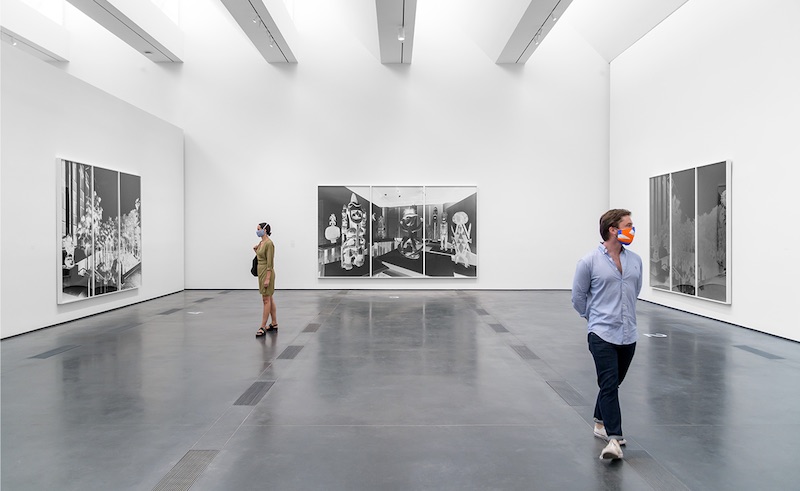 As of today, museums in Los Angeles County may officially reopen at limited capacity. LACMA has announced it will reopen on April 1 with six new shows, including a highly-anticipated Yoshitomo Nara retrospective.
Like other museums in the county, LACMA has been closed for over a year, offering only virtual programming and a few outdoor exhibits. On April 1, its indoor galleries will reopen for public viewing in accordance with Public Health guidelines. For now, there will be no in-person screenings or events, but the LACMA Store and the LACMA Café airstream will be open. Ray's & Stark Bar and Coffee + Milk will reopen on April 7.
Guidelines dictate a reduced capacity of 25%. This means that you won't be able to just wander in when you're in the area. You'll have to purchase a timed-entry ticket in advance online or by phone to ensure the museum isn't too crowded. You'll also need to wear your face mask and complete a health screening and temperature check upon arrival. Once inside, you'll find a new touch-free check-in system, one-way paths, and sanitization stations.
In addition to an extension of older exhibits, LACMA will have six brand new ones for you to check out:
Bill Viola: Slowly Turning Narrative (through June 27, 2021):

This one is a room-sized video installation by artist Bill Viola. From LACMA: "Slowly Turning Narrative includes two projections on a large central rotating screen. One presents images of virtually everything that constitutes life, embracing the broadest sweep from birth to death. The other shows a close-up of Viola's head incanting "the one who lives," "the one who acts," "the one who reads," and more. As this screen rotates, a mirror on the back comes into view, reflecting the image of the viewer in this video evocation of human existence."
Yoshitomo Nara (through July 5, 2021):

From LACMA: "Yoshitomo Nara is among the most beloved Japanese artists of his generation. His widely recognizable portraits of menacing figures reflect the artist's raw encounters with his inner self. A peripatetic traveler, Nara's oeuvre takes inspiration from a wide range of resources—memories of his childhood, music, literature, studying and living in Germany (1988–2000), exploring his roots in Japan, Sakhalin, and Asia, and modern art from Europe and Japan. Spanning over 30 years from 1987 to 2020, Yoshitomo Nara views the artist's work through the lens of his longtime passion—music. Featuring album covers Nara began collecting as an adolescent, paintings, drawings, sculpture, ceramics, an installation that recreates his drawing studio, and never-before-exhibited idea sketches that reflect the artist's empathic eye, this exhibition shines a light on Nara's conceptual process. One of the main highlights will be Miss Forest, a 26-foot outdoor painted bronze sculpture that will grace Wilshire Boulevard."
NOT I: Throwing Voices (1500 BCE–2020 CE) (through July 25, 2021):

This exhibit uses the art of ventriloquism to focus on the "misdirection of voice, silence, and sounds."
"Ventriloquism—objects forced to speak on behalf of an entire culture, age, or region—resonates within the history and logic of institutions devoted to the dissemination of knowledge such as libraries and museums."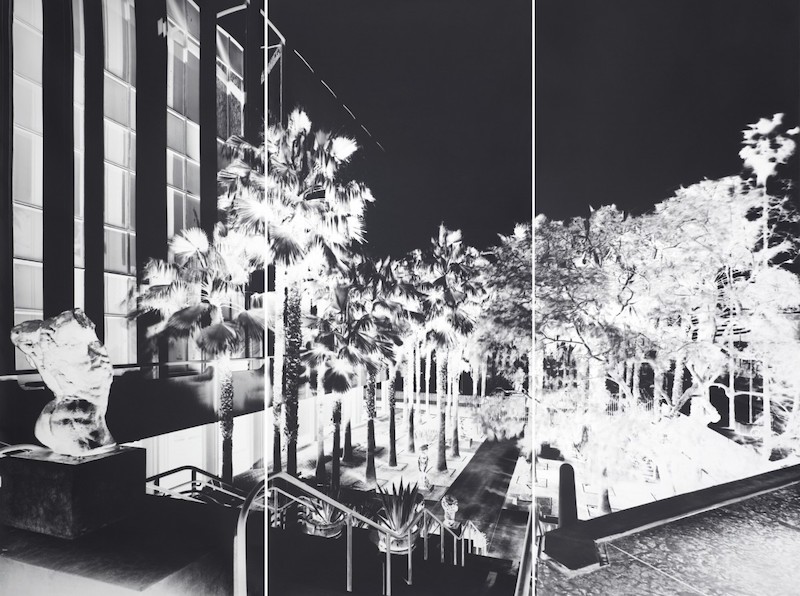 Vera Lutter: Museum in the Camera (through September 12, 2021):

This exhibit features work New York-based artist Vera Sutter completed in residence at LACMA between 2017-2019. The work examines the museum's architecture, galleries, and collection holdings.
From LACMA: "Lutter uses one of the oldest optical technologies still in use, that of the camera obscura. Before the invention of photography, it was known that if light traveled through a tiny hole into a darkened room, an image of the external world (off which the light rays had reflected) would re-form upside down on a wall opposite the tiny opening. By building room-sized cameras and placing unexposed photo paper across from a pinhole opening, Lutter has adopted the camera obscura as her singular working method, resulting in photographs with an ethereal, otherworldly beauty."
Cauleen Smith: Give It Or Leave It (through October 31, 2021):

A solo exhibit of film, video, and sculpture from L.A. artist Cauleen Smith.
Per LACMA: "Give It Or Leave It features a series of experimental portraits of different sites related to spirituality, creativity, and utopianism. Much of the research conducted for Smith's film projects has taken place in California, on location at Alice Coltrane's ashram, The Vedantic Center, and in history through a restaging of a photograph of nine dapper black men taken in 1966 at the Watts Towers by Bill Ray. Additional archival research delves into the 19th-century black spiritualist Rebecca Cox Jackson, who was the Eldress of the first black Shaker community in Philadelphia. These separate and unrelated universes coalesce into an emotional cosmos in Give It Or Leave It."
View From Here: Recent Acquisitions (ongoing):

This exhibit offers 16 newly acquired works, each one on view for the first time. Artists include Huguette Caland, Christina Fernandez, EJ Hill, Calida Rawles, Lynette Yiadom-Boakye, and more. Themes include "interiority and vastness, isolation and collectivity, stasis and movement and find resonance in our current cultural moment."
Ticket sales open to the general public on March 25 at 10 a.m. for dates April 1-6, while members can buy tickets starting March 19 at 10 a.m. for preview dates March 26–30. You can purchase online or by calling (323) 857-6010 between 10 a.m. to 5 p.m. daily. Ticket blocks will be released one week at a time.