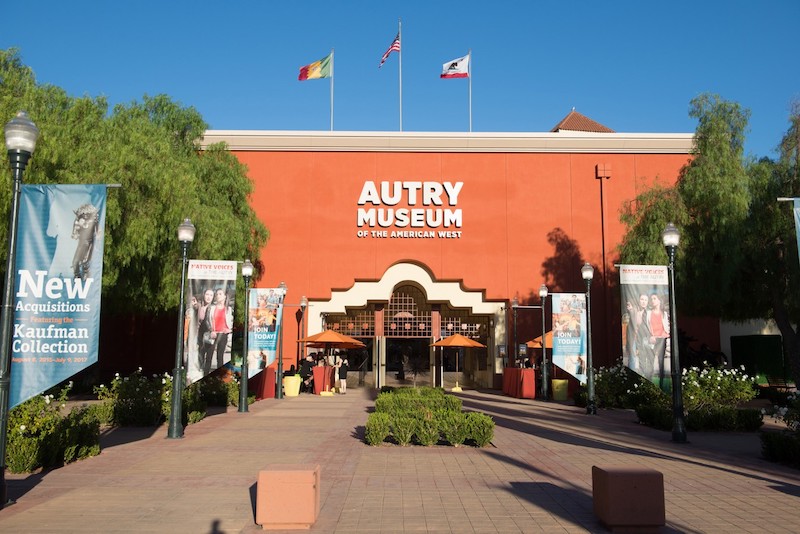 The Autry will welcome guests back at the end of the month with a handful of new exhibits, including the museum-favorite Masters of the American West.

The Autry will reopen to members starting March 30 and on April 6 for the general public. The Autry has been closed since March 14, 2020. Guests will be able to see two new exhibitions right away, and a third will open later in April. 
On view from March 30 through April 11 is Masters of the American West® Art Exhibition and Sale. This annual exhibit includes paintings and sculptures from over 60 Western artists, including Tony Abeyta, George Carlson, G. Russell Case, Tammy Garcia, Logan Maxwell Hagege, Mark Maggiori, Billy Schenck, and Terri Kelly Moyers. 
On view from March 30 through November 15 is When I Remember I See Red: American Indian Art and Activism in California. This exhibit "explores the intersection of Native art and activism, of the contemporary and historical, of social injustice and healing, has a particular resonance at this very moment in American history," according to a statement from Joe D. Horse Capture (A'aniiih), Vice President of Native Collections and the Ahmanson Curator of Native American History and Culture. It includes 70 works from emerging and mid-career artists in mediums including painting, sculpture, prints, photography, and video. 
Opening on April 13 is What's Her Story: Women in the Archives. This show looks at women's work through photos, letters, and diaries spanning the 20th and 21st centuries.

"You can't tell a story without an archive. Every piece of storytelling is influenced by some sort of memory, evidence, or activity that happened in the past," said Liza Posas, Head of Research Services and Archives at the Autry. "This is the seed thought behind the creation of What's Her Story: Women in the Archives. This exhibition presents fascinating women's narratives found within the Autry's archive collection, as well as showcases the behind-the-scenes labor of a predominately female workforce of librarians and archivists who strive to make these stories 'discoverable' throughout time."

What's Her Story remains on view through August 28. 
Guests may also visit the ongoing Art of the West gallery starting April 13. The downstairs galleries and the Ethnobotanical Garden are expected to reopen by April 20. The Cafe remains closed, though you can get snacks and bottled water at the Autry Store and enjoy them outside on the plaza or lawn. 
To visit, you'll need an advance reservation, which you can make online starting March 19 at noon. Masks, social distancing, temperature checks, and other COVID-19 safety protocols are required.