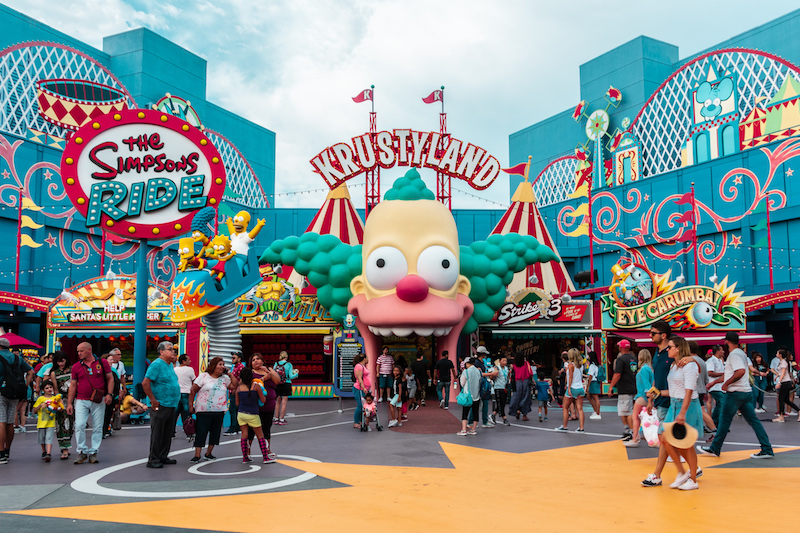 We used to tell you about all the things you could go out and do in Los Angeles on a daily, weekly, and monthly basis. Then, COVID-19 changed life for all of us, in a thousand small and massive ways. Until the pandemic is behind us, we'll post events that adhere to Public Health's current protocols—including plenty of at-home and online events—every Monday and Thursday. We hope they keep you busy, make you laugh, teach you something, or help you feel less alone.
This week, we've got theme park food fests, taco pop-ups, an outdoor billboard art show, drive-in screenings, science and art talks, and more. Have something you want to submit for next week? Hit us up: [email protected].
In-Person Events
Universal Studios Hollywood reopens March 12 for Taste of Universal, which will continue every weekend this month. The ticketed event gives guests access to shops and outdoor dining from restaurants in the theme park's upper lot, including The Wizarding World of Harry Potter and Springfield, USA areas. The experience includes your choice of five classic and new culinary items, photo ops, offers at several themed shops, and a preview of the Secret Life of Pets: Off the Leash shop. No rides yet, and don't forget your mask! Tickets are $48 on Fridays and $53 on Saturdays and Sundays.
dineL.A. Restaurant Week continues through March 14. The two-week promotion features special menus from over 200 restaurants across Los Angeles for on-site al fresco dining, as well as exclusive takeout and delivery options through Grubhub. (We've got some of our top picks in the delivery section below.)
Muralist Erin Yoshi's "Through The Land of WE" is an outdoor billboard project that spans from Playa Del Rey to Atwater Village March 10-28, celebrating themes of ecology, culture, and diversity. A map and guide will post here.
Cinespia is going the drive-in route this season with weekend movie screenings at the Greek Theatre. Speed, The Little Rascals, and Romy + Michele's High School Reunion screen this upcoming weekend.
CAP UCLA presents Ellen Reid SOUNDWALK, a GPS-enabled work of public art that brings the natural environment of Griffith Park to life through music. Created by Pulitzer Prize-winning sound artist Ellen Reid, the experience is dictated by the listener. As they explore the park, the app triggers musical cells that harmonize with the park's landscape. The app is free to download and will be available until 2023.
Street Food Cinema has pivoted to a drive-in at the Santa Monica Airport. Friday's slate includes Toy Story 3 and Selena.
Knott's Taste of Boysenberry Festival returns with a food event featuring over 80 boysenberry-inspired savory and sweet bites and themed beverages. The festival takes place on select dates through May 2. Tickets cost $45.
The L.A. Louver gallery presents David Hockney: My Normandy, an exhibition of 16 recent prints from the internationally acclaimed artist, including two 40-foot-long Frieze prints. This will be Hockney's 22nd solo exhibition with the gallery since 1978. This exhibit runs March 9 through May 1 on a by-appointment basis only.
STATE OF THE WORLD is a temporary outdoor mural exhibit in the Arts District that features 11 local artists connected to the neighborhood. A collaboration between Art At The Rendon and SO|DA Architecture, STATE OF THE WORLD provides a canvas for artists to raise awareness for social causes that are important to them and relevant in today's environment. On view through March.
WE Drive-Ins in Santa Monica is screening Disney's Raya & The Last Dragon all week long.
Glendale's Electric Dusk Drive-In will be screening Before Sunrise, Before Sunset, Cheech & Chong's Next Movie, and Bill & Ted's Excellent Adventure this week.
Hollywood Legion Theater at Post 43's drive-in cinema is open seven days a week. This week's films include 2001: A Space Odyssey, The Goonies, King Kong, The Maltese Falcon, and The African Queen. Reservations include popcorn, soda, and candy for each guest. Tickets start at $65 for two people.
The Cinelounge Drive-in in Hollywood's screenings include Mank, Nomadland, My Salinger Year, The World's a Little Blurry, and The Five Rules of Success this week. Don't forget to pre-order some of Cinelounge's gourmet popcorn!
The Corey Helford Gallery presents Seven, a new show featuring work from Andy Adamson, Helice Wen, kozyndan, Rodolfo Loaiza, Travis Lampe, Yang Cao and Zoé Byland. The show will remain on view through April 3.
Santa Monica Place has partnered with Rumble to offer an outdoor, full-body boxing class. No previous boxing experience is required, but you will need to wear your mask, social distance, and receive a temp check. Tickets are $32 per class or $225 for 10 classes here.
At-Home & Online Events
Join Ken Farley, Mars 2020 Project Scientist and W.M. Keck Foundation Professor of Geochemistry at Caltech, for a conversation about the "Perseverance on Mars" on March 10 at 5 p.m. Viewers will learn how this highly capable rover will investigate rocks deposited billions of years ago in search for evidence of possible Martian life.
The Jean Deleage Gallery at CASA 0101 presents the new exhibit Capturing Beauty: The Artwork and Photography of John Simmons. An Emmy Award-winning cinematographer, Simmons' photography chronicles major moments in history. The exhibit includes images of the civil rights movement, portraits of Angela Davis and Shirley Chisholm, and photos of protests in Georgia for the Voting Rights Act. On display until June 5, 2021.
Delejos is an immersive theater experience conducted over Zoom from writer/actor/comedian Julia Piñero. When her partner, Jose Zambrano, died unexpectedly in 2019, Piñero turned to Zambrano's unfinished virtual reality game about long-distance love, Delejos. Though Delajos was originally about Zambrano's forced immigration from Venezuela, it took on a new meaning for Piñero after his death. This two-hour performance is "a true story that weaves together standup comedy, live music, and a virtual reality experience." Tickets are currently available through March 20. They're free, but you'll need to reserve them here.
CaltechLive! presents Herbert Siguenza's A Weekend with Pablo Picasso, an on-demand film adapted from Siguenza's solo show in which he takes the audience back to 1957 France to spend three days with Picasso as he draws and paints inside his private studio. Tickets are $35 and provide access until April 4.
From Katnip Productions and Spy Brunch LLC comes "A Dark and Stormy Murder." This interactive, online murder-mystery takes place aboard a tiki-themed cruise in 1948. All guests will get a character name and bio in advance. Tickets are $30 for general admission. A VIP ticket for $75 includes a food and cocktail package for pickup from the Roguelike Tavern in Burbank. Remaining show dates include March 12 and 13. More info and tickets here.
From LA Plaza de Artes y Cultura, Carlos Aguilar AKA Big Brown Dad will ask four comics how they're staying funny and making money during quarantine. The virtual show includes Kim Congdon, Vanessa Gonzalez, Erik Rivera and Danny Vega. Register to view on Zoom or watch on Facebook on March 12 at 7 p.m.
Zocalo Public Square presents "Can Women's Movements Save the World?" on March 8 at 4:30 p.m. Per a release: "2020 was the year that women emerged indisputably as the world's most successful leaders, from Taiwan President Tsai Ing-wen and New Zealand Prime Minister Jacinda Ardern's COVID responses to German Chancellor Angela Merkel saving the eurozone and minimizing damage from Brexit—more important was the growing success of transnational feminist movements. On International Women's Day, join us to discuss the most promising opportunities right now for transnational women's movements to save our world." Register here.
On International Women's Day (March 8), the Fowler with host a conversation with Adenrele Sonariwo, the founding director of L.A.'s first contemporary art gallery from Africa, and Nigerian artists Marcellina Akpojotor, Tonia Nneji, and Chidinma Nnoli. Register here.
The Groundlings Theatre and School will host performances in celebration of Women's History Month all March. See the month's schedule and purchase tickets at www.groundlings.com.
The Getty Villa Museum presents Laurel Ollstein's Pandora, a feminist retelling of the myth of Pandora's box, Feb. 26 through March 19. You can register to watch the pre-recorded reading here. You'll need to register to receive the viewing password.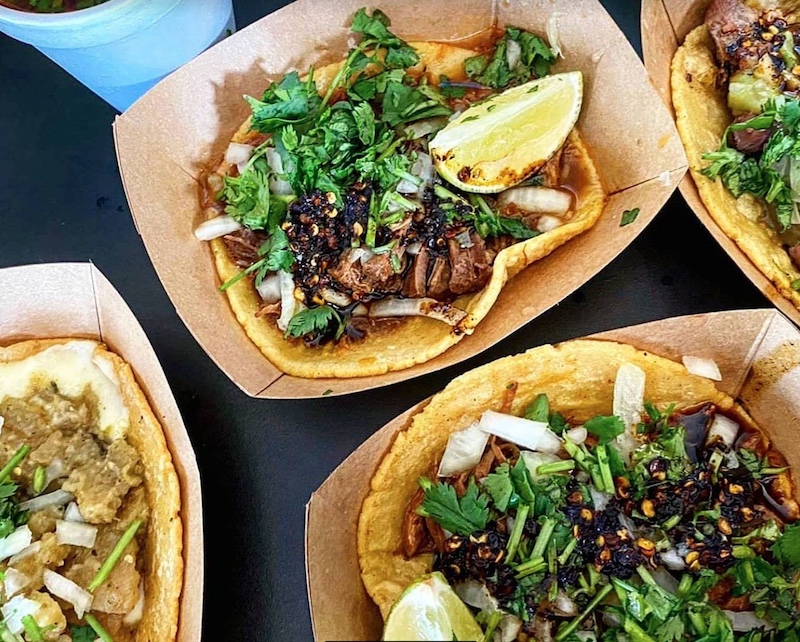 Pickup & Delivery
Bill Esparza's taco festival Taqueando pivoted last year to a multi-week pop-up in DTLA featuring rotating guest chefs and their most popular tacos. For 2021, Taqueando continues with a four-week pop-up (March 10 – April 25) by Chef Priscilla Curiel of San Diego's famed Tuétano Taquería, Ricky Piña of Ricky's Fish Tacos, and tamales (to-go) from Tamales Elena y Antojitos. Wine, beer, and cocktails will also be on the menu. The Taqueando pop-up is open Wednesday through Sunday from 5-10 p.m. for takeout, delivery, and outdoor dining on the restaurant's patio (first-come, first-served basis). Note that Ricky's Fish Tacos will only be serving Thursday through Saturday.
Korea's SM Entertainment has landed in Los Angeles with an online-only version of its popular restaurant and club SMT. The global company already has locations in Korea and Tokyo, and has plans to open a two-story operation in the heart of Koreatown later this year. For now, the public can get a taste of what's to come through delivery from DoorDash, GrubHub, and Fantuan. The introduction menu includes an assortment of yubuchobap, a multi-color veggie & bulgogi bowl, japchae fried dumplings, bulgogi puff pies, and more.
Little Dom's rolls out a National Meatball Day menu along with drink specials on March 9. Guests can grab meatball 6-packs (classic, chicken, vegan) for $18 and a Classic Spaghetti & Meatballs for $21. Drink specials include $5 negroni shots, $20 MiniBar frozen margarita bags for two, and more. Available for take-out and outdoor dining.
Tallula's in Santa Monica will launch Taco Tuesdays this week on its festive outdoor patio. All night long, guests can enjoy $5 tacos that include beer-battered rock cod, classic hard shell tacos, and a rotating Taco Del Día. No taco is ever complete without a little tequila, and during Taco Tuesdays, guests can also take advantage of $9 house margaritas or go big with a carafe for $34.
MR CHOW in Beverly Hills has a specialty bento box for takeout or delivery with items like fresh lobster with ginger, fiery beef, home-style dumplings, shanghai cucumber, and a side of special rice for $50.
Contemporary Greek eatery Theía is helping to combat the Monday blues with half-off bottles of wine every week. Mondays are also Industry Night where restaurant and bar workers get 15% off on the dinner, cocktail, and spirits menus. This excludes the wine list and happy hour specials.
As we mentioned, it's dineL.A. Restaurant Week (March 1-14). Here are some top picks for on-site al fresco dining or exclusive takeout or delivery through Grubhub.
Clementine in Century City is offering a Deluxe Afternoon Tea Package for $35 that comes with loose leaf tea, a variety of tea sandwiches, scones, and a selection of sweets.
Rossoblu in DTLA has a three-course dine-in only special that includes items like roasted duck breast, seafood brodetto, big eye tuna carpaccio, and more for $55 a person. The menu is available Wednesday-Sunday.
Legendary Indian restaurant Mayura in Culver City is participating this year with a takeout-only menu for lunch ($35) and dinner ($65). Designed as a meal for two people, the promotion includes your choice of appetizer, two main dishes, bread, dessert, and drinks.
Lunetta in Santa Monica is participating in dineL.A. March 3-12. They've got a $35 three-course lunch that includes a starter, main, and a chocolate fudge brownie with mascarpone for dessert. Entree choices include a crispy chicken chopped salad, steak frites, or BBQ salmon. Lunetta's dinner menu is $65 per person and includes a white bean hummus amuse bouche, your choice of starter, sea scallops, your choice of main (options include mushroom bucatini, pan-roasted John Dory, or filet of beef), and your choice of dessert (sticky toffee pudding, chocolate truffle cake, or brown sugar panda cotta). Available for dine-in or takeout. 
Bone Kettle in Pasadena will host dine-in-only specials. Its two-course $20 lunch menu starts with either citrus-brined chicken wings or spicy papaya salad paired with Bone Kettle's legendary 36-hour bone broth noodles with your choice of top sirloin or ginger-seared chicken, or a vegan broth with noodles and crispy tempeh. The lunch menu is available Monday-Friday. For dinner, a $45 four-course prix fixe menu is available with options like duck confit, mushroom dumplings, braised oxtail noodles, Indonesian crab fried rice, dan dan noodles, and more.  
Serving Creole cuisine in L.A. since 1969, Harold and Belle's in Jefferson Park is offering a $35 deal for lunch or dinner daily. It includes your choice of a margarita or hurricane cocktail; gumbo with seafood, ham, chicken and sausage, or okra (vegetarian); plus beignets for dessert. Available for delivery and takeout only. 
Casa Vega in Sherman Oaks has a $20 lunch special that includes a build-your-own combo of two items, a vegetarian burrito, or a trio of tacos. The meal comes with vanilla cream-filled churros or flan for dessert. The $35 dinner special includes Casa Vega's famous margarita, a starter, and the entree and dessert options mentioned in the lunch special. The dineL.A. menu is available for dine-in and takeout. 
Silver Lake's All Day Baby has a $25 Lemmy Special that includes a smoked beef and cheese sandwich, fries, and a cocktail. Available for dine-in, delivery, and takeout. Open Wednesday-Sunday. 
DTLA's Poppy + Rose is open for dine-in, takeout, and delivery. For dineL.A., the three-course $35 special includes options like buttermilk biscuits, wild mushroom toast, shrimp + grits, brown butter fried chicken sandwiches, steak frites, espresso chocolate mousse, and more. Guests dining in for the special menu must have all parties at the table participating in the dineL.A. menu as well.  
Dal Rae, the old school steak house in Pico Rivera, is offering a $25 lunch menu that includes two courses, and a $65 dinner menu that includes three courses. Available for dine-in or takeout.
Family-owned Chao Krung is one of L.A.'s oldest Thai restaurants. For dineL.A., they have a three-course $20 lunch and $45 dinner menu. Available for dine-in, takeout, and delivery. All guests must participate in dineL.A. when dining in.
Santa Monica's Socalo is offering a three-course lunch at $20 and a four-course dinner at $45. The menu includes items like ceviche tostada, Vampiro steak and shrimp tacos, lamb birria, churro tots, and more. Available for dine-in, takeout, or delivery.
All three Tsujita locations in Sawtelle's Japantown are participating in dine L.A. Each has a two-course $20 lunch menu that includes a selection of ramen and your choice of starter, but ramen and starters vary with each location. The $45 dinner-for-two menu at the original Tsujita and Killer Noodle includes starters like rice bowls, takoyaki, and gyoza paired with two bowls of ramen and alcohol. 
Manuela, located at the Hauser & Wirth gallery in the Arts District, is offering a three-course lunch ($30) or dinner ($55) menu for dine-in, delivery, and takeout. Black bean chilaquiles, wood-grilled Jidori chicken thigh, ocean trout tartare, Peads & Barnetts pork chop, and burnt honey cake are just a few of the choices. Open Tuesday-Sunday.
Japanese fried chicken specialist Pikunico has a $15 lunch deal that includes its popular golden chicken sandwich and a flourless brownie cookie. For dinner, Pikunico has a family meal that feeds four (two adults, two kids) and includes a pound of tenders, slaw, two onigiri, fingerling fries, pickles, three dipping sauces, and four chocolate chip cookies for $35. Open Tuesday-Sunday at ROW DTLA for delivery and takeout only.
For dineL.A., 13 of the Original Farmers' Market food vendors are doing $15 lunch specials including DuPars, The Gumbo Pot, Trejo's Tacos, and The French Crepe.
Ms Chi in Culver City is offering a $15 lunch menu that includes house-made scallion pancakes and your choice of dumplings. The family-style dinner menu includes multiple courses like soy sauce cornish hen, crispy skin salmon, and salt & pepper shrimp for $45 per person.
Need more delivery and takeout options? Check out our latest comprehensive guide here.