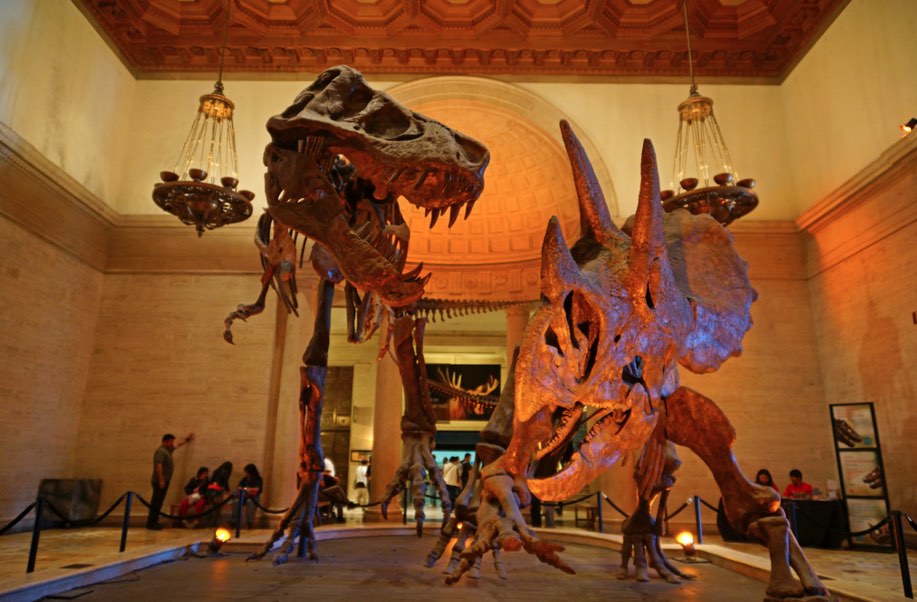 We used to tell you about all the things you could go out and do in Los Angeles on a daily, weekly, and monthly basis. Then, COVID-19 changed life for all of us, in a thousand small and massive ways. Until the pandemic is behind us, we'll post events that adhere to Public Health's current protocols—including plenty of at-home and online events—every Monday and Thursday. We hope they keep you busy, make you laugh, teach you something, or help you feel less alone.
This week, we've got screenings and film discussions, new art openings, a Clubhouse for a good cause, dineL.A. deals, and more. Have something you want to submit for next week? Hit us up: [email protected].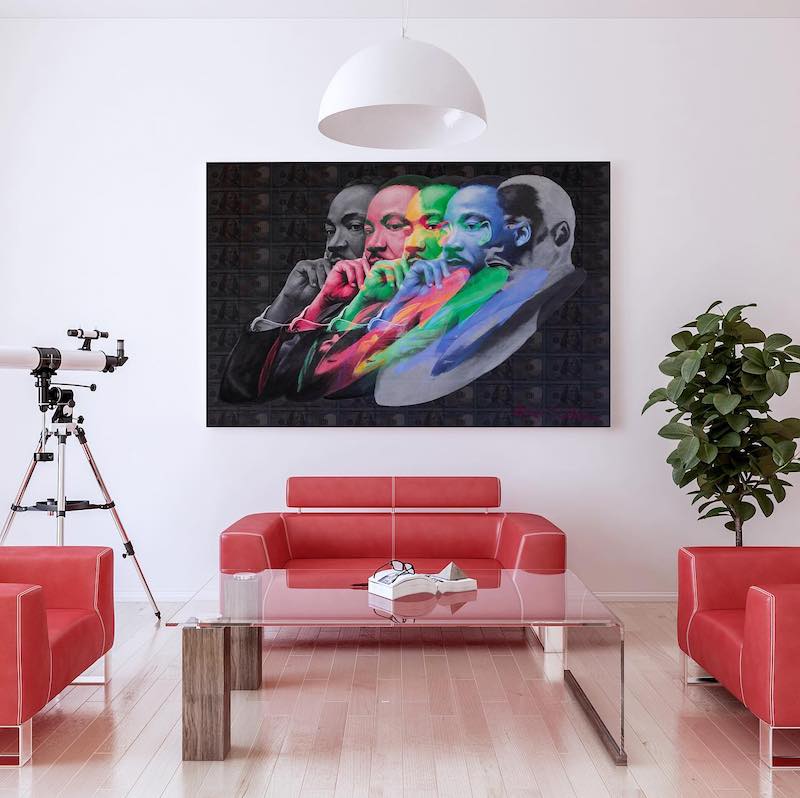 In-Person Events
CAP UCLA presents Ellen Reid SOUNDWALK, a GPS-enabled work of public art that brings the natural environment of Griffith Park to life through music. Created by Pulitzer Prize-winning sound artist Ellen Reid, the experience is dictated by the listener. As they explore the park, the app triggers musical cells that harmonize with the park's landscape. The app is free to download and will be available until 2023.
Street Food Cinema has pivoted to a drive-in at the Santa Monica Airport. Friday's slate includes Bridesmaids and High School Musical.
STATE OF THE WORLD is a temporary outdoor mural exhibit in the Arts District that features 11 local artists connected to the neighborhood. A collaboration between Art At The Rendon and SO|DA Architecture, STATE OF THE WORLD provides a canvas for artists to raise awareness for social causes that are important to them and relevant in today's environment. On view through March.
Glendale's Electric Dusk Drive-In will be screening True Romance, Harold and Kumar and Pineapple Express this week.
Hollywood Legion Theater at Post 43's drive-in cinema is open seven days a week. Upcoming films include Batman and Willy Wonka & The Chocolate Factory. Reservations include popcorn, soda, and candy for each guest. Tickets start at $65 for two people.
Artist Arthur J. Williams, Jr.'s DaVinci Art Gallery is now open in Beverly Hills for private appointments, Tuesdays through Saturdays from noon to 6 p.m. Williams went to prison for counterfeiting and spent the final seven years of his sentence studying painting. He now uses his skills in a legal way: creating detailed, money-themed oil paintings.
The George Billis Gallery currently has two shows: Audra Weaver's "Other Shores," and Patricia Chidlaw's "Darkness. Dawn." Both are available to see by appointment only, Weds-Sat., 10 a.m. to 4 p.m., through April 3.
The Cinelounge Drive-in in Hollywood's upcoming screenings include the documentary Billie Eilish: The World's a Little Blurry, (Feb. 26 to March 4), horror film The Vigil (Feb. 26 to March 4), and drama Nomadland (Feb. 23 through March 4). Don't forget to pre-order some of Cinelounge's gourmet popcorn!
The Corey Helford Gallery presents Seven, a new show featuring work from Andy Adamson, Helice Wen, kozyndan, Rodolfo Loaiza, Travis Lampe, Yang Cao and Zoé Byland. The show will remain on view through April 3.
Santa Monica Place has partnered with Rumble to offer an outdoor, full-body boxing class. No previous boxing experience is required, but you will need to wear your mask, social distance, and receive a temp check. Tickets are $32 per class or $225 for 10 classes here.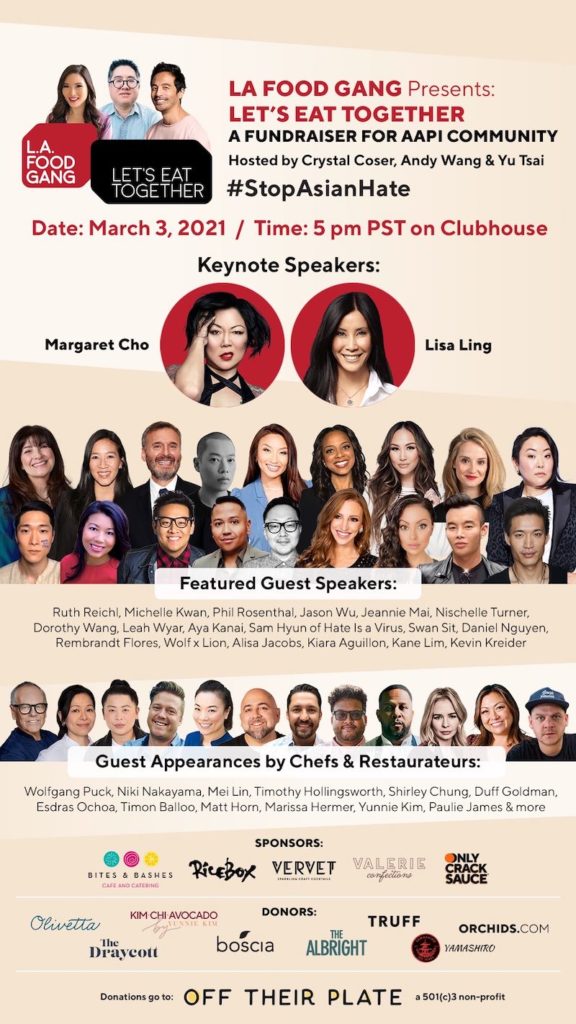 At-Home & Online Events
On March 3, join LA Food Gang for Let's Eat Together, a virtual Clubhouse event featuring celebrities, activists, chefs, and allies speaking on how to uplift marginalized voices while supporting both AAPI restaurants and the AAPI community. Margaret Cho and Lisa Ling will lead the event as keynote speakers. The program will also feature appearances by Olympian Michelle Kwan, designer Jason Wu, the cast of Bling Empire, Samuel Hyun of Hate Is A Virus, Phil Rosenthal, Wolfgang Puck, Niki Nakayama, and many others. The public can also help Let's Eat Together raise funds for non-profit Off Their Plate by donating money or bidding on auction items from the organization. Off Their Plate, a 501(c)3 non-profit, will distribute all funds raised from the event to struggling AAPI restaurants, who will in turn make meals for AAPI community organizations across the country. Those unable to join the live virtual event can also watch event highlights on Off Their Plate's website.
JAPAN HOUSE Los Angeles is offering a complimentary screening of the 2012 hand-drawn animated film A Letter to Momo all month long. Registration is requited.
Multi-platinum selling artist Kygo will livestream his upcoming performance on March 4 from a snow-capped mountaintop in the Sunnmore Alps in his home country of Norway. He will be joined by special guests to perform classic hits from Cloud Nine, Kids in Love, and his latest record Golden Hour.
On March 2 at 10 a.m., the 50th annual Blue Ribbon Children's Festival will go online, featuring dance performances and lessons with a curriculum guide customized for students in grades 3-12. Watch on The Music Center's Offstage virtual platform.
NHM's First Fridays returns on March 5 with DJs, a cocktail lesson, a conversation about Home x Habitats, and a performance by Neil Frances. The discussion will explore what home means in a work-from-home world. RSVP here.
PBS SoCal and the L.A. Times present a virtual screening of PBS's new three-part series Hemmingway, followed by a discussion with filmmakers Ken Burns, Lynn Novik, journalist Lesley Blume, and author Rachel Kushner, moderated by LA Times journalist Patt Morrison. The event is on March 4 at 8 p.m. Register here.
The Lowell Milken Center for Music of American Jewish Experience's next masterclass features clarinetist David Krakauer on March 2 at 5 p.m. Free.
American Cinematheque has several events this week including a Q&A with Dear Comrades! director Andrei Konchalovsky on March 1, a Q&A with I'm No Longer here writer/director Fernando Frías on March 2, a Q&A with Minari director Lee Isaac Chung and producer Chistina Oh on March 3, and a Q&A with Judas and the Black Messiah director Shaka King and stars Daniel Kaluuya and Dominique Fishback on March 4.
OxyArts presents a collection of short films from the Karrabing Film Collective on March 3 at 5 p.m. Per a release: "The Karrabing Film Collective is a media group based in Australia's Northern Territories that uses filmmaking and installation as a form of Indigenous grassroots resistance and self-organization. The collective's members—predominantly living in the Belyuen community—together create films using an "improvisational realism" that opens a space beyond binaries of the fictional and the documentary, the past and the present." A Q&A will follow the screening. Register here.
Starting March 2, The Groundlings Theatre and School will host a series of performances in celebration of Women's History Month. It kicks off with comedy show ONE! With Edi Patterson, with several other improv shows and more to follow. See the month's schedule and purchase tickets at www.groundlings.com.
The GRAMMY Museum presents "Ringo: Peace & Love" on March 4. The program features "new and archival interviews conducted with Bob Santelli, Founding Executive Director of the GRAMMY Museum, as well as a virtual version of the groundbreaking 2013 exhibit: Peace & Love." This exhibit and other programs are available to members of the museum's COLLECTION:live streaming service. Get it for $2.99 a month or $29.99 a year.
Join LA Plaza de Cultura y Artes on March 3 at 7 p.m. for "Spirals of Time with Mujeres de Maiz." Per a release: "Join us…for a plática with Claudia Mercado and Maritza Alvarez of Mujeres de Maiz as they share the group's own specific blend of mind, body, spirit, and cultural work. Mujeres de Maiz, which started 24 years ago for Women's Herstory Month, will share a bit of their holistic ARTivist women's work and introduce their upcoming virtual season as well as video features from performances and programming since 1997." Register to view on Zoom or watch on Facebook.
The Getty Villa Museum presents Laurel Ollstein's Pandora, a feminist retelling of the myth of Pandora's box, Feb. 26 through March 19. You can register to watch the pre-recorded reading here. You'll need to register to receive the viewing password.
Zocalo Public Square will host the discussion " What Does a Feminist Foreign Policy Look Like?" on March 2 at 5 p.m. Join Scripps College professor of politics Nancy Neiman and Foreign Policy Interrupted CEO and co-founder and New America fellow Elmira Bayrasli to explore what a feminist foreign policy would look like for America and the world. Register here.
Long Beach's International City Theatre opens its 36th season with a virtual presentation of Yasmina Reza's Tony award-winning play Art. It streams on-demand Feb. 18 through March 8.
On March 2, JAPAN HOUSE Los Angeles will host a candid conversation with True Mothers award-winning writer and director Naomi Kawase, and Claudia Puig, President of the Los Angeles Film Critics Association. The live virtual event will explore the theme of "Mothers and Film Making." True Mothers has received much acclaim and has been selected to represent Japan for 2021 Oscar consideration in the International Film category. Screen True Mothers for free here until March 10.
KP Projects Gallery has two new virtual exhibits on view Feb. 27 through March 20. Holly Elander's "Our Home" consists of "simply narrated acrylic paintings, driven by the artist's self-proclaimed desire to understand the interactions and connections between people and nature." Vonn Sumner's "Burning Down the House" features subjects the artist says he "generally loves to look at: trashcans, dumpsters, empty industrial buildings, the way that fire dances and licks the air."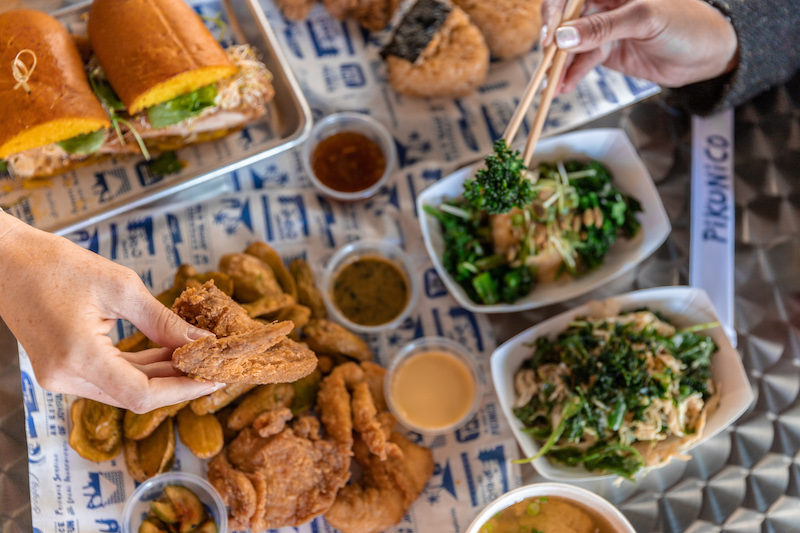 Pickup & Delivery
dineL.A. Restaurant Week returns for its spring edition from March 1-14. The two-week promotion features special menus from restaurants across Los Angeles for on-site al fresco dining, as well as exclusive takeout and delivery options through Grubhub.
Bone Kettle in Pasadena will host dine-in-only specials. Its two-course $20 lunch menu starts with either citrus-brined chicken wings or spicy papaya salad paired with Bone Kettle's legendary 36-hour bone broth noodles with your choice of top sirloin or ginger-seared chicken, or a vegan broth with noodles and crispy tempeh. The lunch menu is available Monday-Friday. For dinner, a $45 four-course prix fixe menu is available with options like duck confit, mushroom dumplings, braised oxtail noodles, Indonesian crab fried rice, dan dan noodles, and more.
Serving Creole cuisine in L.A. since 1969, Harold and Belle's in Jefferson Park is offering a $35 deal for lunch or dinner daily. It includes your choice of a margarita or hurricane cocktail; gumbo with seafood, ham, chicken and sausage, or okra (vegetarian); plus beignets for dessert. Available for delivery and takeout only.
Casa Vega in Sherman Oaks has a $20 lunch special that includes a build-your-own combo of two items, a vegetarian burrito, or a trio of tacos. The meal comes with vanilla cream-filled churros or flan for dessert. The $35 dinner special includes Casa Vega's famous margarita, a starter, and the entree and dessert options mentioned in the lunch special. The dineL.A. menu is available for dine-in and takeout.
Silver Lake's All Day Baby has a $25 Lemmy Special that includes a smoked beef and cheese sandwich, fries, and a cocktail. Available for dine-in, delivery, and takeout. Open Wednesday-Sunday.
DTLA's Poppy + Rose is open for dine-in, takeout, and delivery. For dineL.A., the three-course $35 special includes options like buttermilk biscuits, wild mushroom toast, shrimp + grits, brown butter fried chicken sandwiches, steak frites, espresso chocolate mousse, and more. Dine-in service is only available for those ordering off the dineL.A. menu.
All three Tsujita locations in Sawtelle's Japantown are participating in dine L.A. Each has a two-course $20 lunch menu that includes a selection of ramen and your choice of starter, but ramen and starters vary with each location. The $45 dinner-for-two menu at the original Tsujita and Killer Noodle includes starters like rice bowls, takoyaki, and gyoza paired with two bowls of ramen and alcohol.
Manuela, located at the Hauser & Wirth gallery in the Arts District, is offering a three-course lunch ($30) or dinner ($55) menu for dine-in, delivery, and takeout. Black bean chilaquiles, wood-grilled Jidori chicken thigh, ocean trout tartare, Peads & Barnetts pork chop, and burnt honey cake are just a few of the choices. Open Tuesday-Sunday.
Japanese fried chicken specialist Pikunico has a $15 lunch deal that includes its popular golden chicken sandwich and a flourless brownie cookie. For dinner, Pikunico has a family meal that feeds four (two adults, two kids) and includes a pound of tenders, slaw, two onigiri, fingerling fries, pickles, three dipping sauces, and four chocolate chip cookies for $35. Open Tuesday-Sunday at ROW DTLA for delivery and takeout only.
Urban Plates, the approachable and ethically sourced eatery, has expanded its Los Angeles footprint with two new digital kitchens. Operating solely on delivery, the "North Los Angeles" kitchen caters to Glendale, Eagle Rock, Silver Lake, Atwater Village, Glassell Park, Highland Park, Montecito Heights, Downtown Los Angeles, Cypress Park, and South Pasadena. The "West Los Angeles" kitchen offers delivery and pickup and serves Westwood, Brentwood, Century City, Holmby Hills, Santa Monica, Mar Vista, Cheviot Hills, and Beverlywood. Urban Plates's monthly subscription program, Plate Pass, is also extending for another two months (March and April). Members pay a one-time $20 fee, then get every entrée in March and April for only be $10. Sign-up for Plate Pass ends on March 3.
Need more delivery and takeout options? Check out our latest comprehensive guide here.