The following is a guest post co-written by Greg Gonzalez and Daniel Zafran, the co-hosts of LA Meekly, a monthly podcast dedicated to the unique history of the city of Los Angeles. 
Long before the boys in blue set cleat in Dodger Stadium, Los Angeles had a thriving baseball scene of its own that stretched from Boyle Heights all the way to Catalina Island.
Not only did we have home grown minor and semi-pro league squads, but many MLB teams and players passed through town on their paths to glory. Through research for the two most recent episodes of our Los Angeles history podcast, we've gleaned insight into some of the most interesting moments in the pre-Dodger history of Los Angeles baseball.
And it all starts when the lights go down…
1. Night and Game
Originally billed as a novelty, the first night game on the west coast was held in Los Angeles in 1893 near 7th and Alameda. The concept was so novel that players came to bat wielding umbrellas and the game had to be put on hold when the umpire's pet bulldog, which he had brought to the game, forgot his obedience training and would not drop the ball. This dog was the inspiration for the Dodger Dog.
2. Baseball Gets Fatty
In 1919, silent film star Roscoe "Fatty" Arbuckle bought the Hollywood Stars when they were still known as the Vernon Tigers. He led them to two Pacific Coast League championships before selling the team because he was worried he was too fat and misguidedly thought it would be a quick way to lose a few pounds.
3. Cubs In Catalina
The Chicago Cubs had visited Los Angeles for spring training a handful of times in the early 1900s (including Brookside Park in 1917) but they finally committed in 1921 when their new owner, gum enthusiast William Wrigley Jr., brought them to his personal floating fortress, Catalina Island, as their new spring training facility. They were being fawned over by Wrigley and locals alike here until 1951 when it snowed one spring and the team got confused and thought they were back in Chicago so they all went home.
4. Wrigley's Believe It or Not
When you think of Wrigley Field you think of Chicago. No you don't, the world's first Wrigley Field was in L.A.'s very own South Central near San Pedro & 41st Place. Wrigley built it in 1925 for his beloved Los Angeles Angels of the Pacific Coast League and while the park in Chicago is older, it was still called Cubs Park at the time.
5. Sox In The Spring
It's tradition for major league teams from the east coast to head west towards warmer climates for their spring training and Los Angeles is as warm and western a climate as you're gonna get. In 1933, Chicago's own White Sox set up camp at the baseball field at Brookside Park near the Rose Bowl in Pasadena. They came here almost every year up until 1950 when they decided Los Angeles' pizza just wasn't deep enough and vowed never to return.
6. El Primero
A local player from the Mexican-American leagues, Baldomero "Mel" Almada, joined the Boston Red Sox on September 9, 1933 to become the first Mexican player in the major leagues. And with that ended all American objection to Mexican immigration.
7. Pork in East L.A.
Led by not-Saved By the Bell star Mario Lopez, Los Chorizeros of the Mexican-American Baseball League became local sensations in Boyle Heights winning 19 city championships between 1934 and 1973 earning them the nickname "The Yankees of East LA." Lopez's chorizo producing Carmelita Provision Company still honor the team with their logo of a pig dressed for a baseball game just seconds before being slaughtered.
8. Winter-gration
Although not yet integrated, the California Winter League would regularly pit all white teams against local Negro league teams such as the L.A. White Sox who played at White Sox Park in Boyle Heights. It should have been a home run for racial equality, turned out it was just a triple.
9. The Other DiMaggio
Ya know, we had a DiMaggio too. In the mid-30's, Joe DiMaggio's oldest brother, Vince, played two seasons as outfielder for the Hollywood Stars. Which, unfortunately for Vince, was not a point of pride in the DiMaggio family for very long.
10. Stars of San Diego
In 1936, one of the early incarnations of the Pacific Coast League's Hollywood Stars moved south to San Diego to become the San Diego Padres who, decades later, would join the major leagues and become the team we all love to forget.
11. Here's To You, Mr. Robinson
Another player in Brookside Park was a shortstop for the Pasadena City College baseball team who scored two runs against the White Sox in a 1938 exhibition game. That player's name? Jackie Robinson. Yes, THAT Jackie Robinson. The team was so impressed that they gave him a secret tryout at Brookside Park in 1942. He didn't get chosen due to what the team saw as irreconcilable racial differences but the baseball field was renamed Jackie Robinson Memorial Field in 1988 nonetheless.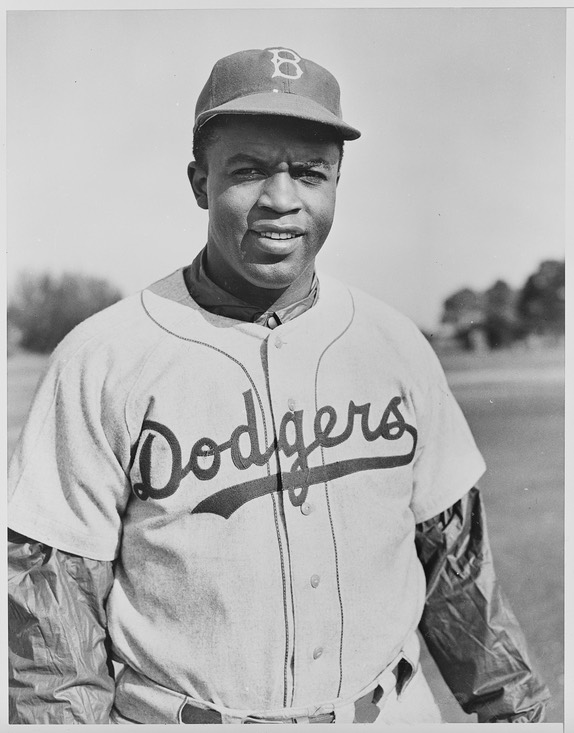 12. Bob Cobb Lobs Jobs
The Hollywood Stars really earned their name when in 1938 they were bought by a group of local celebrities led by the creator of the Cobb Salad, Robert Cobb. Cobb's co-owners included such marquee-friendly names as George Burns,Gracie Allen, Barbara Stanwyck, Gary Cooper, Cecil B. Demille, George Stevens, Bing Crosby, Walt Disney and William Frawley making this team's governing board a veritable Cobb Salad of people.
13. Farm Team in Blue
The Hollywood Stars weren't just stars in Hollywood. In 1948 they became a farm team of the Brooklyn Dodgers sending star players east and even getting a few back in return with the express condition: no refunds.
14. Meet the Browns
L.A. almost had a pro team of its own long before the Dodgers when history's worst baseball team, the St. Louis Browns, almost moved here in 1941 were it not for wartime panic. Instead, they settled for spring training at Olive Memorial Stadium in Burbank from 1949 to 1952. Had this major move gone through, the city could've been a much less successful place.
15. What A Drag
The noble tradition of dragging the infield after the 5th inning began in LA with the Hollywood Stars for the very LA purpose of artificially creating a break in the action for fans to go buy more food at the concession stands.
16. Who Wears Sport Shorts?
The Hollywood Stars perfected the schoolboy look when in 1950 they became the first team to take off their pants and replace them with shorts as their official uniform. They wore them on and off until 1953 when the Angels told them that if they ever showed up to a game looking like that again they'd shove them all into their lockers.
17. Yankee Baseball Came to Town
In 1951 the New York Yankees came to L.A.'s Wrigley Field to play a series of exhibition games against the Angels and the Hollywood Stars. In these games were both Pacific Coast League veteran Joe DiMaggio preparing for his final major league season and Mickey Mantle preparing for his first major league season. Not in attendance were Joe DiMaggio's future wife, Marilyn Monroe, and Mickey Mantle's ex-wife, Minnie Mantle.
18. Home Run In the Sun
A 26 episode TV show in 1959 called Home Run Derby that challenged professional baseball players to hit home runs for money was filmed at LA's Wrigley Field and became the inspiration for today's modern MLB All Star Game attraction: the Home Run Derby. Two much less successful TV shows filmed here were Freddie's Fouls and the Bunt Bonanza.
19. Walt to Walter
Before the land was secured by Walter O'Malley to build a home for the Los Angeles Dodgers, the site at Chavez Ravine was being offered around to different potential buyers. One of those being offered the land was Walt Disney who was looking for a location to set his plans for Disneyland in motion. Disney ultimately denied because of the altitude's effect on Br'er Bear.
Conclusion
As you can gather, L.A. had a very delicate baseball ecosystem going before the Dodgers came and flipped everything on its head. Although things may have gotten off to a controversial start (listen to the pod for more insight on the Chavez Ravine drama), many big changes do and the Dodgers quickly proved to the city that they were worthy of being called our official home team. But let us not forget the great teams and players that called L.A. their home before the Dodgers even took their last bite of Brooklyn pizza.
For more information on Greg and Daniel, or to listen to the latest episodes of their podcast, be sure to visit their website at lameekly.tumblr.com.