Like many proud children of the 80's and 90's, video games were an essential part of my childhood. Countless hours were devoted trying to save princesses, unlock levels, and generally kick the assess of every boss and bad guy who stood in my path.
Fast-forward a couple of years, swap out sodas for IPA's, and you still have the makings of a very good time.
Lucky for us, Los Angeles has some awesome arcades that will reinvigorate the spirit of your inner child, no matter how long it has been since you last dumped $10 in quarters into beating Street Fighter II.
To that end, if you're feeling like you need to make friends with your past gamer self, find below an all-inclusive list of some of the best arcades in Los Angeles.
Hopefully the experience of checking one of these out (listed in no particular order) gives you the burst of nostalgia you're looking for.
Cheers!
Busby's
A great warm up to this list, Busby is your classic sports bar. Add a spacious game room area, pool tables, and a few classic arcade games and you have the makings of a good time. With an East and West Los Angeles location, Busby's is a great place to grab a drink and play a game or two.
East: 5364 Wilshire Blvd, Los Angeles, CA 90036
West: 3110 Santa Monica Blvd., Santa Monica, CA 90404
Shatto 39 Lanes
Want to add some bowling to your arcade adventures? Look no further than Shatto 39 Lanes. A reasonably priced bowling alley with an awesome selection of video games to play once you are done remembering why you never joined the bowling team in high school. Be sure to check out the Terminator game!
3255 W 4th Street, Los Angeles, CA 90020
Blipsy Barcade
Hidden in Koreatown, Blipsy Barcade is a haven for retro video game lovers. After you are greeted at the door by an all too familiar neon ghost from Pac-Man, this cash only bar is a great for grabbing a PBR and showing Donkey Kong who is boss.
369 N Western Ave, Los Angeles, CA 90004
Playland Arcade
Featured on our 10 Totally Nerdy Places in L.A. to Get in Touch With Your Inner Geek, Playland is the quintessential classic arcade. A great place to get in touch with your video game roots and help Mario save Peach one more time.
350 Santa Monica Pier, Santa Monica, CA 90404
All Amusement Fun Center
When I was younger, I considered tokens my own special form of child currency. That feeling came rushing back once stepping foot in All Amusement Fun Center. Nuzzled in the Burbank Town Center, this is the perfect spot for both the young and old. Be sure to check out the prize center for some out dated gold.
201 East Magnolia Blvd., Burbank, CA 91502
XLanes LA
Adding another fun bowling/arcade venue located in Little Tokyo is XLanes LA. Not only do they have bowling, arcade games, 9 billiard tables and great food – but karaoke is another guest favorite. You know, if you run out of things to do.
333 S Alameda St., Los Angeles, CA 90013
Pins and Needles
For all pinball enthusiasts, go check out Pins and Needles as soon as possible. This small Echo Park bar features over 20 different pinball machines, and also gives you a chance to join the Los Angeles Pinball League. Oh, it's BYOB as well!
1623 Allesandro Ave., Los Angeles, CA 90026
Ultimate Gaming Center
Attention all LA gaming lovers: THIS PLACE IS AWESOME. Having everything from PlayStation, XBOX, and many other consoles, Ultimate Gaming Center is the holy meca for gamers to come together and do what they do best, play. While not an arcade, still makes sense to mention UGC on this list for their concept alone. They host regular tournaments for anyone to join, which is a great thing to check out.
8551 Vesper Ave, Los Angeles, CA 91402
Redondo Fun Factory
Calling itself the largest indoor family entertainment center on the West Coast – this family arcade is a Southern California staple. There is a large Tilt-a-whirl located in middle of the arcade (which is only 50 cents when it rains) and tons of games, Redondo Fun Factory is a great stop when in Redondo Beach.
123 International Boardwalk, Redondo Beach, CA 90277
EightyTwo
Pinball, vintage arcade games, fully stacked bar — EightyTwo is everything a barcade should be. Located in the Arts District of Downtown Los Angeles, EightyTwo has a nightly DJ and over 40 classic pinball and arcade games for patrons to enjoy.
707 E 4th Pl., Los Angeles, CA 90013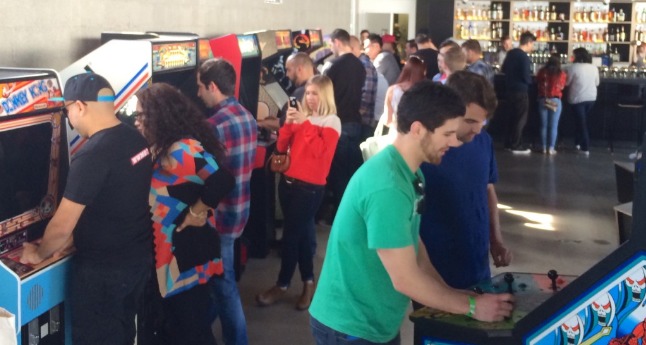 The One Up
Rather than having individual old-school consoles, The One Up distinguishes itself by using console shells to house emulators that contain hundreds of classic arcade games. The best part is that paying customers can play the games for free (yes!). On that note, be sure to take advantage of their happy hour which is served daily from 4 to 7 p.m. and includes $4 beers and $6 cocktails.
13625 Ventura Blvd, Sherman Oaks, CA 91423
Neon Retro Arcade (COMING SOON)
How about the concept of of a pay-by-the-hour video gaming experience? Well, that's exactly the business model Neon Retro Arcade wants to use. Located in Old Town Pasadena, they still haven't opened yet, but all signs point to a early 2015 launch of this new arcade.
When they do open, here's what they're proposing: For bargain price of $15, you could get 1.5 hours of play, $20 for 2 hours, and $30 for an all-day pass with in-and-out privileges. Children under five could go in for free as long as they're accompanied by a parent.Neon feature over 40 classic arcade games and pinball machines including pace Invaders, Ms. Pac-Man, Donkey Kong…all the greats! Plus they also have video game stations (basically couches and consoles) where you can challenge your friends to some old-school Atari, NES, and Sega as well as some next-gen games.
28 S. Raymond, Pasadena, CA
Do you have a favorite arcade in Los Angeles that wasn't included on this list? Let us know in the comments below!