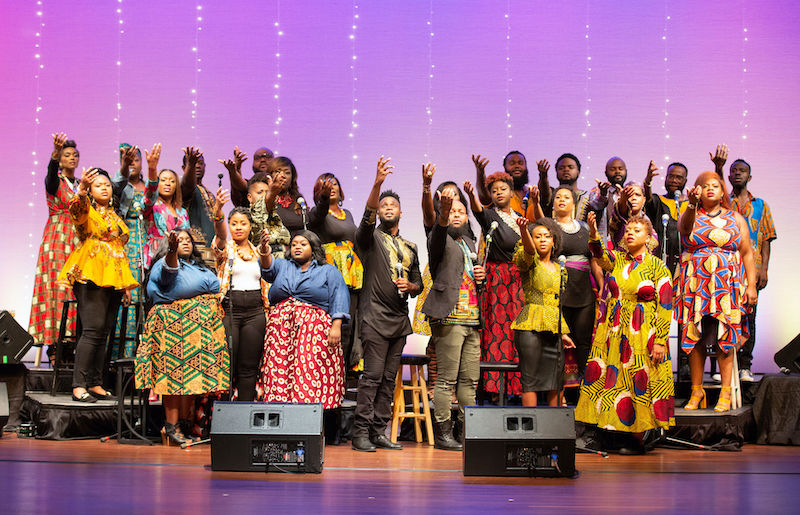 The Lisa Smith Wengler Center for the Arts is the premier performing arts venue in Malibu, but if you haven't been to the Pepperdine campus to catch a show at one of the arts center's multiple theatres, this March is a great time to get acquainted.
Center for the Arts March lineup offers everything from Broadway stars to world-class Flamenco. There's a riveting neo-soul performance, an iconic Spanish guitarist, and even a FREE Family Art Day at the Weisman Museum.
The action kicks off on March 4th with Hitting New Heights, a joint performance by Mandy Gonzalez and Javier Muñoz  (both former stars of In the Heights and Hamilton). The duo celebrates Broadway's hottest composers in a tour-de-force event featuring songs from West Side Story, Sunset Boulevard, Ain't Too Proud, Springsteen on Broadway, Pippin, All Shook Up, Wicked, Hamilton, In the Heights, and more. 
Four nights later, Trey McLaughlin and the Sounds of Zamar bring an evening of power packed contemporary gospel and Neo-soul to the Smothers Theatre, boasting a transcendent style that's garnered millions of YouTube followers, and might just win your heart too.
Later in the month, the style of Spain comes into focus with a performance by Flamenco Vivo (March 21) followed by the virtuoso guitar work of Pablo Sáinz-Villegas (March 23). Oh, and let's not forget about the free family art day held at the Weisman Museum on March 11.
Needless to say, there's a lot happening in Malibu next month. Take a peek at the full schedule below, and make sure to grab your tickets!
March 2023 at Lisa Smith Wengler Center for the Arts
Saturday, March 4 – Hitting New Heights
The Broadway stars of Hamilton and In the Heights join voices to celebrate Broadway's hottest composers, from Stephen Schwartz to Lin-Manuel Miranda. Tickets start at $32.50. More info here.
Sunday, March 5 – Adam Sadberry, Flute
Memphis Symphony Orchestra acting principal flutist Adam Sadberry brings evening of radiant, lyrical playing to the Raitt Recital Hall. Sadberry will be joined on piano by Nathan Cheung, Tickets start at $28. More info here.
Wednesday, March 8 – Trey McLaughlin and The Sounds of Zamar
The transcendent style of Trey McLaughlin and the Sounds of Zamar has garnered millions of loyal YouTube followers, and they'll be bringing their inimitable gospel/neo soul style to the Smothers Theatre for a one-night-only event. Tickets start at $27.50. More info here.
Saturday, March 11 – Family Art Day at the Weisman Museum
The Weisman Museum's Family Art Day offers an all-ages extravaganza of nature walks, crafts, readings, gallery tours, and kid-friendly food, all held in conjunction with environmentally-focused exhibition To Bough and To Bend. Free to attend! More info here.
Wednesday, March 15 – Pepperdine Music: Pepperdine Wind Ensemble
The Pepperdine Wind Ensemble is comprised of the most talented wind, brass and percussion students on the campus. Its repertoire ranges from traditional band literature, one-on-a part chamber works, world premieres, to contemporary works for wind band. Free to attend! More info here.
Saturday, March 18 – Miscast
Pepperdine's annual musical theatre review features 12 of the musical theatre artists performing solos, small and large group numbers from contemporary musicals. This year's theme is MISCAST – people singing roles they would never be cast in real life. Free to attend! More info here.
Tuesday March 21 – Flamenco Vivo
One of America's premier flamenco and Spanish dance companies, Flamenco Vivo Carlota Santana has dedicated 40 years of dazzling performances to honoring, invigorating, and expanding the art form. Tickets start at $25. More info here.
Thursday, March 23 – Pablo Sáinz-Villegas
Iconic Spanish guitarist Pablo Sáinz-Villegas returns to Pepperdine after winning the coveted gold medal at the inaugural Parkening International Guitar Competition in 2006. The New York Times calls Sáinz-Villegas "the soul of the Spanish guitar" who dazzles with "virtuosic playing characterized by irresistible exuberance." Tickets start at $25. More info here.
---
For more information, and to purchase tickets, make sure to visit arts.pepperdine.edu.