Like free pizza? Got a special alert for you if anyone is downtown this afternoon/evening and wants a free pie. I just noticed this offer thrown up on the 800 Degrees Pizza Facebook Page. Apparently they're opening a new location and they're giving away free pizza from 6pm to 9pm tonight.
From what I saw on Reddit it sounds like they're testing out their kitchen and want to get the cook time down to specified level (yay for training!).
Here's what the announcement post said on the 800 Degrees Facebook (posted around 3:00pm):
"Come help us with our staff training! Today, Thursday 1/22/15 from 6-9pm at our new Downtown LA location ONLY. Limit one pizza with up to three toppings per person, and you must show us you follow us on Facebook, Twitter or Instagram, so bring your phones. See you tonight at 800 Wilshire Boulevard!"
[RELATED: 12 Spots for The Best Pizza in Los Angeles]
And a screenshot of the post if you somehow doubt my integrity 😉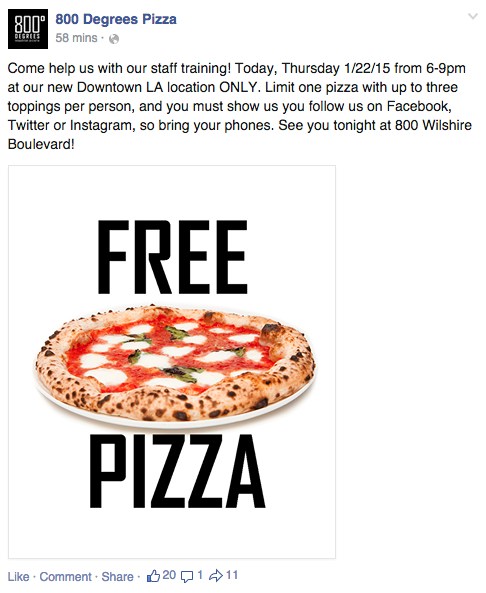 I can't promise you that this isn't going to be a nightmare trying to park there… but if you're interested in going, here's a Google map link to the address.
Enjoy!