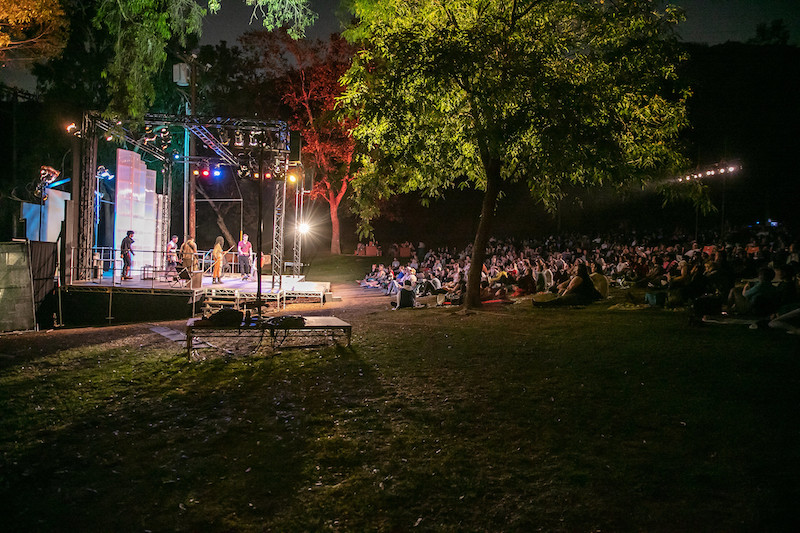 The spirit of The Bard is alive and well in the city of angels as the Independent Shakespeare Co. (ISC) brings back another edition of the Griffith Park Free Shakespeare Festival to the Old Zoo in Griffith Park starting on June 29. This will be the 16th season of ISC performances in the park, continuing a longstanding tradition of (in our opinion) one of the best free things happening in L.A. each summer.
"ISC has always been about erasing the barriers between the audience and the artists on stage," Managing Director David Melville explained via a release. "With last year's expanded slate of participatory events celebrating our 15th Anniversary Season, there was such a sense of delight generated by audience members coming in costume or sharing in a picnic potluck, that we all experienced the Festival in a more joyous, inclusive, cooperative way."
For 2019 there will be two productions performed in repertory (meaning they run concurrently on rotating dates): Twelfth Night directed by Melville and Pericles directed by Melissa Chalsma. Performances are held Wednesday through Sunday starting at 7 p.m. each night.
Twelfth Night begins its run on Saturday, June 29, and ends on Sunday, September 1. Pericles starts up on Saturday, July 27 and wraps on Friday, August 30. There will be no performances held on July 4, 24, 25 or 26.
In addition to the performances, ISC will again present an expansive offering of events and specially themed-nights attached to this year's lineup. This includes family education workshops presented by Players in the Park, a pirate night, performances by the Invertigo Dance Theatre, and an audience pot luck.
Be sure to visit the festival page on the ISC website to see which performance plays when, along with the complete schedule of additional pre-performance events and themes.
As always, we remind that our readers that while attendance for all shows is free, the productions do cost money, and donations are welcome, whether online or while attending a performance.
For 2019 the ISC has a campaign goal of $100,000. To date they have already raised over $40,000, but each donation helps. To learn more about donating to the ISC check out this this link or watch the video embed below.
The festival takes place at The Old Zoo at Griffith Park near 4730 Crystal Spring Dr. We suggest arriving early to secure a spot, and of course keep in mind that even during the summer the park gets quite chilly at night, so blankets and layers are always a good idea. Picnics and snacks are welcome, but please remember that alcohol is prohibited in Los Angeles City parks.