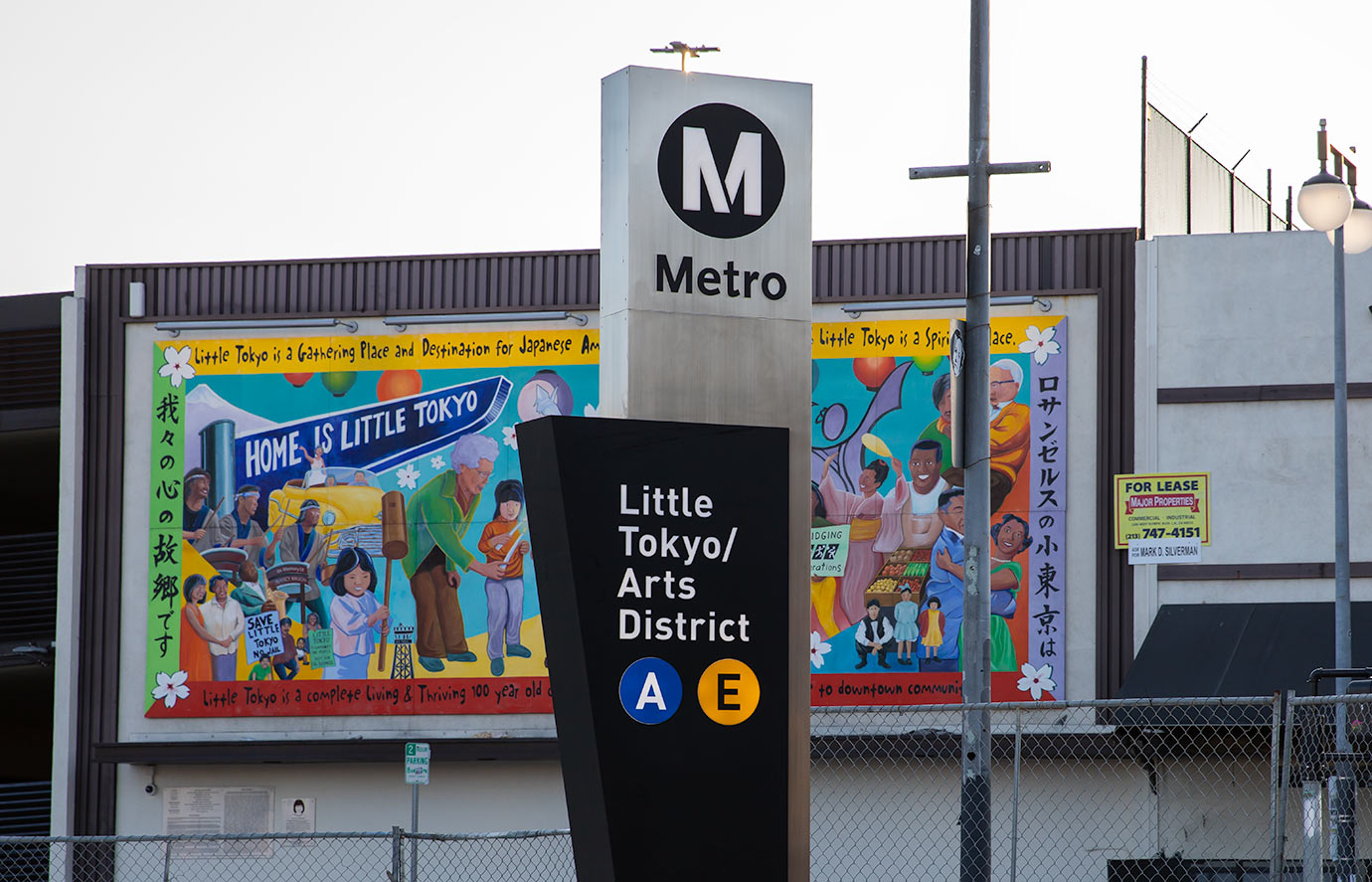 The big day is almost here. L.A. Metro's long-anticipated Regional Connector opens to the public at noon on Friday, meaning that for the first time Angelenos will be able to ride a single train without transferring between Santa Monica and East LA or between Azusa and Long Beach. On it's own, that's monumental. But with three new stations coming online it also means there are now new pathways to some of the city's best free to-dos. That's where we come in.
For this weekend, we're directing our freebie vibes to the heart of DTLA. Specifically, we want to give you a few ideas for admission-free fun at locations directly accessible to Metro's new transit hubs. Not simply free, but just plain easy.
Plus, here's a little bonus: To coincide with the opening of the Regional Connector in Downtown Los Angeles, Metro will offer FREE rides on all Metro bus, rail, bike, and Metro Micro services across all of Los Angeles County from June 16-18. And parking at Metro park and ride lots along the A and E Lines will also be free on the weekend. That's three days (Friday to Sunday) to test out the system, and hop over to the brand new stations.
To start out, let's take a look at the newest Metro map , and then after the jump we'll dive into the weekend to-do list.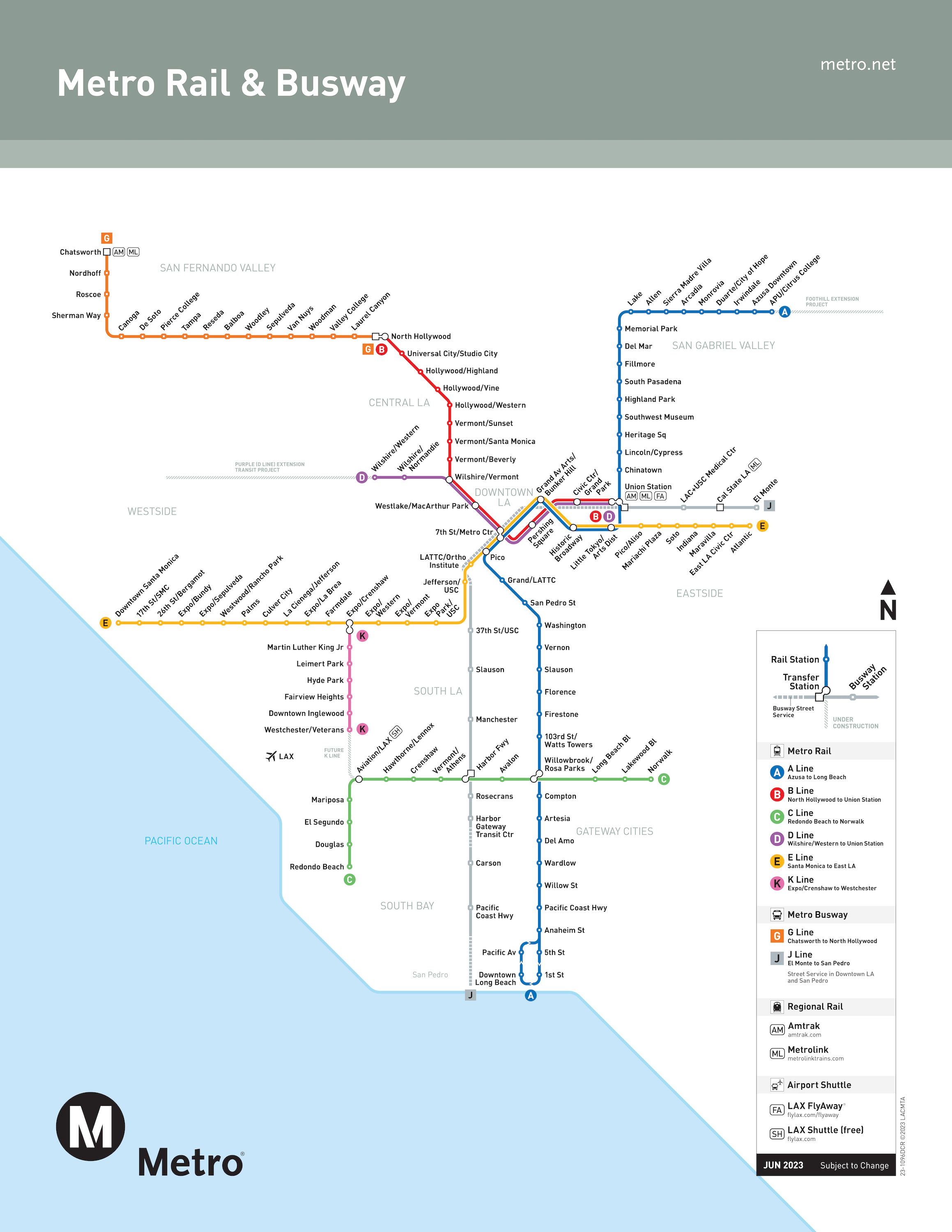 Free Things To Do This Weekend
The Broad -> You can't go wrong with a visit to The Broad, and the new Metro station located at 211 South Hope St. is literally a stone's throw from the iconic 120,000-square-foot art museum. We just checked, and there are still free reservations available for this weekend (yay!), but keep in mind the Keith Haring special exhibition Art Is For Everybody does require an additional fee ($22) if you want to view it. If need more free in your life, consider a stroll over to Gloria Molina Grand Park afterwards to see the national tour of The Lorraine Hansberry Initiative's To Sit A While art exhibit.
GO METRO: Take the A or E Lines to Grand Av Arts / Bunker Hill station.
---
The MOCA Two-Step -> There are two campuses for the Museum of Contemporary Art in DTLA (MOCA Grand and MOCA Geffen) and both offer free general admission. Thanks to the Regional Connector, transit between the two MOCAs now couldn't be easier. Consider a double-header of art as you examine your weekend plans, and keep in mind that on Saturday MOCA Geffen will be hosting the second installment of their Party/After-Party Sessions concert series. Though daytime access to the galleries remains free, tickets for the after-hours event (starts at 6:30 p.m.) are $15, and must be reserved in advance.
GO METRO: Take the A or E Lines to Grand Av Arts / Bunker Hill station (for MOCA Grand); Take the A or E Lines to Little Tokyo Station (for MOCA Geffen)
---
Patches & Pins Expo -> If you want to go to something event-based, consider this funky flea market popping up at Grand Central Market this Saturday starting at noon Work up an appetite exploring 70+ vendors offering pins, patches, art, toys, vintage fashion, pop collectibles, retro nostalgia, sneakers, and more. Plus, if you make plans to come by in the late afternoon, then maybe you'll continue the fun with our next pick (see below).
GO METRO: Take the A or E Lines to Historic Broadway station
---
Grand Performances -> The free summer concert series at California Plaza continues this Saturday with a performance by Iranian musician, singer, composer, poet, author, and political activist Shahin Najafi. Things get going around 6 p.m., and if you're coming from the P&P Expo (mentioned above), you can simply walk the hill or ride Angels Flight to get up to the plaza.
GO METRO: Take the A or E Lines to Grand Av Arts / Bunker Hill station.
---
Hauser & Wirth – > Take a short jaunt from Little Tokyo station to Hauser & Wirth's downtown gallery to see an impressive collection of large-scale figurative sculptures created by Thomas J Price as part of the artist's first comprehensive solo show in the U.S., Beyond Measure. If you make plans for Sunday, maybe on the walk back to Metro you'll stop by Angel City Brewery for their weekly Spinnin' Sundays series, which runs from 6 to 10 p.m. All in all, a pretty strong date day/night.
GO METRO: Take the A or E Lines to Little Tokyo Station
---
Want to get the best things to do in L.A. sent straight to your inbox? Join over 60,000 Angelenos who subscribe to our twice weekly email newsletter!
By subscribing, you agree to our terms of use and privacy policy and consent to receive emails from We Like L.A. about news, events, offers, and partner promotions.