Did you hear that Google has just purchased 12 acres of land in Playa Vista with plans to vastly expand their L.A. presence?
This from the L.A. Times:
"The tech titan has spent nearly $120 million on 12 vacant acres next to a historic hangar where aviator Howard Hughes built his famous "Spruce Goose" airplane in the Playa Vista neighborhood near Marina del Rey. The land is zoned for nearly 900,000 square feet of commercial space that could house offices or studios, vastly more room than Google now occupies in a handful of buildings in Los Angeles County."
Big news right? Big ramifications? We think so.
And with that in mind here's a few of the INCREDIBLE changes we can foresee happening in the future with Google ramping up their presence in the city of angles.
I mean, it's Google right, so these, like, have to happen… don't they?
Well… probably.
Maybe.
1. Self-Driving Cars Will Begin Eliminating Traffic on the Westside
Very quickly the 6,000 transplanted employees of the new Google offices are going to realize that traffic near their office, to borrow a phrase, sucks major balls.
Therefore, I reason the top local company priority will be the expansion and implementation of a self-driving car network with the aim to totally eliminate the traffic shit-storm that exists on the daily west of the 405 freeway in Santa Monica and the surrounding localities. Sure, it'll benefit the community, but mostly Google employees will bask in their own magnificence when they shave their daily drive time down to a tidy 6 minutes (each way).
The rest of Los Angeles, however… we'll get to that later.
2. The Phrase 'Silicon Beach' Will Jump the Shark
If you're in the tech industry, you've certainly heard this term before for the burgeoning tech-scene erupting in Santa Monica and the surrounding area.
If you're not in tech, then maybe you conjure images of a sandy oasis filled with busty faked-boobed bombshells. But now that Google has plans to pump even more money into the space? Every angeleno and their mother will be using this as the buzzword de jure.
All that will be left is for Michael Lewis to write a book about it.
3. When you Google 'Santa Monica' in Your Search Engine the First Result Will be From… Google
Nothing to see here. No manipulation of the search results. Totally organic!
Of course keep in mind your results will not be affected if you use Bing as your default search engine.
Haha just kidding.
Nobody uses Bing.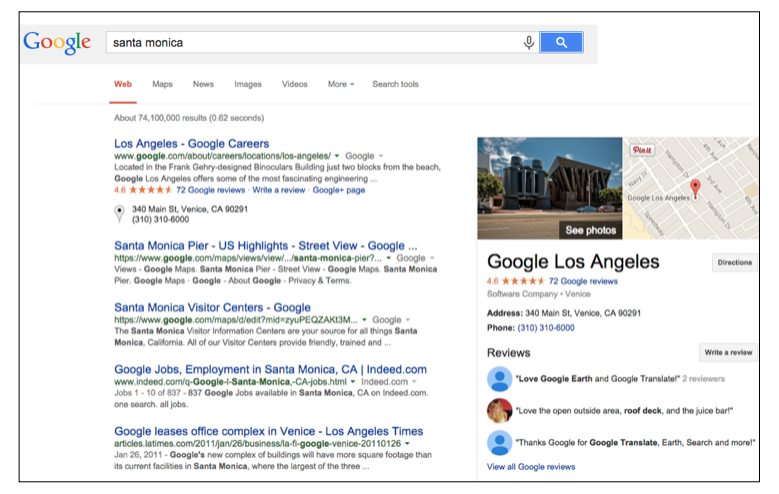 4. Upper-Middle Class Westsiders Will Suddenly Be Priced Out of Their Neighborhood
I call it super-gentrification. This is the process whereby an affluent area becomes EVEN MORE affluent, to the point where the rich residents who aren't that rich are forced out because they can't keep up with the rising costs of living.
So basically, if you're household income is over $150k, but less than $300k, you're going to be feeling the pain. My deepest, sincerest sympathies.
5. Google Will Release a New App Called "Google Surf" Then Unceremoniously Kill it Off 14 Months Later
Soon after the self-driving car transit grid becomes a thing of reality, Google while roll out a new app called Google Surf, an open-source, game-changing, real-time, totally-embeddable, drag-and-drop, responsive communication platform.
You won't know exactly what it does, but you WILL know that it'll change the landscape of how angelenos communicate forever.
And then they'll end the project with a Friday afternoon press release less than two years after the launch.
It's the Google way!
6.  Free Wifi for the Entire City!
Well… ok, maybe not. But a boy can dream, right?!?!
Have any thoughts about Google's reported purchase of the 12 acre space in Playa Vista for their new offices? Let us know in the comments below!