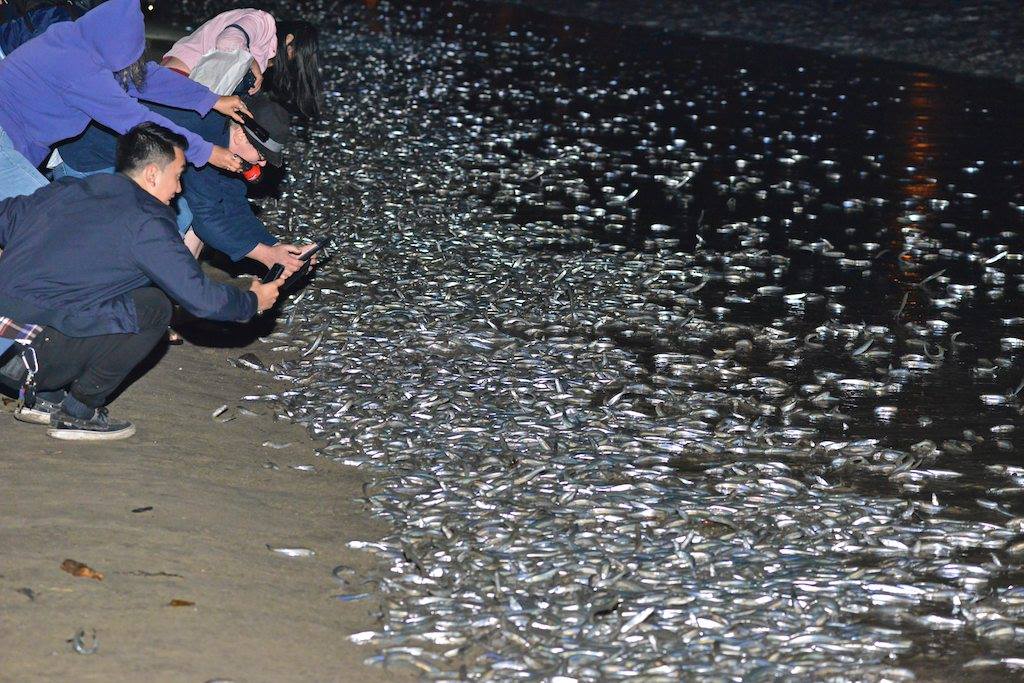 Run, grunion, run! This week kicks off the annual unpredictable and wholly remarkable ritual of the Grunion Run. And if you time it just right (and get a bit lucky!), you might be able to see them in action.
For the uninitiated, grunion are small, silvery fish that live off the coast of California and Baja California, Mexico. When they mate, they leave the water en masse, carving holes in the beach during high tide and laying thousands of eggs in the process. Females may spawn up to six times each season, laying between 1,600 and 3,600 eggs each spawn. If you can ever catch it in person, it's a pretty amazing sight.
Grunion spawns generally occur from March through September, with peak spawning from late March to early June. Spawning takes place in four-day intervals during new and full moon periods.
For Los Angeles County residents, the best spot to catch a run is at Cabrillo Beach in San Pedro. As in years past, nearby Cabrillo Marine Aquarium has several events planned. Meet the Grunion programs are scheduled for April 9, April 25, and May 25. These include nighttime access to the aquarium, an educational presentation in the auditorium, and a group walk to the beach for a guided observation (hopefully) of the elusive phenomenon in action.
For true grunion enthusiasts, the aquarium will also host its annual Fish-tival on May 9. It's similar to Meet the Grunion events, but will also include arts and crafts, games, and prizes awarded for the best aluminum foil grunion hat. 
Admission for these events is $5 for adults and $1 for students, seniors, and children.
Below is a list of the dates and times when grunion are predicted to mate in 2020. As a reminder, the time intervals are just estimates. You may show up, camp out for the time window, and see nothing. These are fickle creatures, unfortunately.
If you're thinking you want to grab some of the fish during a run, remember that grunion may be taken by hand only and you can't dig holes to entrap them. A California fishing license is required for people 16 and older. Per government guidelines, there is no bag limit, but it is recommended to take only the fish you can use. The California Department of Fish and Wildlife has a handy F.A.Q. page if you're looking for more information on observing the grunion.
Enjoy the Grunion!
March
3/9 Monday 10:30 pm – 12:30 am
3/10 Tuesday 11:05 pm – 1:05 am
3/11 Wednesday 11:40 pm – 1:40 am
3/12 Thursday 12:20 pm – 2:20 am*
3/24 Tuesday 10:30 pm – 12:30 am
3/25 Wednesday 10:50 pm – 12:50 am
3/26 Thursday 11:10 pm – 1:10 am
3/27 Friday 11:35 pm – 1:35 am
April (observation only)
4/7 Tuesday 9:50 pm – 11:50 pm
4/8 Wednesday 10:25 pm – 12:25 am
4/9 Thursday 11:00 pm – 1:00 am
4/10 Friday 11:40 pm – 1:40 am
4/22 Wednesday 9:45 pm – 11:45 pm
4/23 Thursday 10:05 pm – 12:05 am
4/24 Friday 10:30 pm – 12:30 am
4/25 Saturday 10:55 pm – 12:55 am
May
5/7 Thursday 9:55 pm – 11:55 pm
5/8 Friday 10:30 pm – 12:30 am
5/9 Saturday 11:10 pm – 1:10 am
5/10 Sunday 11:55 pm – 1:55 am
5/22 Friday 9:30 pm – 11:30 pm
5/23 Saturday 10:00 pm – Midnight
5/24 Sunday 10:35 pm – 12:35 am
5/25 Monday 11:10 pm – 1:10 am
June
6/5 Friday 9:30 pm – 11:30 pm
6/6 Saturday 10:10 pm – 12:10 am
6/7 Sunday 10:50 pm – 12:50 am
6/8 Monday 11:35 pm – 1:35 am
6/21 Sunday 9:45 pm – 11:45 pm
6/22 Monday 10:25 pm – 12:25 am
6/23 Tuesday 11:05 pm – 1:05 am
6/24 Wednesday 11:55 pm – 1:55 am
July
7/4 Saturday 9:15 pm – 11:15 pm
7/5 Sunday 9:55 pm – 11:55 pm
7/6 Monday 10:40 pm – 12:40 am
7/7 Tuesday 11:20 pm – 1:20 am
7/20 Monday 9:35 pm – 11:35 pm
7/21 Tuesday 10:20 pm – 12:20 am
7/22 Wednesday 11:00 pm – 1:00 am
7/23 Thursday 11:50 pm – 1:50 am
August
8/3 Monday 9:45 pm – 11:45 pm
8/4 Tuesday 10:25 pm – 12:25 am
8/5 Wednesday 11:00 pm – 1:00 am
8/6 Thursday 11:35 pm – 1:35 am
8/18 Tuesday 9:25 pm – 11:25 pm
8/19 Wednesday 10:10 pm – 12:10 am
8/20 Thursday 10:55 pm – 12:55 am
8/21 Friday 11:40 pm – 1:40 am
September
9/1 Tuesday 9:35 pm – 11:35 pm
9/2 Wednesday 10:05 pm – 12:05 am
9/3 Thursday 10:40 pm – 12:40 am
9/4 Friday 11:10 pm – 1:10 am