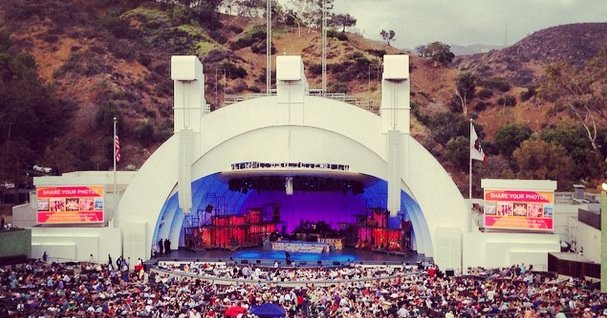 The Hollywood Bowl is perhaps L.A.'s most famous outdoor musical venue. Opened in 1922 in Hollywood, the Bowl at first remained largely undeveloped, utilizing only simple wooden benches and it's natural appeal to stage performances.
In 1926 an architectural firm was contracted to regrade the Bowl and the subsequent improvements, including permanent seating and upgraded stage awning, which more closely resemble what we see today.
Over the years, the Bowl has been home to countless artists and acts of worldwide acclaim.
[Photo Credit: hannahcwilk]
From the official venue website:
"The Bowl is a friendly sociable place where Southern Californians gather to picnic and enjoy outstanding music under the stars. Throughout the summer the LA Phil presents the best in jazz, classical, Broadway, and world music, featuring artists that range from Yo-Yo Ma to Janelle Monae, John Williams to Steve Martin, and Gladys Knight to The Pixies."
More information:
Official Website
Top 10 Must-See Music Venues in Los Angeles
Reviews on Yelp
Location
2301 N Highland Ave
Hollywood, CA 90068