Los Angeles is a vapid, cultural wasteland devoid of any real sense of self or long-lasting character. Yes, I've heard that claim before (or something vaguely similar), yet even if you believe that nonsense here's a fact you simply cannot deny: In the music department we kick some serious ass.
Home to some of the best live performance spaces enjoyed by locals and tourist alike, Los Angeles has been churning out influential musical artists for decades. Having been a lifelong fan of the L.A. music scene I feel it my obligation  sworn duty to let others benefit from the knowledge of my experience in attending concerts in and around the city. So whether you've lived in Los Angeles for years, are new to the city, or are just a making a quick stop by,  here's the list of 10 can't miss spots that you'll want to make extra time for if you haven't had the pleasure already.
Your ears and eyes will thank you later. Enjoy!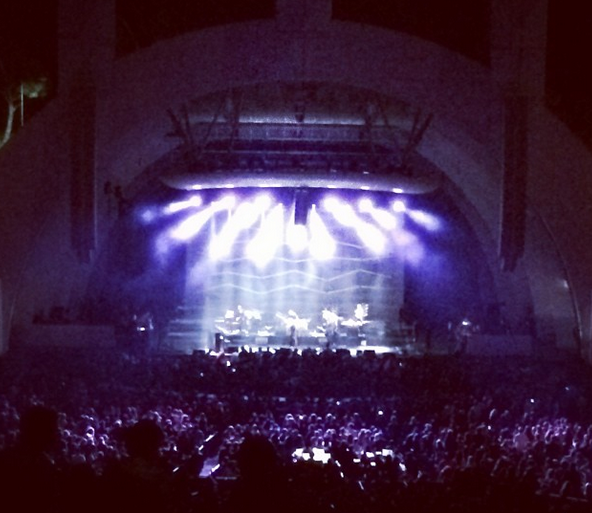 The Satellite
Opened in 1995 under the name Spaceland (originally an indie rock dance club) The Satellite has not veered too far from its departed partnership with Spaceland. Tucked away in the Silverlake neighborhood surrounded by quite residential areas is home to this Los Angeles music treasure chest.
Who Has Played Here
Bands who have played here have been featured on KCRW, placed on new band alerts and have gone off to win Grammys. Beck was featured on opening night in 1995 and continued to play at the venue for years and we all know what happened to that guy. Since then, other bands followed suit: Pavement, Foo Fighters, The White Stripes, The Killers, The Shins, Weezer, Imagine Dragons and Foster the People to name a few.
Why You Should Go Now
Bands who just played and are on their way up the music ladder: Other Lives, Local Natives, Surfer Blood, Mowglis and Big Black Delta.
1717 Silverlake Blvd., Silver Lake, 323.661.4380. thesatellitela.com
The Echo/Echoplex
Located in Echo Park the appropriately named The Echo and it's sister venue Echoplex recently shared their 10 year anniversary. The two locations are joint vertically with The Echo on Sunset boulevard and Echoplex below the venue located on Glendale avenue.
The Echo is a hole in the wall where local and overseas bands perform before being branded as the "next big thing" one year later. The Echoplex has triple the standing room and is usually a natural choice for indie bands and big surprise performances like the Rolling Stones playing an impromptu warm up show to prepare for their world tour.
Who Has Played Here
Worthy of standing in line for, bands who have played here include Diplo, MGMT, Pixies and Atoms for Peace.
Why You Should Go Now
The venues are alive with the sound of indie music. Go see the best acts before the next wave comes, bands who recently played include Glasvegas, Poolside, Divine Fits, The Drums, Geographer, Of Montreal, Iggy Azalea, Future Islands and Blood Orange
1822 Sunset Blvd.; 1154 Glendale Blvd., Silver Lake. 213.413.8200. attheecho.com
Hollywood Bowl
Opened in 1922 The Hollywood Bowl is the largest natural amphitheater in the United States and the most popular major outdoor venue in Los Angeles. Every year, Angelenos bask in the great outdoors during the summer season when an evening under the stars is matched with great music and food. In the summer the theater is  home to the Los Angeles Philharmonic and host to a wide variety of musical events. Pack a picnic and BYOB to get the ultimate Hollywood Bowl experience.
Who Has Played Here
Radiohead, Pavement, Sonic Youth, Death Cab For Cutie and Rufus Wainwright. The legend Liza Mennelli still shows up to perform at the Bowl!
Why You Should Go Now
Because it is AWESOME and you are not an Angeleno till you go! The summer calendar is filled with KCRW music nights, musical sing along events and the popular annual Star Wars in concert tribute.
2301 N. Highland Ave., Hollywood, 323.850.2000. HollywoodBowl.com
Silverlake Lounge
Room capacity of 171 and a 15×15 stage the Silver Lake Lounge is not what people usually call a music venue. But the acts that come through, should be taken damn seriously.
Who Has Played Here
You never know whats going to happen when you walk into this tiny bar. For example Beck once played a secret show here. Bands like A Place To Bury Strangers, Tic Tic Boom!, Grouplove and War Tapes have all played shows here. Some of these bands at the time did not have record contracts. The Silverlake Lounge is a hub for artist on the brink.
Why You Should Go Now
You can get a cheap drink and watch music acts for free. Sometimes you might like what you hear and decide to follow a band. I did that with A Place To Bury Strangers years ago and now they are critically acclaimed with several albums under their belt. I will always remember being one feet away from the band and watching their projection show on a raggedy white back drop.
2906 Sunset Blvd, Los Angeles, CA 90026 thesilverlakelounge.ticketfly.com
Hollywood Forever Cemetery
The most unlikely place for a concert but you know Angelenos just love to be "different." Graves of the famous get trampled on by hipsters weekly for concerts and outdoor screenings of a variety of classic cult films. If you don't have a fear of the living dead and enjoy solid music in an outdoor setting this is the place for you.
Who Has Played Here
Grammy award winning artist Bon Iver once played here at 5am for a music festival that opened its doors at midnight. Sigur Ros, Bright Eyes and Grouplove have all played here.
Why You Should Go Now
The cemetery is a Hollywood legend in itself, the area is eerie and the outdoor acoustics are good. The National, Father John Misty, The xx, Johnny Marr and Grizzly Bear all played last year.
6000 Santa Monica Blvd, Hollywood, CA 90038. www.hollywoodforever.com
The Troubadour
The world famous Troubadour opened its doors in 1957, since then everyone getting their start in the music industry dreams of playing here. A favorite hub for up and coming bands usually about to get some airtime on KCRW, KROQ or ALT perform for their early group of fans. The bar is stocked but don't forget to grab a bite of greasy goodness like a grilled cheese made by their in house cook.
Who Has Played Here
Elliot Smith and Elton John got their start at the Troubadour, that should say enough in itself. But if you need a list of musicians to satisfy your curiosity we have that covered too. Joni Mitchell, Van Morrison, Tom Waits, Fleetwood Mac, Guns N' Roses, Radiohead, Leonard Cohen and Fiona Apple.
Why You Should Go Now
Coldplay have tested new material here to an intimate group of lucky fans. Grizzly Bear, Beach House, Artic Monkeys, Franz Ferdinand and Joanna Newsome played at the venue early in their careers. Scouting the next big band usually starts here at The Troubadour.
9081 Santa Monica Blvd., West Hollywood, 877.435.9849. troubadour.com
Walt Disney Concert Hall
Commissioned in 1987 by Lillian Disney and finished in 2003 by architect Frank Gehry, The Walt Disney Concert Hall not only stands out in design but more importantly in the acoustics. Home to the LA Philharmonic the concert hall is intimate and praised by people who enjoy state of the art acoustics. This internationally recognized concert hall was well worth the 16 year wait.
Who Has Played Here
The Los Angeles Philharmonic calls this concert hall home. A variety of genres perform at the Walt Disney Conert Hall from classical, jazz, global to rock. Antony and the Johnsons, M83 and The Air Borne Toxic Event have all played here.
Why You Should Go Now
Expect noteworthy performances at the Walt Disney Concert Hall. Electro pioneers Kraftwerk will perform eight 3D concerts in Spring 2014 for LA Phils Minimalist Juke Box Festival. Acts like Ryan Adams, Beck, Ben Harper and Fiona Apple have all recently played here as well.
111 S. Grand Ave., downtown, 323.850.2000. laphil.com
The Greek
The Greek Theatre opened in 1929 and is owned by the City Of Los Angeles.
Fewer than 6000 seats, the outdoor amphitheater provides great natural acoustics from the parks canyons. Located inside of Griffith Park hidden behind residential communities this award winning theater helps feed money back into the city annually.
Who Has Played Here
Ran by the Netherlander Organization the venue has something for everyone. A vast list of musical acts from all walks of life. The Shins, The Who, Jack Johnson, Paul Simon, Tina Turner and The White Stripes barely scratch the surface of acts that have come through The Greek.
Why You Should Go Now
Although The Greek is only opened from Spring to mid Fall the acts lined up will give you something to look forward to. Wild Nothing, Capital Cities, Two Door Cinema Club, Lumineers, Tame Impala, Flaming Lips and The Postal Service all played in the last year.
2700 N. Vermont Ave., Griffith Park, 323.665.5857. greektheatrela.com
The Fonda
The Fonda is a historic venue built in the 1920's that has seen a lot of changes. Originally named The Henry Fonda Theatre and The Music Box the recent facelift and rename of the venue in 2012 went almost unnoticed. The Fonda didn't skip a beat with performances and dance parties every other day on the busy streets of Hollywood Boulevard. This all ages venue also has a roof top area over looking Hollywood Boulevard. Enjoy a stiff drink (its that kind of place), watch the band on the roof top projector all while sitting on a bed of AstroTurf. Trust us, you will enjoy the roof top area. It only makes perfect sense in Los Angeles! 
Who Has Played Here
Stevie Wonder, Pearl Jam, Katy Perry, Black Eyed Peas and Lana Del Ray have all performed in the venues intimate settings.
Why You Should Go Now
The venue is smaller than most theatres; therefore a good view of the stage is not hard to come by. Bands who have played here include Bombay Bicycle Club, Of Montreal, Glass Candy, Disclosure and 2013 Mercury Prize winner James Blake. In 2014 King Krule, Icono Pop and Volcano Choir will all stop by as well.
6126 Hollywood Blvd, Los Angeles, CA 90028. www.fondatheatre.com
The Wiltern
The Wiltern is an art deco style theater located on Wilshire Boulevard
built in 1931 originally used for vaudeville acts. In the 80's the Wiltern was turned into a music venue. It holds a variety of different events year round. From music performances to stand up comics, this stage has seen an eclectic bunch.
Who Has Played Here
Known to host a variety of famous bands on their first U.S. tour stop in Los Angeles, The Wiltern has seen Travis, Phoenix, Sigur Ros, Belle & Sebastian and Wilco come through in their early days and returning back after a few albums.
Why You Should Go Now
The Wiltern is consistent with bringing the best acts to their venue. There isn't a month that goes by without several worthy acts passing by. Acts who have performed recently are Jack White, Artic Monkeys and Pretty Lights.
Comedians John Oliver and Margaret Cho held stand up shows no too long ago as well.
3790 Wilshire Blvd Los Angeles, CA 90010. www.yelp.com/biz/the-wiltern-los-angeles