You might of heard that Los Angeles is vying for the 2024 Summer Olympics, but have you ever seen this illustrated map of the 1932 games that details the venues and events of the competition from that year?
(Click on the map to go to file source and expand)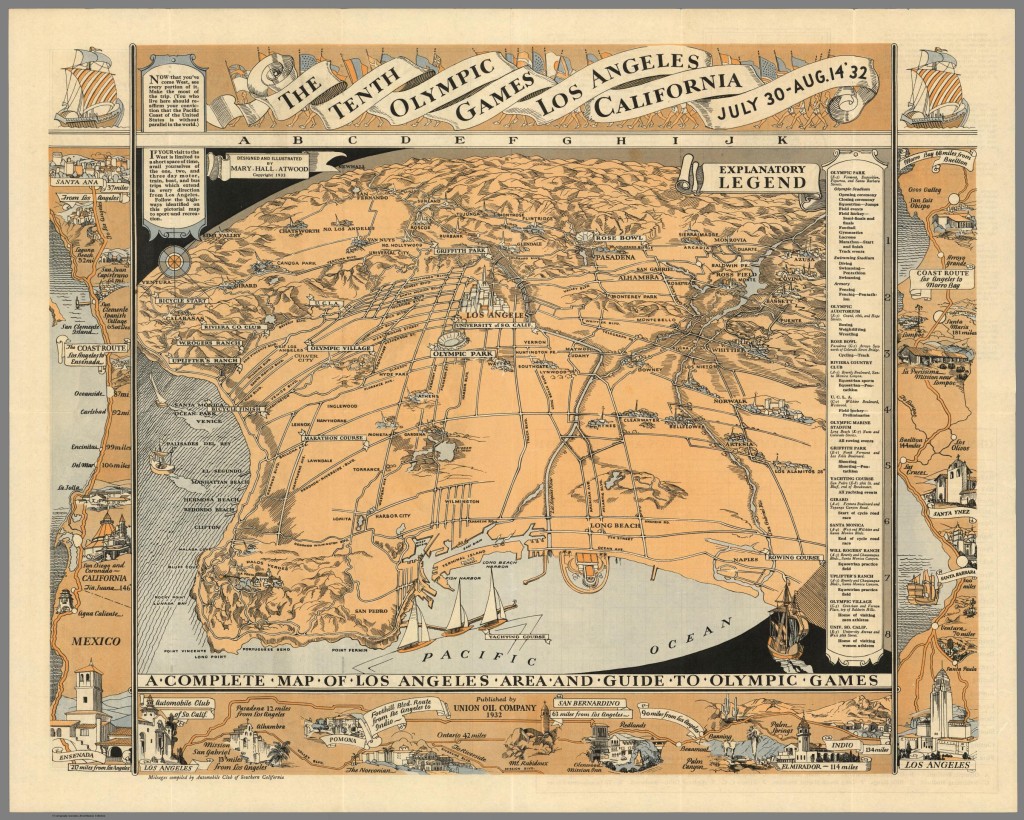 Here's a description of what you're seeing, via Geographicus:
"An uncommon printed map of Los Angeles prepared by Mary Hall Atwood for the 1932 Tenth Olympic Games. The map covers the greater Los Angeles area from Ventura to the Pacific and From Point Vincente and Long Point to Azusa. Various points of import to the Olympics are noted, including the Olympic Villages, Olympic Park, the Marathon Course. Further, the map also notes interesting destinations that may be of interest to tourists, including US> L. A, the Riviera Country Club, the W. Rogers Ranch, and La Venta in Palos Verdes. Surrounding the main map is are several smaller pictorial map detailing the various routes including, Los Angeles to ensenada, Los Angeles to Indio and el Mirador, and Los Angeles to Morro Bay. Another small pictorial map on the verso detail the Olympic City"
Methinks if L.A. does indeed win the chance to the host the 2024 games, they definitely ought to remake this map (probably using some crazy 3d modeling technology they'll' have 9 years from now).
Oh, and just for fun, here's a video of the opening ceremony from the 1932 game in Los Angeles.