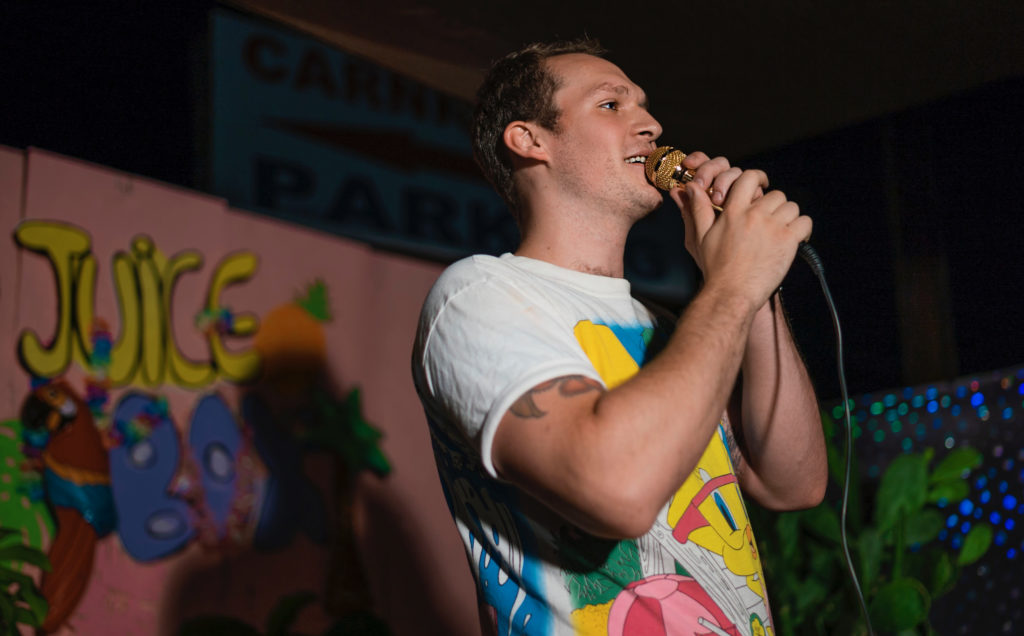 There's nothing better than laughing with a new main squeeze. Luckily, monthly laugh-in Juice Box Comedy has you covered. The queer-friendly East Hollywood mainstay, staged on the front porch of painfully-hip thrift shop L.A.G. Vintage, features a bevy of burgeoning comics and big names dropping in to test new material on a sexy, savvy crowd.
Their Pride edition was poppin, poignant and drowning in rainbows. Danielle Perez kicked things off with casually bawdy jokes about visits to the clinic and being the bougie Cardi B.
Eastside baddie Mary Jane French talked brusquely about her journey as a trans woman, roasting straight people who are confused by her relationship with a trans man.
"I know this is gay…somehow," she joked.
The show is hosted by the acerbic Matt LeGrande, a strapping young gun in the game whose baby-like features belie his sharp tongue and whip quick wit.
"Crazy, sexy, cool are words that come to mind when I think of the show. It's a groovy comedy party where comics and friends tend to hang before and after. Often the space turns into a dress up party as show goers buy from the vintage store," he said.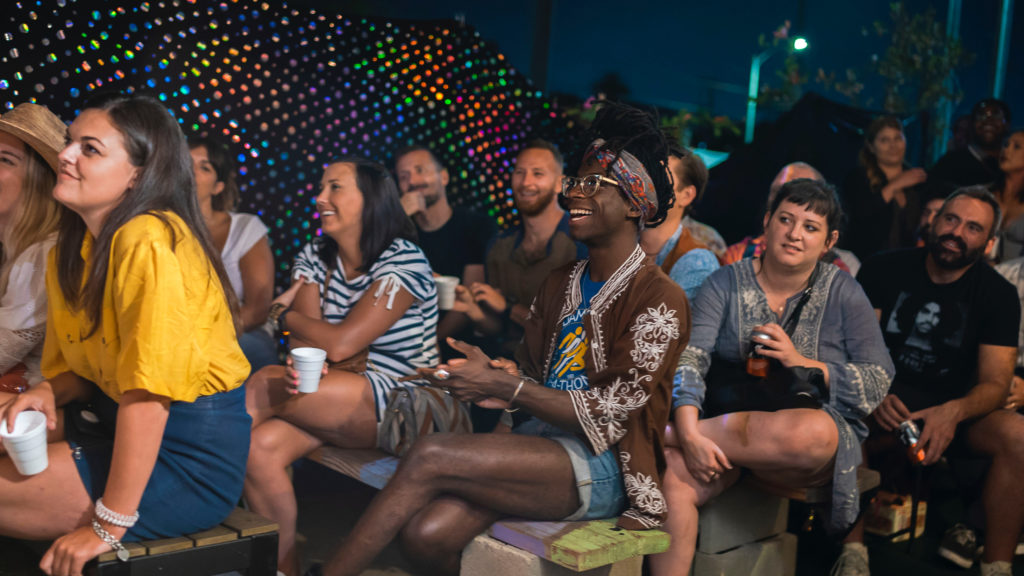 The show grows each month, with folks spilling off the porch and up to the Mexican restaurant next door. It's slightly obstructed from street view, so walking in feels like unlocking a trap door, a hidden world of cutting-edge comics and retro garb tucked on an unassuming stretch of real estate.
LeGrande curates a lineup that matches the insidiously hip vibe of the neighborhood – less Laugh Factory, more Broad City.
He features mostly queer comics, a rarity in a city most-known for straightlaced mainstays like The Comedy Store and The Hollywood Improv, clubs where it can feel like they have a one queer and/or female comic slot per show. The nexus where Juice Box goes down is also a carefully meted mix of gay-friendly bars and other businesses, and more conservative fare like the stand up stalwart Hot Tub comedy just down the street at The Virgil.
"Like most intelligent people, I only find women and queer people funny. I wanted to create a space where I could showcase individuals who make me laugh. A show that I would actually have fun at," he said
L.A.G. is also proudly-gay, a perfect post for a wide swath of folks looking to hear jokes they can relate to. The crowd is decidedly mixed, featuring young and not-so-young Silver Lake-adjacent denizens with cool do's and calm 'tudes. All are welcome; this is a safe space.
Speaking of space, Heather Turman was out-of-this world. Her material heavy and hilarious, riffing at length about depression and raunchy sex, the peanut butter and jelly of daily existence. The twice-divorced, queer comic's mature, seen-it-all approach paired perfectly with headliner Joel Kim Booster's jokes about bath salts and the highs and lows of club life. He's a masterful improviser; a performer with a CVS-receipt length list of credits and a unique backstory.
There isn't a ton of street parking, but plenty of bus lines run along Santa Monica and Vermont, and the red line isn't too far either. There's great food in the area, including the aforementioned Mexican restaurant, and there's a liquor store just across the street for those looking to bring their own booze.
The next performance of Juice Box Comedy is Friday, July 19. Tickets are $5 and can be purchased via Eventbrite.