The year 1881 presented us with a very different Los Angeles then the one that we see today. The population was only a shade over 11,000, a house on Temple Street could be purchased for a mere $475, and on December 4 of that same year the Los Angeles Times (then the Los Angeles Daily Times) published its very first issue.
A few weeks later on the Christmas day the fledgling paper printed a story heartily endorsing the Yuletide holiday.
Here's an excerpt from that December 25, 1881 issue, per the L.A. Times:
"Christmas is probably the best observed of all the holidays in Christendom. This year it will get a double dose of observing as the 25th comes on Sunday, and Monday is legally set aside for the festivities of the day. Christmas presents many attractions to the old and the young. It is hallowed in every memory. To the young it is an occasion of gift receiving, candy cramming and colic. To the old it recalls childhood's days, and many a pain from over-indulgence in the sweets and pleasures of its festivities. But Christmas is here. We welcome it as joyfully as the veriest infant, and we extend as hearty a 'Merry Christmas' this morning, as the noisest [sic] lad who wakes up his parents with the glad shout, four hours earlier than the usual time."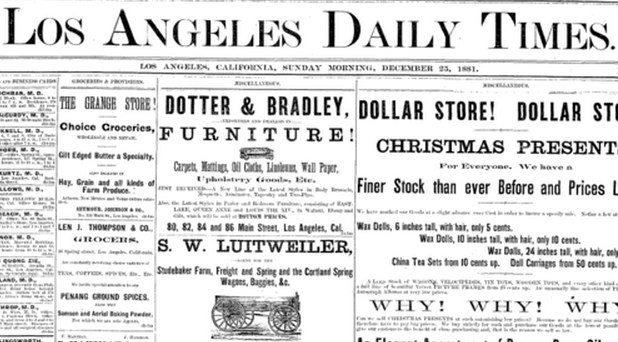 So, as it turns out, 19th century folk weren't that different from us. The kids liked presents. The adults bathed in nostalgia. And Christmas was everyone's favorite holiday. I guess that the more things change, the more they stay the same.
Oh, and on that note, Merry Christmas everyone!