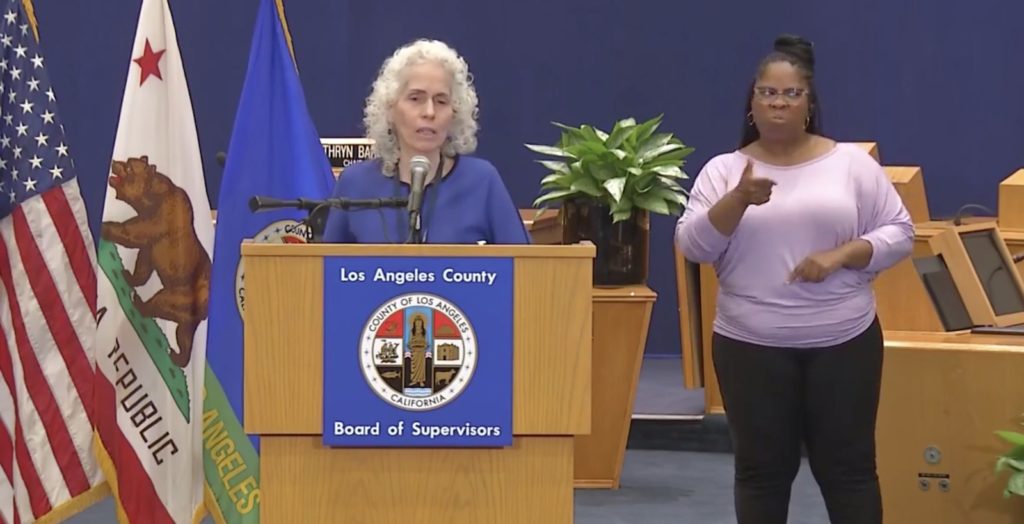 Earlier today, County Public Health Director Dr. Barbara Ferrer gave Angelenos a clear message: If you can stay home, do stay home.
"When you're out and about, even for essential services, you're putting yourself at risk for becoming infected with COVID-19 and becoming seriously ill," Ferrer said.
During a daily press briefing, Ferrer urged Angelenos to take advantage of delivery services as much as possible in what county officials are deeming a critical week in the effort to break the chain of infection.
"If you have enough supplies in your home, this would be the week to skip shopping altogether. If you can arrange for medications and groceries to be delivered, this would be the week to put that in place," Ferrer said.
The advisement comes at a critical juncture in the containment of the COVID-19 virus. Mayor Eric Garcetti enacted the 'Safer at Home' order more than two weeks ago. But as of today, there are 6,360 total positive cases of COVID-19 and 147 total COVID-19 deaths in Los Angeles County, putting the current fatality rate at 2.3%.
The county also confirmed 12 cases of infected individuals experiencing homelessness, including one person who may have been residing at a shelter while infectious. County officials are still investigating.
Dr. Ferrer anticipates a substantial increase in cases in the next two weeks as testing continues to become more widely available.
Still, there is reason for optimism as long as residents stay vigilant in their commitment to social distancing and abiding the Mayor's directive to wear non-medical grade facial coverings whenever leaving the house. As Ferrer stated:
"Even in the face of increasing numbers and sometimes frightening news reports, you have shown your true spirit by being part of all the efforts to slow the spread."

Earlier today, Mayor Eric Garcetti held an AMA on the Los Angeles subreddit, /r/LosAngeles. He said Angelenos should be prepared for at least two months of social distancing and that the return to normalcy will be slow.