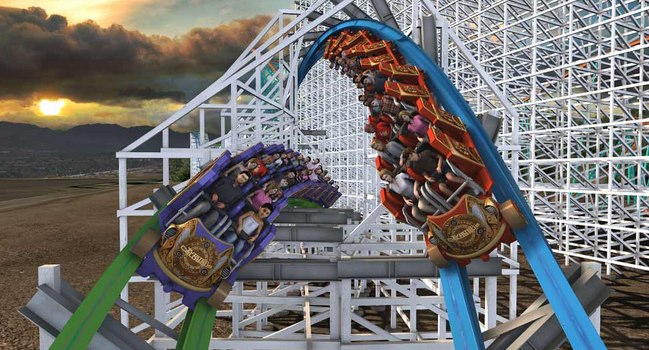 The closing of Colossus earlier this month after a 36 year run at Magic Mountain certainly brought about laments from more than one roller coaster lover. But the good news? Something even bigger (and maybe better) is on the way.
Six Flags has announced the construction of a new state-of-the-art replacement that they're calling "Twisted Colossus." If all goes as planned, it'll be available for you to ride starting in Spring 2015.
The new coaster will include some amazing features including:
– A Top Gun Stall" – an inversion where the train slows down upside down
– Western Hemisphere's first "High Five" – where two trains pass through an overbanked turn facing each other with the illusion that you can reach out and "high five" other riders
– A Zero G Roll where track twists 360 degrees
– A staggering 128-foot drop at an amazing 80-degrees
– 18 airtime hills
– Two lift hills
– Four minutes of thrills on nearly 5,000 feet of track – the longest hybrid coaster in the world
Still not convinced you'll love it? Check out the video demo below.
[Photo Credit: sixflags.com]