When it comes to L.A. tacos, does Google know best?
It's a complex question to answer, simply because there are so many criteria by which we could judge. Do we go by search rankings? Quality of reviews? Inbound links? Which taco brand dominates the Google carousel?
The handy thing about Google is that it records search query data for every search entered into the engine. In fact the volume of this search data is readily available using the Google Keyword Planner. Basically, this tool allows us to know exactly how many times a "search term" is being queried into a Google search engine, anywhere in the world, over a defined period of time.
Want to know how many times Justin Bieber was Googled last month in the United States? Or Barack Obama worldwide? The planner will tell you. And not only is it an extremely powerful tool, it's also a very objective metric. That's because there is no arguing it or influencing it. The data is the data.
Given that, I propose we use the following methodology to uncover what Google has to say about tacos in Los Angeles:
1) Create a list of what we believe are the top taco vendors in the city.
2) Tabulate the search volume for our list over the last 12 months.
3) Draw insights from the results.
And based off this approach, I think the first thing we have to do is set up a few guard rails for our data dive.
[Image Credit: http://instagram.com/fatboynotsoslim]
Guidelines
So what are the ground rules?
For one thing, we'll need to set the keyword planner tool (Google's tool for measuring search volume) to focus on search results only for the city of Los Angeles. We're not interested in global demand here, just local search volume.
Secondly, in order to create a more apples-to-apples comparison of our dataset, I debated excluding restaurants that have sprouted out multiple locations. This will eliminate the behemoth corporations (like Taco Bell) but also some regional chains (such as King Taco).  Basically, we want to focus on the mom and pop.
Using a blanket rule, however, seems like too indelicate a touch. What I've done instead is formulate a grouping of potential taco restaurants based on Yelp results, Google search results, and using existing "top lists" curated by the L.A. Weekly, LAist, and the L.A. Times. If it looks like it deserved to be there, I put it on the list. If it had 4.5 stars on Yelp, I put it on the list. If Jonathan Gold recommended it, I put it on the list.
The result of this process was a list of 40 restaurants that we'll use for our comparison.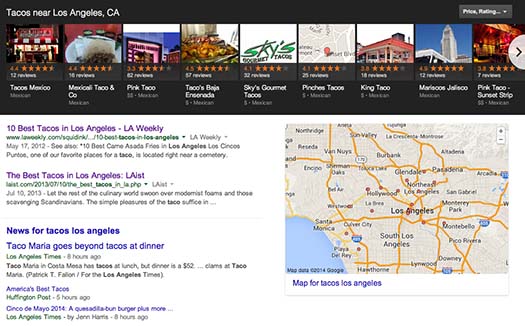 The Results
Ok, so with the basic rules set and our list of 40 in place, let's see how we shook out. Restaurants with more than one location are shown in bold.
And the winner is… Tito's Taco's!
But… Tito's? Why Tito's?
I don't think there is any objective metric by which you could say Tito's is the best taco in Los Angeles. As a matter of fact, in both Yelp (2600+ reviews) and in Google (almost 200 reviews) Tito's rates under four stars on average. Virtually every other vendor on the above list has a rating superior to Tito's.
Furthermore, Tito's has a website that doesn't look like it's been updated since 2006, and a Facebook page with over 70,000 fans that has the activity level of a corpse.
What they have done, however, is advertise.
Specifically, their television spots have been running on local airwaves for as long as I can remember living in L.A.
By contrast Ricky's Fish Tacos, which comes in second on our list, has a far less traditional footprint in terms of awareness, but because of the ridiculous quality of Ricky's taco truck, a highly engaged Twitter account, and great word of mouth validation (and press), Ricky's tacos are among the most searched for in the city.
Insights
So is there anything we can really glean here, other then Tito's has an exceptionally catchy jingle and a really awful website? I think there is.
The key insight (if there is one) is that you can't always trust the crowd to guide you to what's best. Awareness of a particular product does not equate to quality. (Coincidentally, this is a lesson that can be applied not only to tacos, but to life).
I asked a central question at the beginning of this article: When it comes to tacos does Google know best? The answer, as far as I can tell is no. At least, not yet.
However, with the power of data collection and contextual search someday Google may be like HAL from 2001 Space Odyssey able to accurately predict exactly what variety of taco you want before you type a single character in the query box.
In theory, based on your previous searches and a summation of all your online activity (check-ins, likes, tweets, searches) Google will likely be able to suggest to you a a whole list of restaurants that you'll enjoy without you having to enter a solitary keystroke (scary I know).
But until that day comes, enjoy the discovery process for yourself. Believe me when I say, it will be a delicious experience.
Happy taco-ing!'
Want to share your favorite taco spot in Los Angeles? Add it in the comments below!