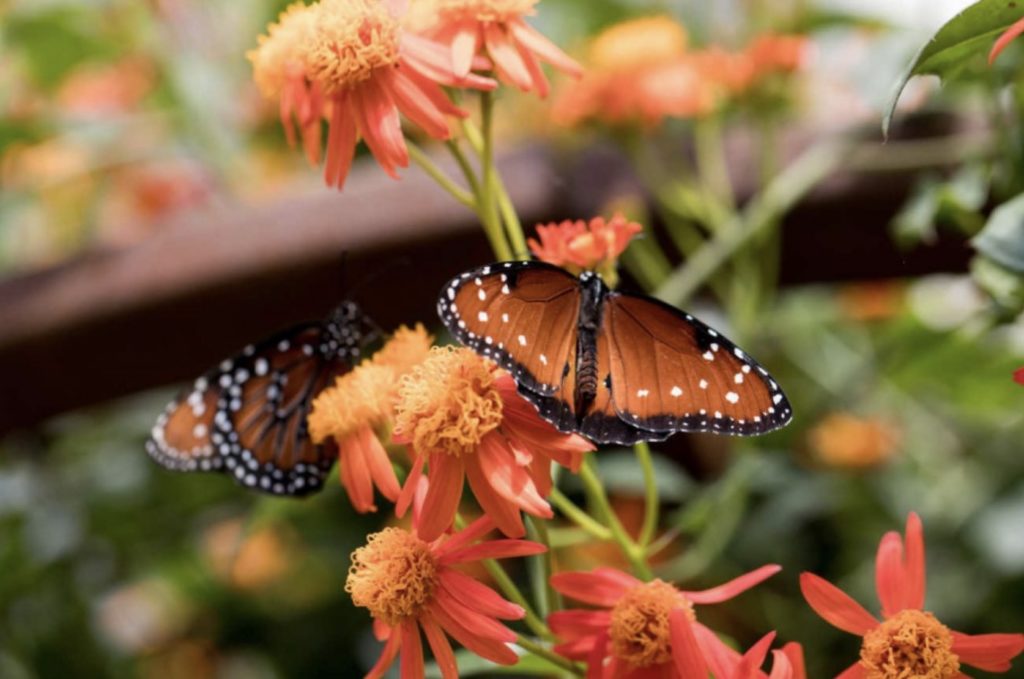 Angelenos jonesing for more cultural to-dos will have another option starting March 18 when the Natural History Museum opens its Butterfly Pavilion and adjacent Nature Gardens.
The experience begins at the north entrance of the garden where guests can enjoy a pleasant walk along a one-way path before entering the netted enclosure containing the star attraction. Inside the Pavilion, curious onlookers can check out some 30 species of butterflies and observe caterpillars munching on leaves. Museum educators and live animal keepers will be on hand to answer questions.
As with every outdoor event in L.A., COVID-19 protocols and safety measures will be in full effect. Guests must buy timed tickets in advance. Face coverings are mandatory, social distancing is enforced, and the museum will limit the number of guests inside the Pavilion to 10 at a time. Tickets for the garden and pavilion experience will run you $6 per person, and parking for one vehicle is also $6.
Note that the $6 entrance fee is just for the outdoor experience, as NHM's indoor exhibits are still closed in accordance with Los Angeles County's current reopening guidelines. L.A. remains in the purple (widespread) tier of infection, though with the current daily infection and positivity rates continuing a downward trajectory, officials are hopeful we may reach the red (substantial) tier soon. Under the red tier, museums may open indoor facilities at 25% capacity, per the state's official guidelines. For now, limited outdoor experiences are the only game in town.
The garden walk and pavilion experience will be open Thursdays through Sundays from 9:40 a.m. to 5 p.m. A set of member/partner previews will run March 11-14, then public visitation starts on March 18. Tickets will be sold in two-week blocks, with the first batch available on March 8 at 10 a.m.
For more information, you can visit nhm.org.