Last night I had the chance to head over to the Los Angeles Natural History Museum to preview their newest exhibition, Grandes Maestros: Great Masters of Iberoamerican Folk Art. And you know what? It was pretty damn cool.
I was blown away not only by the sheer volume of amazing folk art (the exhibition showcases more than 800 works representing 22 counties in a space over 13,000 square feet!), but the detail and sheer craftsmanship that went into creating these colorful masks, intricate textiles, hand-carved miniature sculptures, yarn paintings, clay animals, religious and political altarpieces… it's kind of amazing.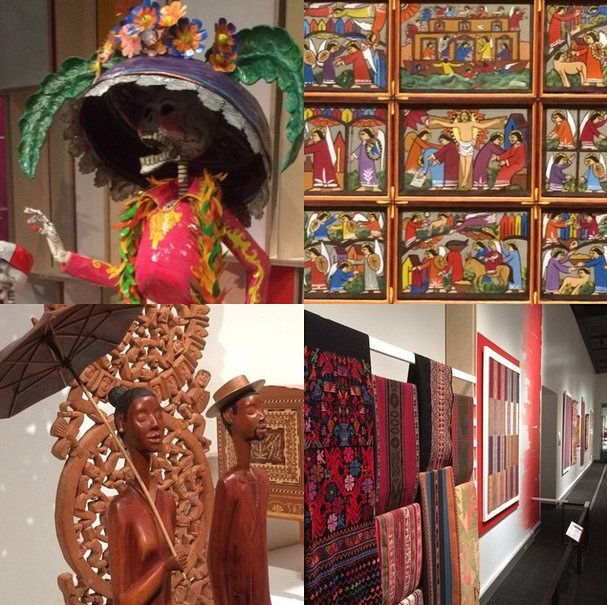 The term "Grandes Maestros" could literally translate as "great teachers" and I think teaching is exactly what this exhibition does, providing a master's glance into the cultural heritage of an entire catalog of Latin American countries. Plus, it's kind of cool learning some of the artistic techniques used in hand crafting the works (like how natural dyes are harvested from the local sea life) or the mythic folklore behind cultural symbols (like what's up with these feathered dragons?!?!). Mostly I like it because it highlights and elevates the "people's art" to a higher level of importance (which frankly, is where I think it belongs).
The good news is that this Sunday the exhibition opens to the public with a special Latin Festival to get things started. The festival will take place from 9:30am to 5:30pm and will include an array of music, food, and workshop related activities.
Performances include music by the L.A. Opera, presentations by Peruvian and Brazilian dance companies, and even a Malibu based Mariachi band.
There will be drop-in crafting stations, rock-design tutorials, and food trucks serving Latin America-inspired fare. Food vendors will include Piaggio on Wheels, Border Grill, No Judas Cuban Truck, and Mucho Perro.
The Latin Festival is included with General Admission to the NHM.
Tickets to the Grandes Maestros exhibit are $20 for adults; $17 for seniors and students; $10 for children; free for children 2 and under and Museum members.
The Natural History Museum of Los Angeles County is located at 900 Exposition Blvd., Los Angeles, CA 90007. Open seven days a week, 9:30 a.m. to 5 p.m. Tickets $12 for adults, $9 for students and seniors, $5 for children. Admission is free the first Tuesday of every month. For tickets or more information: (213) 763.DINO; nhm.org.