Do you like the notion of getting some greenbacks in the hands of mom and pop businesses in the area that provide quality, authenticity, and character to our neighborhoods? Well, then Small Business Saturday (first started in 2010) is as good an excuse as any to put that idea into action.
Annually celebrated on the Saturday after Thanksgiving (like a small biz antidote to Black Friday), this year's festivities will include a variety of activities in and around Los Angeles, with local merchants banding together to get the word out and bring in the shoppers.
If you're interested in taking part, here's a few ideas around L.A. where you can dig into your pocket book and buy local.
Yay capitalism!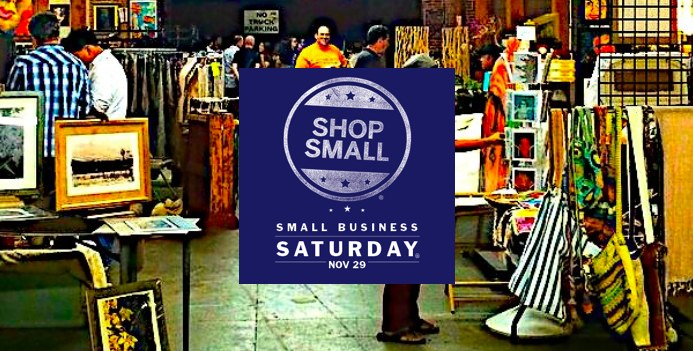 1. Small Business Weekend at the Arts District Flea Market
The SoCal Etsy Guild presents Small Business Weekend in coalition with The LA Girl to with an aim to celebrate small businesses, artisan crafters, and the Shop Small movement generally.
This weekend long event will take place from Friday, November 28, 2014 to Sunday, November 30, 2014 at the Arts District Flea located at 453 Colyton Street, Los Angeles, CA 90013. It includes workshops (many of which are free!) on creating an ETSY shop, blogging, social media, and more, in addition to live music, a full bar, and loads of vendors selling handmade goods.
2.Small Business Saturday on Melrose Ave.
On Melrose Avenue, from Fairfax to Highland, dozens of stores will offer special deals and promotions on the Saturday after Thanksgiving, just in time to kick off the holiday shopping season.
3. Small Business Saturday on Montana Ave
On Montana Avenue from 6th to 17th Streets, you can enjoy live music while shopping one-of-a-kind small boutiques to find unique holiday gifts. Some stores will offer special promotions in conjunction with the national small biz celebration.
4. Eagle Rock Block Party
The fourth annual Eagle Rock Block Party, held this Saturday Nov. 29th will encompass over a dozen shops and retailers participating along Eagle Rock Blvd. and Colorado Blvd. Festivities will include a holiday wrapping station, a family zone, and even a photo booth. Check out the eventbrite link below to see the full list of shops participating.
5. Pop-up Mar Vista
On Saturday Nov. 29th, between 1pm – 4pm, over 35 businesses along Venice Blvd will be participate in the first ever Mar Vista Small Business Saturday Pop-Up Event. Folks can enjoy shopping for holiday gifts, viewing art galleries, , or taking in the atmosphere with a stroll or bike ride. There will even be a raffle with prizes donated by local merchants, and raffle tickets are free, earned by visiting participating shops along the pop-up route!
Know of other #SmallBusinessSaturday events happening in L.A. this weekend? Let us know in the comments below!