Angelenos love food… and so do we!
To help keep you on the pulse of the culinary scene we provide weekly rundown of the best food related news bites (get it?) through one easy-to-digest page of blurbs and links.
This week includes $1 drinks for National Repeal Day, a Bob's Burgers pop-up, NYCs Milk Bar coming to LA and LOTS more.
Your food news CliffsNotes start after the jump.
Bon Appétit!
The 83rd anniversary of the end to the 18th amendment on Dec. 5 and that means…. $1 drinks for all! Check out these 9 Spots Where You Can Get $1 Drinks on National Repeal Day round-up which includes Highland Park Bowl, Bigfoot West and more. Cheers to the end of Prohibition!
Thrillist is throwing a Fest of the Best LA party on Saturday Dec. 10 showcasing some of the best of the Los Angeles food scene. Taking place at Le Jardin in Hollywood. Tickets cost $45 per person.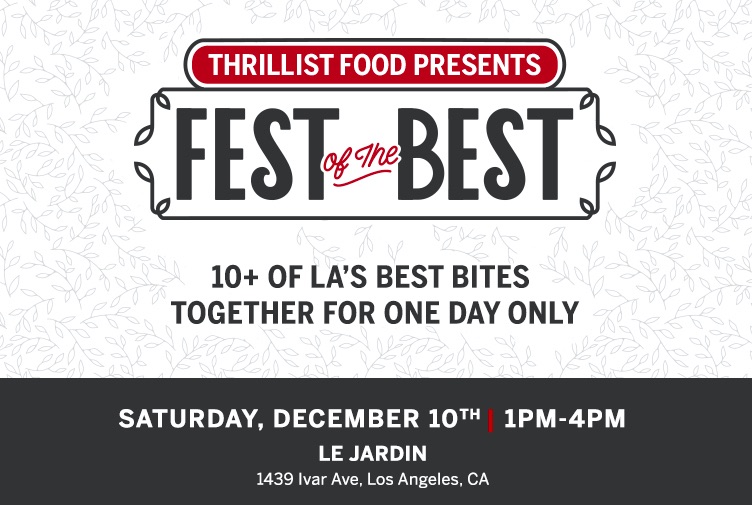 L.A. Weekly Sips & Sweets is back Friday Dec. 2 with the city's best cocktails and desserts all under one roof at the Petersen Automotive Museum.
The L.A. Zoo Lights 60's Cocktail Party will celebrate the zoo's 50-year anniversary with a retro themed party on Thursday Dec. 15. Guests will enjoy VIP access to LA Zoo Lights, gourmet hors d'oeuvres and plenty of cocktails including wine, beer, and specialty holiday cocktails.
There's a Bob's Burgers pop-up happening on Thursday Dec. 1 at the former Amboy takeout window inside the Far East Plaza in Chinatown. According an Eater LA article you can "expect a ten-day run of one-off burgers done in conjunction with a number of different guest chefs."
Esters Wine Shop & Bar in Santa Monica will host two holiday themed workshops this month. A Cocktail Workshop: Monday, Dec. 5 led by Rustic Canyon's Bar Manager, Aaron Ranf. Cost $65 per participant and a Wreath Making Workshop: Saturday, Dec. 10 with local, design-forward florist Krystal Chang. Cost $95 per participant. Book a reservation by emailing [email protected] or calling 310.899.6900. Space is limited per workshop.
Kendall's Brasserie will host a Breakfast with Santa on Saturday Dec. 10 and Sunday Dec. 11 at their DTLA restaurant. Grown ups can enjoy an a la carte brunch while the little ones await Santa and stay entertained at the holiday cookie decorating station. make your reservations here.
FYI …
Per Eater LA, Milk Bar recently confirmed they are looking for a L.A. location!!! Expect the NYC sweets bar run by Christina Tosi to land a spot somewhere in the "heart of the city" in 2017. We are betting on Downtown Los Angeles.
Must hit up place of the week goes to…
Enjoy complementary mixology classes, beer and wine seminars and tastings this Wednesday Nov. 30 from 7 to 9 p.m. during Liquid Intelligence at The Mixing Room. This weeks theme is "Hot Cocktails for Cool Nights"
Finally, just a quick snapshot of the best thing we've eaten in the past week…
The Osso Bucco at Maple prepared by Chef Mark Salazar is served with creamy polenta, sautéed rapini and pan jus. Avaialbe during dinner service at Descanso Gardens Enchanted Forest of Light.