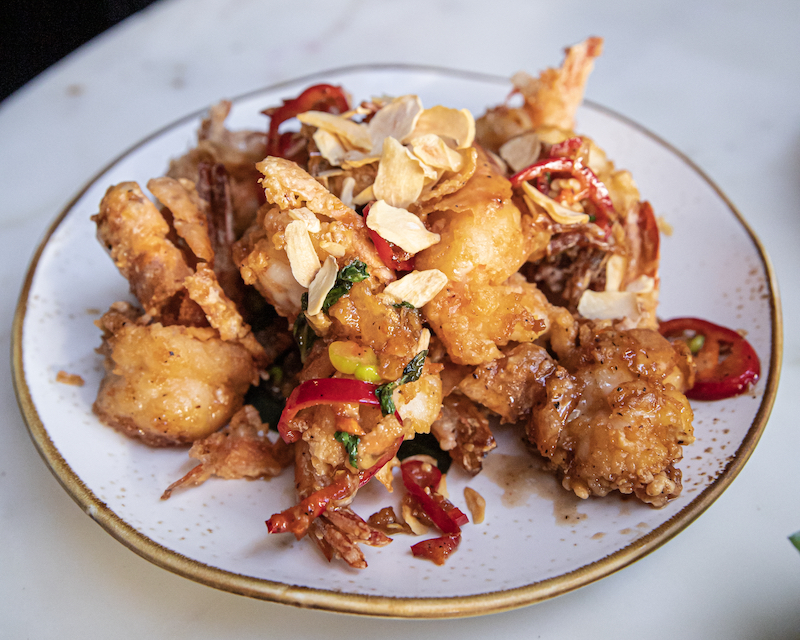 dineLA Restaurant Week returns for its fall edition from October 14-28. The two-week promotion features special prix-fixe menus from top restaurants across Los Angeles, with lunch and dinner deals starting at $15. Per usual, options abound. It can be, if we're being honest, a bit overwhelming.
To aid, I've vetted the entire list of restaurants and their offerings to help you find the best deals. Below you'll a quick rundown of places that should be on your checklist as you eat your way through the city (in my humble opinion). Hope it helps!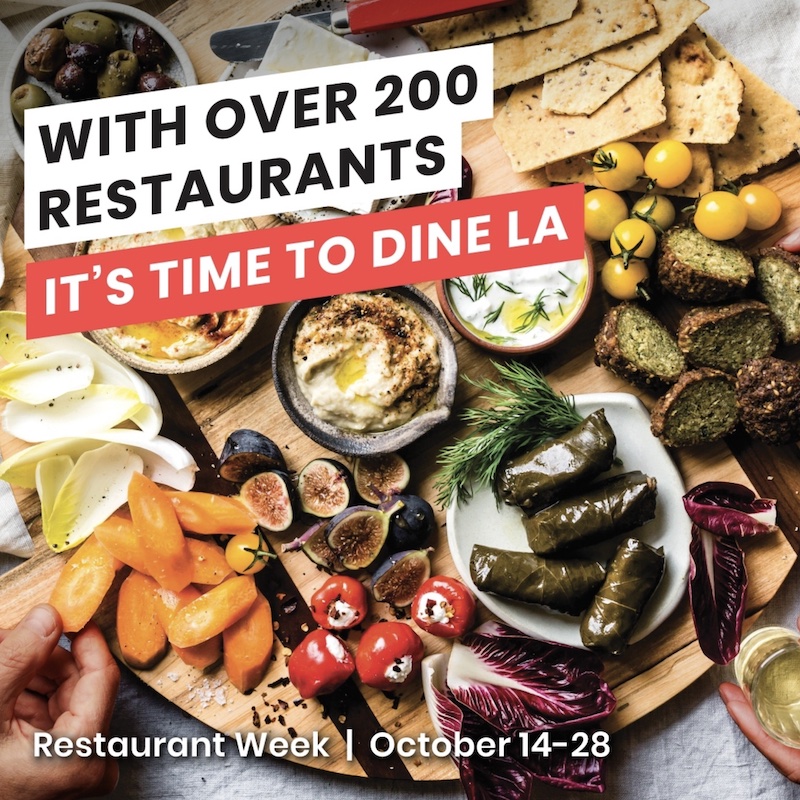 Grand Central Market (Downtown Los Angeles)
GCM vendors join dineLA this season with $15 lunch and dinner menus. Some are highlighting their most popular dishes including the KFC Rice Bowl from Shiku to Sari Sari's Adobo Fried Rice and a Pulled Pork sandwich from Horse Thief BBQ. Save room for dessert because McConnell's Ice Cream is also participating with a $15 tasting flight of five scoops, one topping and a Chocolate Chunk Cookie. More info here. 
Bone Kettle (Pasadena)
Bone Kettles's Chef Erwin Tjahyadi offers a $55 four course prix fixe featuring a wide variety of delicious Southeast Asian dishes to curate a perfect dinner experience. Highlights from the menu include a Filipino style Scallop Ceviche, Garlic Prawns, Ube Gnocchi and Braised Ox Tail and Noodles. More info here.
Motto Tea Cafe (Pasadena)
The Pasadena bubble tea shop known for serving Japanese style soufflé pancakes will offer a $15 combo deal during dineLA where guests will choose a soufflé pancake and drink of their choice. More info here. 
Shibumi (Downtown Los Angeles)
Treat yourself to a Michelin star meal at Shibumi during dineLA Chef David Schlosser serves an elaborate range of seasonal dishes curated together as multi course meals. For dineLA Shibumi is offering IKKYU's Meal for $125. Named after a Japanese Zen Buddhist monk and poet, the meal begins with a Hassun, a tray of snacks from the mountain and the sea followed by a number of small dishes and then goose stew served with an iron pot of rice and accompaniments. More info here. 
Sichuan Impressions (Alhambra)
Tongue numbing spice destination Sichuan Impressions will offer a $25 lunch menu that includes your choice of two items like Chili Oil Wontons and Ma-po Tofu served with a bowl of rice. Dinner is a great value during dineLA for only $65 you can get four courses served family style for two to three people. Highlights from the dinner menu include Smoked Pig Ear, Mini Lamb Skewers, and Boiled Fish Rattan Pepper stew. More info here. 
Hanchic. (Koreatown)
The experimental Korean restaurant known for their flavorful food mashups has a $80 dineLA dinner set for two. The deal comes with five courses that include some of their greatest hits like the Bulgogi Risotto and Galbi Jjim. More info here.  
GOGOS Tacos (Koreatown)
Vibrant taco stand GOGOS is taking diners through a "Taste of GOGOS" with five mini tacos, a half serving of rice and beans plus sugar tips for $15. Available all day. More info here.
Guerilla Tacos (Downtown Los Angeles)
The Artist District restaurant will offer a $15 Enchilada Combo Plate #2 during lunch. Dinner is much more interesting with a special $45 "Guerilla Bento Box" that includes lamb broth, a cabbage salad, hamachi ceviche, rice, beans, lamb barbacoa and flan. More info here.
A.O.C. (Brentwood & West Hollywood)
Both locations of the beloved wine bar will participate with special brunch, lunch and dinner prix fixes. For daytime, A.O.C. Brentwood offers $35 lunch and brunch menus for dineLA and West Hollywood will stick to just weekend brunch. I recommend coming for brunch, since it's the only time you can get the legendary Spanish Fried Chicken remixed for the morning with shaved jamón serrano, a cornmeal waffle and maple syrup. The four-course dinner menu for restaurant week will be identical at both locations and cost $65 a person. On the menu you can find seasonal produced such as radicchio tossed with apples and mint and salmon wrapped with pancetta wrapped salmon served with savoy cabbage and grapes. More info here for Brentwood and here for West Hollywood.
All Day Baby (Los Feliz)
For dineLA, the Los Feliz eatery showcases their popular Smoked Beef and Cheese sandwich paired with a vodka spiked pink lemonade for $25 during lunch time. Made with sirloin, the sandwich is topped with cheddar cheese sauce and horseradish mayo held together with a brioche bun. More info here.