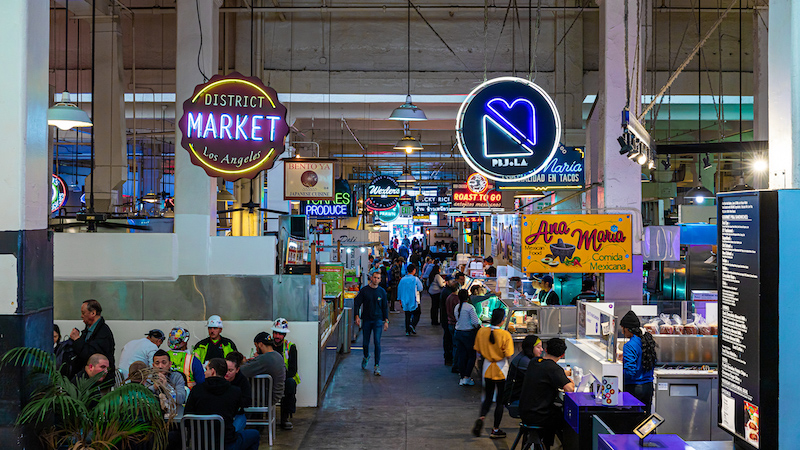 At We Like L.A., we're all about giving you options, and that means ideas for Angelenos who don't want to spend their weekends jammed up on a freeway or scouring for parking at the city's busiest venues. After all, if you could skip the hassle, why wouldn't you?
As we kick off May we're excited to launch a brand new series of content collaborations with our friends at L.A. Metro where we'll detail the best local happenings accessible by Metro throughout the county. It all starts with a fun-filled lineup of to-dos for Cinco de Mayo weekend (May 5-7) that includes a block party at Grand Central Market, a mobility festival in Culver City, live comedy at Central Library and a bolero serenade at Union Station.
Want to Go Metro? Jump into the list below for a few more ideas, and remember to swing over to the Metro Trip Planner to help navigate your route. And of course as always, enjoy your weekend!
Metro-Accessible Weekend To-Dos
First Fridays at NHM -> Natural's History Museum's signature monthly series returns this Friday with an evening centered on the legacy of Asian pop-culture and the history of Giant Robot Magazine. There will be a special panel discussion featuring Giant Robot co-founders Eric Nakamura and Martin Wong, and a film screening of Artbound/Giant Robot: Asian Pop Culture and Beyond, co-presented by KCET. Plus you can catch outdoor sets by Arushi Jain and DJ ET IV along with cocktails and bites for purchase. Tickets are $20 for non-members, and parking is $15 flat rate at the NHM Car Park. Runs 5 to 10 p.m. More info here.
GO METRO: Take the E Line to Expo Park / USC Metro station
---
CD14 Cinco de Mayo at Grand Central Market -> This Friday, Council District 14 and Grand Central Market team up to shut down Broadway between 3rd and 4th Streets for an all-day block party celebrating Cinco de Mayo. Expect live music and mariachi, plus guests can see what's on offer at GCM for DineL.A. or swing down to Grand Central Market Bazaar on the lower level. Block party festivities take place from 2 to 9 p.m. Free to attend. More info here.
GO METRO: Take the B or D Lines to Pershing Square
---
First Fridays in Chinatown -> Galleries, restaurants and other creative businesses in L.A. Chinatown band together for an evening of extended hours and activations every first Friday of the month centered around King Chung Rd off Hill St. The fun takes place from 5 to 9 p.m. Get more here.
GO METRO: Take the L Line to Chinatown station
---
Live Jazz at LAMCA -> Every Friday from April through November, the Los Angeles County Museum of Art showcases some of L.A.'s best jazz musician through an outdoor, evening concert series at Smidt Welcome Plaza. This week, catch a performance by Emmy and Grammy-nominated guitarist/composer Grant Geissman. The event is free to attend and runs from 6 to 8 p.m. Seating is first-come, first-served. More info here.
GO METRO: Take line 217 along Fairfax Ave or line 20/720 along Wilshire Blvd
---
Night Dive at The Aquarium of the Pacific -> The Aquarium of the Pacific's signature adults-only, after-hours series returns this Friday with a Cinco de Mayo edition of the event featuring food trucks, cash bars, DJs throughout the Aquarium galleries, art, and a live band performing on the stage in front of the Honda Blue Cavern. GA tickets are $29.95. Runs 7:30 to 11 p.m. More info here.
GO METRO: Take the A Line to Downtown Long Beach station
---
Pedal Power: A Mobility Festival at Ivy Station -> This Saturday, hop off the Expo Line at Culver City's Ivy Station for a free family festival featuring a bike skills course for kids, a community ride, music, food, and plenty of bike friendly vendors/partners on hand including Walk 'n Rollers, CC Pride Ride & Rally, Bike Culver City, CicLAvia, LADOT, and more. Runs 11 a.m. to 3 p.m. Get more info here.
GO METRO: Take the E Line to Culver City station
---
L.A. Taco's Taco Madness -> L.A. Taco's annual extravaganza of taco tastings comes to LA Plaza de Cultura y Artes this Saturday with a tantalizing lineup of the city's best taqueros, including Sonoratown, Villla's Tacos, Tacos Don Cuco, Evil Cooks, GoGo's Tacos, and more. Tickets range between $10-$70 depending on the number of prepaid food vouchers you get, and whether you want basic admission or early access. Event runs 5 p.m. to midnight. Get more info here.
GO METRO: Take the B, D or L Lines to Union Station
---
L.A. Made at Central Library -> Beginning this past December, the Los Angeles Public Library launched a series of 150 days of activities and events to mark their 150th anniversary. This Saturday, the months-long countdown concludes with an afternoon of standup comedy at Central Library's Mark Taper Auditorium featuring L.A.-based comedians Jesus Trejo and Chris Estrada. The set starts at 1 p.m. and is free to attend, but RSVPs are recommended. More info here.
GO METRO: Take the A, B, D, or E Lines to 7th Street / Metro Center station
---
Tres Souls at Union Station -> As part of Metro Arts Presents, Tres Souls brings an afternoon of nostalgic bolero music to Union Station's ticket concourse this Saturday from 2 to 4 p.m. The L.A-based trio will serenade Angelenos with a special ambient performance referencing the golden age of Mexican Cinema (think: 1940s to 1960s). The music is free to enjoy for weekend commuters and passersby alike. More info here.
GO METRO: Take the B, D or L Lines to Union Station
---
Self-Care Yoga at CAAM -> Meditation instructor Constance Hartwell returns for another free 60-minute yoga flow session this Saturday at California African American Museum. All levels are welcome to attend, but be sure to bring your own mat and water. Runs from 11 a.m. to noon. More info here.
GO METRO: Take the E Line to Expo Park / USC Metro station
---
Party On! A Sober Comedy Show -> Santa Monica's hyper-inclusive comedy venue, The Crow, defines itself by the idea that healing and humor go hand in hand. Every first Sunday of month, the venue hosts Party On!, which gathers a lineup of comics to speak to their unique experience of recovery. For May, headliners include Laura House, Kim Clevenger, Fielding Edlow, Madison Shepard, Rachel Scanlon, Percy Rustomji, and Mark Brazil. Show starts at 7 p.m. Tickets are $20. More info here.
GO METRO: Take the E Line to 26th St / Bergamot Metro station
---
Want to get the best things to do in L.A. sent straight to your inbox? Join over 60,000 Angelenos who subscribe to our twice weekly email newsletter!
By subscribing, you agree to our terms of use and privacy policy and consent to receive emails from We Like L.A. about news, events, offers, and partner promotions.