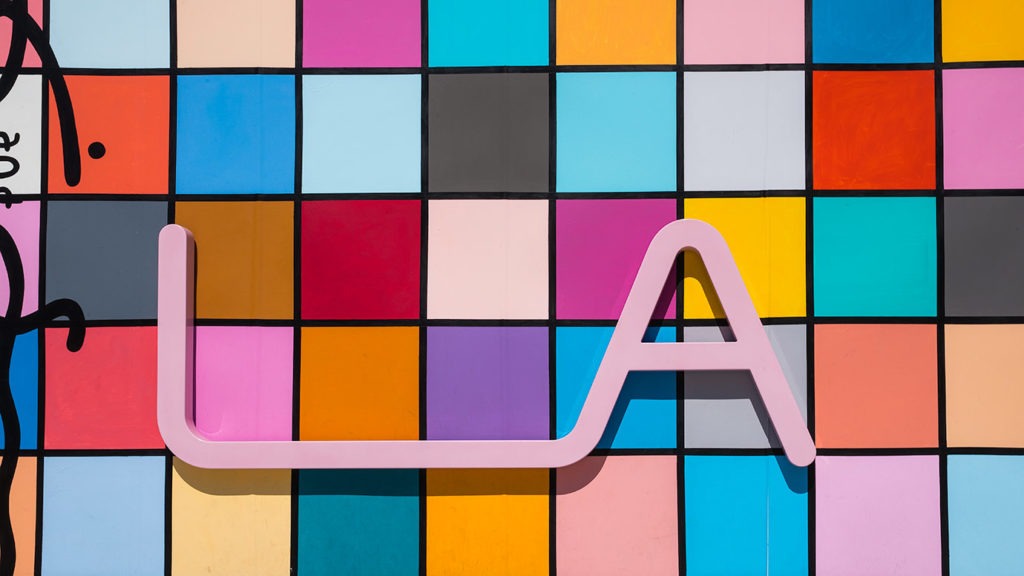 We used to tell you about all the things you could go out and do in Los Angeles on a daily, weekly, and monthly basis. Then, COVID-19 changed life for all of us, in a thousand small and massive ways. Until the pandemic is behind us, we'll post events that adhere to Public Health's current protocols—including plenty of at-home and online events—every Monday and Thursday. We hope they keep you busy, make you laugh, teach you something, or help you feel less alone.
This weekend, we've got a new Brazilian restaurant, a sexy film fest, a star-studded comedy show, fortune readings, photo exhibits, and more. Have something you want to submit for next week? Hit us up: [email protected].
At-Home & Online Events
Festpocalypse! is a virtual fundraiser for SF Sketchfest, San Francisco's top comedy festival. It streams live on Jan. 30 and features performances from some of the most famous sketch groups and comedians including Kids in The Hall, David Cross, Bob Odenkirk, Upright Citizens Brigade, Fred Armisen, Margaret Cho, and dozens more. Ticket-buyers will have access to replays through Feb. 1. Tickets start at $20.
Dan Savage's sex and body positive HUMP! Film Festival will be a livestream event this year from Jan. 30 through March 6. Watch indie erotic films made by real people for real people from the comfort of your home. The festival kicks off with a viewing party with Dan.
The Broad's next episode of Time Decorated: The Musical Influences of Jean-Michel Basquiat is now live. This one explores punk and no wave and is hosted by James Spooner, co-founder of the Afropunk Festival. Watch here.
The Santa Monica Conservancy hosts a virtual birthday party for silent film actress Marion Davies on Jan. 31 at 3 p.m. The party streams live from the Annenberg Community Beach House where Davies once lived, and includes stories, music, and drink recipes. The event is free with RSVP, but you must register by Sat., Jan. 30 at 3 p.m.
On Jan. 30, Atsuko Okatsuka hosts a free Zoom comedy show featuring stand-up by comedians who've all grown up with family members affected by mental illness.
American Cinematheque presents a free discussion with Sound of Metal director Darius Marder and stars Riz Ahmed, Olivia Cooke, and Paul Raci on Jan. 29.
RE:Her's Food Festival, highlights over 100 women-owned businesses in Los Angeles and beyond from Jan. 21-30 through exclusive takeout meals, dozens of menu collaborations, special offers, and panel conversations by and for women. View a list of events here.
Tough Luck is a 90-minute immersive puzzle adventure in which participants must decipher clues to track down a master thief. Show dates are Jan. 30 & 31 at various times. Tickets are $40/person.
Cup of Knowledge is an interactive fortunetelling experience that takes place over Gather Town Jan. 29-31. Per the synopsis: "For a woman who drinks from the cup of knowledge is aware she can support herself financially and emotionally, and what dear reader, is more threatening than that?" Tickets are $5.
The Morrison Hotel Gallery's latest online exhibition, The American Sound, pays homage to picket lines, peace signs, and progenitors that defined American politics, movements, and culture.
Join Naked Comedy on Jan. 30 at 6 p.m. for What's Your Problem, Sir, an interactive comedy show with Ever Mainard. Tickets are $5.
Chunky Paper is hosting a pop-up in Chinatown from Jan. 25 through Feb. 15, just in time for Chinese New Year (Feb. 12). Discover seriously adorable, handmade red envelopes in the shape of boba tea, Dodgers baseball caps, and more. Stop by the pop-up or shop online.
The Music Center and dublab present A Quiet Scene: L.A., a free film competition and screening initiative. Anyone can submit a short film that is "an authentic reflection of Los Angeles during current times," which must be paired with and filmed in duration to one of the seven tracks featured on the Roger and Brian Eno EP Luminous. Submissions are open at filmfreeway.com/AQuietSceneLA from Jan. 22 through Feb. 21.
Join PetSpace on Jan. 30 for a free special online workshop to understand your pet's grooming needs.
From The Wallis' Sorting Room Sessions comes Jacob Jonas The Company's Films.Dance, a collection of 15 short dance films shot throughout the pandemic. The first launched on Jan. 25 and the rest will roll out weekly.
LACMA and LA County Library have partnered on several online programs for teens and kids. They include storytelling and art workshops, plus info on how to pursue a career in museums.
The City of West Hollywood's next WeHo Sounds concert is on Jan. 29 at 6 p.m. featuring Katalyst. Join free here.
Holocaust Remembrance is a four-day virtual festival of events beginning on Holocaust Remembrance Day (Jan. 27) presented by New West Symphony. Programming kicks off with "Never Forgot" on Jan. 27 at 7 p.m., featuring interviews with Celina Biniaz, the youngest of Schindler's List survivors, and the Violins of Hope Los Angeles Chair Susanne Reyto, along with a showing of a "Violins of Hope" documentary. Tickets are $25. See the complete schedule here.
The Museum of Unnatural History in Chicago presents The Kingdom of Slovenia, a virtual tour through a fantastical world populated by sentient foods. Described as "part theme park ride, part role-playing game," groups of 4-8 will explore the land's agricultural and mythical history and make choices that impact their tour guides and Slovenia's citizens. Tickets are available on a sliding scale from $1-$15 here. Open Fridays through Sundays through Feb. 21.
National Young Artists Week is Jan. 25-30. It's a virtual showcase of young artists across the country in mediums including voice, theater, dance, film, writing, and music. RSVP here.
The Skirball presents the Tightrope: Americans Reaching for Hope Jan. 21–May 31. The online exhibit is based on the New York Times bestselling book by Pulitzer Prize–winning journalists Nicholas D. Kristof and Sheryl WuDunn and features images of America's most complex problems captured by photojournalist Lynsey Addario.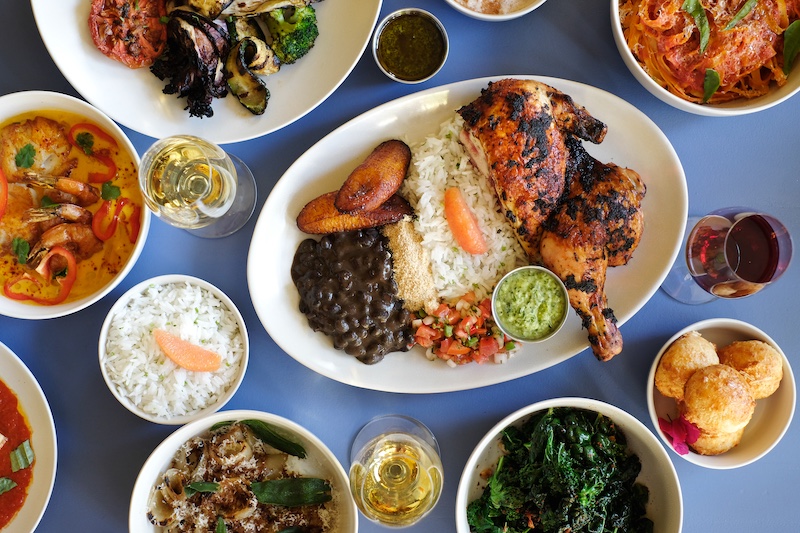 Pickup & Delivery
Los Feliz newcomer Nossa opened this week. Its Southern Brazilian menu features cheese bread, roasted chicken, and moqueca de peixe, a coconut milk-based fish stew. Available for pickup and delivery Wednesday through Sunday.
On Jan. 30 from 11 a.m. to 7 p.m., the MÍRAME Oyster Pop Up will allow guests to purchase grilled or raw oysters to-go from a sidewalk stand in front of the Beverly Hills restaurant. Available for pre-order only at $33 per dozen. Tacos, cocktail, and wine are also available. Order here.
Pasadena's annual Cheeseburger Week returns Jan. 24-30 with 40 participating restaurants including The Raymond, Pie 'n Burger, Hummus Labs, Bone Kettle, and more. Find special offers, new burgers, and deals available for takeout.
101 Coffee Shop will pop up at Little Dom's in Los Feliz, featuring popular menu items one last time before the beloved diner bids farewell forever. Available for takeout over the phone or delivery through DoorDash or Caviar Jan. 26 through Feb. 7.
Get a taste of Southern French cuisine this week when Lucques Cassoulet Night returns Jan. 29-30. The cassoulet is accompanied by greens, a baguette, and a gateau basque for dessert. An order for two is $65, $125 to feed four. Available on Tock.
Apollonia's Pizzeria's off-menu square pizzas are now available to reserve online for takeout. The signature pie is surrounded by a crown of crispy cheese and topped with goods like pepperoni and squash blossoms.
Chef Jordan Kahn released a new "Vespertine At Home" experience, placing emphasis on atmosphere. The eight-course menu includes organic roasted chicken, velvet white carrot soup, and hand-rolled cinnamon buns with woodruff and dried peach. Chef Kahn has also curated an Atmospheric Box that will accompany each order. The box includes items like flatware, linens, incense, and other elements to provide guests with a unique Vespertine experience in their own homes. Each package is $245 and serves two people. Available Friday through Sunday from Jan. 22 through Feb. 7. Order on Tock for pickup from Vespertine in Culver City.