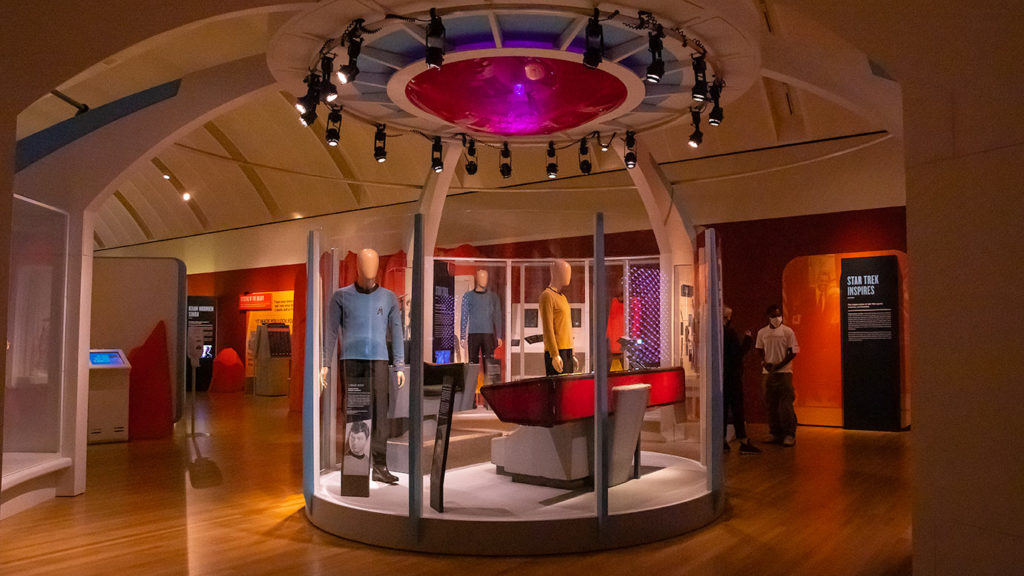 There's always lots to do in Los Angeles, and per usual we're here with a bi-weekly (Monday and Thursday) rundown of the best of what's happening in the city and county.
This week, from Oct. 4-8, features a new Star Trek exhibit at Skirball, Bond in Motion at The Petersen, a Tito's Fiesta in Culver City, Havana Nights in Downey, Warhol works at The Luckman, Vegan Fashion Week, and more!
[Remember, if you want to stay connected with our weekly updates, be sure to sign up for the We Like L.A. Newsletter]
Monday / Throughout the Week
1. Bond in Motion -> The Petersen Automotive Museum's newest exhibit showcases the largest official James Bond vehicle collection in the United States, including the 2002 Ashton Martin V12 Vanquish (replete with machine guns and heat seeking missiles) and the 1977 Lotus Esprit S1 "Wet Nellie," which conveniently converts into a submarine (as seen in The Spy Who Loved Me). Exhibit access is included with general admission, which is $17 for adult, non-members.
2. Tito's Fiesta -> This Monday, Tito's Handmade Vodka and Tito's Tacos team up to celebrate National Vodka Day and National Taco Day, which both take place annually on Oct. 4. Tito's Fiesta Mexicana pairs tacos and vodka-based cocktails with live comedy, Folklórico and Mariachi entertainment. The ticketed event runs 4 to 9 p.m. and costs $25 per person for three cocktails and tacos (unlimited until supplies last) if you are only here for the food a ticket to the event will cost $10. Proceeds will go on to benefit The Culver City Cultural Affairs Foundation. Some tickets will be available at the door.
4. Men in Black in VR -> Dreamscape Immersive at the Westfield Century City has a brand new virtual reality experience based on the world of Men in Black. Men in Black: First Assignment casts you as a rookie agent tasked with thwarting an Octopoid plot that could destroy the entire universe – unless you stop it. Tickets are $23.50 per person, and the experience runs about 35 minutes end to end. Get more info here.
5. Icons of Darkness -> Opening at Hollywood and Highland on Sep. 27, the new Icons of Darkness exhibit promises hundreds of rare props, costumes, effects and other film-used items, all pulled from privately-owned collections of authentic sci-fi, fantasy, and horror film memorabilia. Think T-Rex heads from Jurassic Park, original helmets from Star Wars, a screen-used Xenomorph creature costume from Aliens, or wands used in the Harry Potter series… you get the idea. Adult tickets are $30. Get more info here.
6. House of Horrors: A Prime Video Pop Up Shop -> For Halloween 2021 Amazon Prime Video is stepping up their IRL game with a pop-up experience featuring show-inspired costume displays from multiple Amazon Originals, including The Voyeurs, Black As Night, Madres, and I Know What You Did Last Summer, which all will premiere on the streaming network in October. Visitors can shop select costumes, stop for photo ops with special displays, or swing by a candy kiosk. Free to attend. Runs Oct. 1-31 at Amazon Pop Up, 8551 Melrose Ave. Hours are 10 a.m. to 6 p.m. on Monday to Saturday, and 11 a.m. to 7 p.m. on Sundays.
7. Boo at the Zoo -> The Los Angeles Zoo goes wild this October with the return of Boo at the L.A. Zoo, featuring Halloween decor, a spooky stroll with photo ops, an extinct-animal graveyard, and other weird and wacky animal facts and educational opportunities. Weekends include special animal feedings, merry-not-scary entertainment, take-home crafts, and, during the last two weekends in October, trick-or-treat candy stations scattered throughout the Zoo grounds. Runs Oct. 1-31. All activities are included with Zoo admission, which is $22 for adults, and $17 for children 2-12. Tickets are More info here.
8. Beverly Center Pumpkin Patch -> The Beverly Center's second annual family-friendly pumpkin patch kicks off on Oct. 1. Activities include pumpkin carving demonstrations, live music, photo ops, and of course pumpkins for sale. More info here.
Tuesday
9. The Enigmatist -> If you have an addiction to solving puzzles, then you might want to check out The Enigmatist, an in-person experience created by New York Times crossword wizard David Kwong. Running from Sep. 14 to Oct. 30 at The Geffen Playhouse. Tickets start at $30. More info here.
10. Ssssensational Ssssnakes -> Kidspace Museum in Pasadena has a new interactive exhibit that gives children a chance to get up close and personal with a few reptile ambassadors while getting unique insights into what about makes snakes so special. Access to Ssssensational Ssssnakes is provided with regular admission, which is $14.95 per person. Museum hours are Tuesday-Sunday, from 10 a.m. to 5 p.m. The exhibit runs through Oct. 31. More info here.
Wednesday
11. We're Wolves at Hive Gallery -> We're Wolves, opening at The Hive Gallery in DTLA on Oct. 2, promises an "immersive journey into a werewolf family's cabin," with what looks like a vast collection of drawings, paintings, and mixed media works, all dedicated to the transformative demihuman. The exhibition features contributions from over three dozen listed artists. Along with an opening event (RSVP required), special events slated in conjunction with the exhibition include a film fest on Oct. 9 and a moonlight performance night on Oct. 16. Check out the exhibition website for more info. Gallery hours Wednesday to Saturday from 1 to 6 p.m., or by appointment.
12. Andy Warhol at The Luckman -> The Luckman Fine Arts Complex at Cal State LA is hosting a new exhibition of over 70 works by Andy Warhol, including 10 recently-acquired silk screens, plus a trove of polaroids from the artist's personal collection. Admission is free, but reservations (available Wednesdays through Sundays) are highly recommended. More info here.
13. Haunt 'O Ween LA -> Building on last year's drive-through experience, this year's Haunt 'O' Ween LA at the Westfield Topanga expands into a spooky fun playground of family friendly in-person attractions, including a pumpkin patch, spooky graveyard, trick-or-treating area, food trucks, wine tasting, and more. Runs Oct. 1-31. Tickets are $30 per person on weekdays and $35 on weekends. More info here.
14. Nights of the Jack -> Set at the King Gillette Ranch in Calabasas, Nights of the Jack creates an interactive walking trail more than a half mile in length, lined with thousands of hand-carved, illuminated pumpkins and pumpkin inspired installations. Runs daily from Oct. 1–31. Weekday general admission is $34.99 per person, and weekends run $39.99. More info here
Thursday
15. Star Trek at Skirball -> This Thursday, Oct. 7, Star Trek: Exploring New Worlds opens at the Skirball Cultural Center. The exhibition highlights Star Trek's indelible imprint on modern culture and technology while giving fans a rare glimpse at over a hundred artifacts and props from the Star Trek films and television series, including tricorders, communicators, phasers, uniforms, space craft models, and even the command chair and the navigation console used in the original series. Tickets to Skirball start at $15 per adult. Get more info on the exhibition and planning your visit here.
16. Mr. Bones Pumpkin Patch -> Culver City's favorite pumpkin village offers plenty of family fun, including photo ops in front of giant pumpkin installations, a straw maze, a super slide, giant rocking horses, and pumpkin decorating sessions. Dogs are even welcome too, on select days of the week. Runs Oct. 7-31. Tickets range from $5-20, depending on date of attendance. More info here.
17. Havana Nights -> This Thursday, the City of Downey is hosting a special evening celebrating Cuban Culture at the rooftop of a parking structure at the corner of 2nd and New Street. Havana Nights will feature live musical performances, DJ's, artist exhibits, food vendors, arts and crafts for kids, plus a beer and wine garden. Runs from 6 to 9 p.m. Free to attend. More info here.
18. Turtle Races at Brennan's -> The signature turtle racing night at Brennan's in Marina Del Rey is now back every first and third Thursday of the month. Races run at 8:30 and 9:45 p.m. More info here.
19. Creep LA -> JFI Productions' Creep LA has been a mainstay of local immersive horror shows since debuting in 2015, and this year's edition promises a more intimate experience. Starting Sep. 30, Creep takes over The Ghost Light venue inside the Three Clubs bar in Hollywood, only allowing six guests in per performance, according to Scare Zone. Shows runs during timed blocks on select dates from through Oct. 31. Tickets are $95 per performance, plus service fees. More info here.
20. Halloween Horror Nights -> Universal Studios Hollywood brings their annual terror attraction back starting on Sep 9. This year's edition includes the return of the "Terror Tram," featuring "The Ultimate Purge," along with a maze based on "Halloween 4: The Return of Michael Myers." GA tickets range between $69-$99, depending on the date of attendance. More info here.
21. Los Angeles Haunted Hayride -> After adapting to a drive-thru version last year, the Haunted Hayride is back in Griffith Park for 2021 with in-person activities based around a fictional town named Midnight Falls, circa 1985. In addition to the signature hayride, highlights for this year's event include a Trick or Treat Maze, the Midnight Mortuary Tour, and the Dead End Diner. Kicks off this Friday, Sep. 24 and runs on select nights through Oct. 31. General Admission tickets are $39.99 (access to all attractions) and if you want to do the hayride only it'll run you $29.99. Get more info here.
Friday
22. Endless Summer Spritz Bar -> Every Friday in October, Hotel June and Lo-Fi Aperitifs are hosting a poolside spritz bar with sets by DJ Lady Sinclair, plus shareable Baja bites for purchase. The series is complimentary (free admission) and open to the public. Runs 5 to 7 p.m. Get more info here.
23. Vegan Fashion Week -> Vegan Fashion Week, which promotes animal-free and sustainable fashion, is hosting a two-day event this Friday and Saturday at the South Park Center in DTLA. Attendees can purchase a $20 ticket that includes access to the pop-up market, LA Fashion Festival film screenings, networking hour, and complimentary soft drinks. See the full schedule for both days and get more info here.
24. Urban Death Tour of Terror -> Zombie Joe's Underground Theatre's annual tradition of Urban Death continues with a new series of terrifying vignettes, bookended by walks through a creepy maze. Runs every Friday and Saturday in October start on Oct. 1, and ends with special performances on Oct. 31 and Nov. 1. Tickets are $15 per person. More info here.
25. It's Alive! -> Starting Oct. 1, Mary Shelley fans can head to the Mountain View Mausoleum in Altadena for It's Alive! An Immersive Frankenstein Experience, produced by the Downtown Repertory Theater Company. The show transports guests into the mind of the Frankenstein author while offering audiences the chance to "meet the poets and radicals of Mary's inner circle" (Shelley famously palled around with Lord Byron and John William Polidori, who is credited with the first published work of modern vampire fiction). General admission tickets are $60, or $55 if you buy at the early bird rate. More info here.
Dining
National Taco day is Monday, Oct. 4. Here are a couple of promos/events happening to celebrate:
26. DTLA's Tacos AF will partner with Rajon Rondo of the Los Angeles Lakers for a special taco fundraiser. For every taco sold on Oct. 4, Tacos AF will donate $1 to the Downtown Women's Center. Rondo will also be at the restaurant from 1-4 p.m. to help pass out orders to customers and meet fans.
27. Little Llama Peruvian Tacos is celebrating their one year anniversary at their brick and mortar location and five years at Smorgasburg with buy one, get one free tacos on National Taco Day. Simply purchase a taco and receive a bonus taco of your choice (Pomegranate-Glazed Pork Belly Taco or a Papa a la Huancaina Taco) free of charge.
28. For a limited time Nomad Eatery in El Segundo is offering an Oktoberfest inspired special, The Nomad Sausage Plate, a grilled bratwurst topped with smoky fresh herbs, sauerkraut, served with Nomad Bavarian mustard and crispy German potatoes. Available now through Oct. 10.
---
Any notes or corrections? Want to suggest an event we should add to an upcoming list? Hit us up at [email protected]