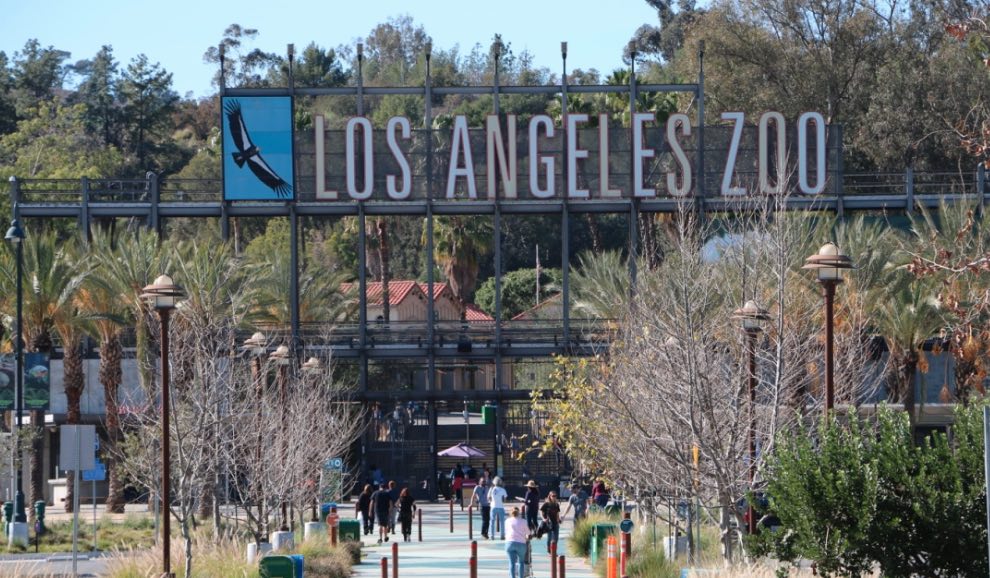 As Los Angeles finds its way out of the pandemic and restrictions gradually ease, we're continuing our bi-weekly round-ups of fun to-dos, mixing in the occasional online/virtual event with an ever-growing listen of in-person experiences and food ideas.
This weekend, from October 1-3, features the Highland Park Indie Film Fest, Boo at the Zoo, Nights of the Jack, LA Wine Fest, Baja Cultural Festival, a new werewolf art show, Silent Sundays at the Mission Playhouse, the Frogtown Marketplace, and more.
[Remember, if you want to stay connected with our weekly updates, be sure to sign up for the We Like L.A. Newsletter]
Friday / All Weekend
1. Highland Park Independent Film Festival -> This week the The Highland Park Festival returns to the Highland Theater with a two-day event celebrating the best of East L.A. film, art and music. Friday kicks off with a red carpet event, DJ-spun tunes, and a free screening of the documentary Carlos Almaraz Playing With Fire. Saturday continues with a full day of screenings, plus a concurrent fan fest taking place outside the theater featuring music, dancing and live painting by Highland Park artists. Saturday's entertainment includes a DJ set from 6 to 8 p.m., plus an exhibit of all things Mermaid curated by members of the Arroyo Arts Collective. Get more info on the film festival, including the full lineup of films, here.
2. Creep LA -> JFI Productions' Creep LA has been a mainstay of local immersive horror shows since debuting in 2015, and this year's edition promises a more intimate experience. Starting Sep. 30, Creep takes over The Ghost Light venue inside the Three Clubs bar in Hollywood, only allowing six guests in per performance, according to Scare Zone. Shows runs during timed blocks on select dates from through Oct. 31. Tickets are $95 per performance, plus service fees. More info here.
3. It's Alive! -> Starting Oct. 1, Mary Shelley fans can head to the Mountain View Mausoleum in Altadena for It's Alive! An Immersive Frankenstein Experience, produced by the Downtown Repertory Theater Company. The show transports guests into the mind of the Frankenstein author while offering audiences the chance to "meet the poets and radicals of Mary's inner circle" (Shelley famously palled around with Lord Byron and John William Polidori, who is credited with the first published work of modern vampire fiction). General admission tickets are $60, or $55 if you buy at the early bird rate. More info here.
4. Urban Death Tour of Terror -> Zombie Joe's Underground Theatre's annual tradition of Urban Death continues with a new series of terrifying vignettes, bookended by walks through a creepy maze. Runs every Friday and Saturday in October start on Oct. 1, and ends with special performances on Oct. 31 and Nov. 1. Tickets are $15 per person. More info here.
5. Boo at the Zoo -> The Los Angeles Zoo goes wild this October with the return of Boo at the L.A. Zoo, featuring Halloween decor, a spooky stroll with photo ops, an extinct-animal graveyard, and other weird and wacky animal facts and educational opportunities. Weekends include special animal feedings, merry-not-scary entertainment, take-home crafts, and, during the last two weekends in October, trick-or-treat candy stations scattered throughout the Zoo grounds. Runs Oct. 1-31. All activities are included with Zoo admission, which is $22 for adults, and $17 for children 2-12. Tickets are More info here.
6. POW! WOW! Long Beach -> POW! WOW!, a week-long festival of street art, murals, and events, is back in Long Beach from Sep 28 to Oct. 5. Visitors can scout for the newly installed murals and art works around Downtown LB, or take part in related programming including a pop-up shop on Tuesday, an artist-led bike tour on Friday, a beach party on Saturday, and Yoga sessions on Sunday. Get more info about the full slate of programming here.
7. Icons of Darkness -> Opening at Hollywood and Highland on Sep. 27, the new Icons of Darkness exhibit promises hundreds of rare props, costumes, effects and other film-used items, all pulled from privately-owned collections of authentic sci-fi, fantasy, and horror film memorabilia. Think T-Rex heads from Jurassic Park, original helmets from Star Wars, a screen-used Xenomorph creature costume from Aliens, or wands used in the Harry Potter series… you get the idea. Adult tickets are $30. Get more info here.
8. Ssssensational Ssssnakes -> Kidspace Museum in Pasadena has a new interactive exhibit that gives children a chance to get up close and personal with a few reptile ambassadors while getting unique insights into what about makes snakes so special. Access to Ssssensational Ssssnakes is provided with regular admission, which is $14.95 per person. Museum hours are Tuesday-Sunday, from 10 a.m. to 5 p.m. The exhibit runs through Oct. 31. More info here.
9. Haunt 'O Ween LA -> Building on last year's drive-through experience, this year's Haunt 'O' Ween LA at the Westfield Topanga expands into a spooky fun playground of family friendly in-person attractions, including a pumpkin patch, spooky graveyard, trick-or-treating area, food trucks, wine tasting, and more. Runs Oct. 1-31. Tickets are $30 per person on weekdays and $35 on weekends. More info here.
10. Night Train to the Cinema -> Now through Oct. 1, American Cinematheque is presenting a series of classic films where the drama revolves around railway transportation. Screenings take place at either the Aero Theater in Santa Monica, or the Los Feliz 3 on Vermont Ave. The concluding week of screenings, all at the Los Feliz 3, are as follows: Emperor of the North on Tuesday, The General on Wednesday, then finally Runaway Train and The Trans-Europ-Express on Friday. Tickets are $13 per screening. More info here.
11. Los Angeles Haunted Hayride -> After adapting to a drive-thru version last year, the Haunted Hayride is back in Griffith Park for 2021 with in-person activities based around a fictional town named Midnight Falls, circa 1985. In addition to the signature hayride, highlights for this year's event include a Trick or Treat Maze, the Midnight Mortuary Tour, and the Dead End Diner. Kicks off this Friday, Sep. 24 and runs on select nights through Oct. 31. General Admission tickets are $39.99 (access to all attractions) and if you want to do the hayride only it'll run you $29.99. Get more info here.
12. Nights of the Jack -> Set at the King Gillette Ranch in Calabasas, Nights of the Jack creates an interactive walking trail more than a half mile in length, lined with thousands of hand-carved, illuminated pumpkins and pumpkin inspired installations. Runs daily from Oct. 1–31. Weekday general admission is $34.99 per person, and weekends run $39.99. More info here
13. The Enigmatist -> If you have an addiction to solving puzzles, then you might want to check out The Enigmatist, an in-person experience created by New York Times crossword wizard David Kwong. Running from Sep. 14 to Oct. 30 at The Geffen Playhouse. Tickets start at $30. More info here.
14. Rocketman at Pershing Square -> Pershing Square's Friday film screening series continues on Oct. 1 with a showing of Rocketman. Entry is free, and the event is all-ages. Food will be available for purchase onsite. More info here.
15. Dine Alhambra -> Dine Alhambra Restaurant Week returns starting this Friday with special deals at 15 select restaurants in Downtown Alhambra. Prix-fixe lunch and dinner menus range from $15 to $50. Runs from Sep. 24 to Oct 1. More info here.
16. Halloween Horror Nights at Universal -> Universal Studios Hollywood brings their annual terror attraction back starting on Sep 9. This year's attraction will include the return of the "Terror Tram," featuring "The Ultimate Purge," along with a maze based on "Halloween 4: The Return of Michael Myers." GA tickets range between $69-$99, depending on the date of attendance. More info here.
17. Beverly Center Pumpkin Patch -> The Beverly Center's second annual family-friendly pumpkin patch kicks off on Oct. 1. Activities include pumpkin carving demonstrations, live music, photo ops, and of course pumpkins for sale. More info here.
18. Tristan Eaton at LBMoA -> All At Once: 25 Years of Art & Design showcases a 25-year history of Tristan Eaton's work, from street art to murals to design projects for Fisher-Price and Kidrobot. The exhibition, on view at the Long Beach Museum of Art, has been extended through Oct. 31. Keep in mind general the $12 general admission is half-off on Fridays, with advanced purchase online using the code FRIDAY50. More info on the exhibition here.
Saturday
19. LA Wine Fest 2021 -> After skipping 2020, the LA Wine Fest comes to Harry Bridges Memorial Park in Long Beach for back-to-back days of 40+ participating wineries, 20+ exhibitors, and over a dozen breweries, distilleries, and cideries. General admission tickets are $80, and an all-access pass is $100. Parking is not included. Pro-tip: Make sure to use the promo code LONGBEACH to save 20% on your tix. More info here.
20. Red Bull Dance Your Style -> This Saturday, Pershing Square plays host to Red Bull Dance Your Style, a global street dance competition showcasing performances in hip-hop, house, waacking, popping, krumping, locking, and more. Free to attend. Doors open at 4 p.m., dance battles commence at 5 p.m. More info here.
21. We're Wolves at Hive Gallery -> We're Wolves, opening at The Hive Gallery in DTLA on Oct. 2, promises an "immersive journey into a werewolf family's cabin," with what looks like a vast collection of drawings, paintings, and mixed media works, all dedicated to the mythical demi-human. The exhibition features contributions from over three dozen listed artists. Along with an opening event (RSVP required), special events slated in conjunction with the exhibition include a film fest on Oct. 9 and a moonlight performance night on Oct. 16. Check out the exhibition website for more info. Gallery hours Wednesday to Saturday from 1 to 6 p.m., or by appointment.
22. Hermosa Harmony Festival -> On Saturday, this "silent" beach festival pops-up adjacent to the Hermosa Beach Pier offering attendees five stages of live music and DJs, all experienced through high-fidelity headphones. Runs to 2 to 9 p.m. All-ages. General admission tickets are $45. Get more info here.
23. Baja Cultural Festival -> To celebrate National Hispanic Heritage Month, the Aquarium of the Pacific hosts their annual Baja Cultural Festival this Saturday and Sunday. Programming features special musical and dance performances, including one by Danza Azteca Cultural Ketzaliztli. Festivities included with the price of admission ($36.95 for adults). More info here.
24. Night Visions II -> Wildlife photography fans can meet photographer Johanna Turner during an artist's reception this Saturday at the Santa Monica Mountains National Recreation Area Visitor Center. Turner's latest exhibit showcases a new collection of camera trapped images—photos taken when creatures trigger a motion sensor. The works will be on display through Oct. 30. The reception is free to attend, and takes place this Saturday from 1 to 3 p.m. More info here.
Sunday
25. Americana in the Park -> Every Sunday from Sep. 19 to Oct. 10, the City of Santa Monica will team up with McCabe's Guitar Shop to present a special concert series at Gandara Park that explores the roots Americana music. This Sunday the series opens with a performance by Children's music duo Hullabaloo, followed by the music of Phil Salazar and The Kin Folk. Event goes from 3 to 6 p.m. Free and open to the public. More info here.
26. Silent Sundays -> San Gabriel Mission Playhouse brings back their Silent Sundays series on Oct. 3 with screening of Harold Lloyd's The Freshman, accompanied by a live Wurlitzer organ player. Tickets are $10 in advance or $12 for day of show. More info here.
27. Frogtown Marketplace -> This Sunday, Frogtown Marketplace celebrates its 1-year anniversary of monthly pop-up events. Expect local vendors, live music, DJ'd music, and raffle prizes, plus a special hula performance starting at 3:30 p.m. Free admission. Runs 2 to 8 p.m. Located at 3001 Gilroy, right across from Frogtown Brewery. More info here.
Dining
28. Mark your calendars, in anticipation of National Taco Day (October 4) several restaurants are celebrating with taco deals over the weekend and the legendary Tito's Tacos is set to host their annual ticketed fiesta on Monday.
On October 4, Tito's Handmade Vodka and Tito's Tacos team up to celebrate National Vodka Day and National Taco Day, which happen to occur on the same day of the year. Tito's Fiesta Mexicana will couple tacos and vodka based cocktails with live comedy, Folklórico and Mariachi entertainment. The ticketed event runs 4-9 p.m. and costs $25 per person for three cocktails and tacos (unlimited until supplies last) if you are only here for the food a ticket to the event will cost $10.  Proceeds will go on to benefit The Culver City Cultural Affairs Foundation. Tickets will be available at the door.
Lanea in Santa Monica will be celebrating National Taco Day with All-You-Can-Eat Street Tacos and a cocktail of your choice for $25 from 11 a.m. to 6 p.m. on Saturday, Oct 2. Chef Petra Zavaleta, from East LA's lamb barbacoa operation Barbakush, is the chef behind Lanea and is known as the "Barbacoa Queen of Los Angeles." On this day barbacoa is on the menu as well as asada, shrimp, fish, cesina, a Beyond Meat option and a veggie option.
Chicas Tacos will be offering a flight of any 4 Tacos on our menu + Agua Fresca + Chips & Salsa for $15 from open to close.
29. dineL.A. returns with its fall edition of special menus from a number of restaurants at approachable prices. Kicking off on Friday October 1 and running through October 15 the public will be treated to lunch menus starting at just $15 and dinner menus starting at $25. Check out the entire list of participating restaurants on the official dineL.A. page. And our personal menu highlights below.
---
Any notes or corrections? Want to suggest an event we should add to an upcoming list? Hit us up at [email protected].