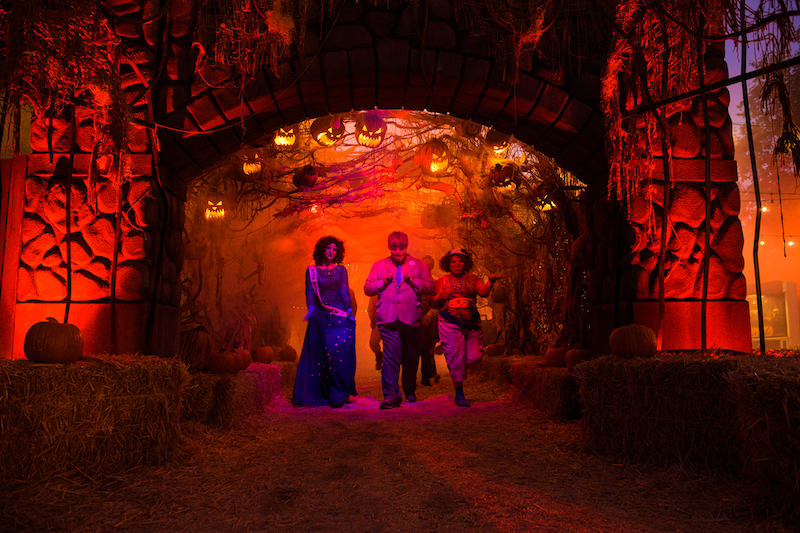 2021 sees a return to in-person events for Halloween in Los Angeles after last year's necessary pivot to virtual and drive-through haunts. As in pre-pandemic years, the list of options for the spooky season range far and wide, from family-friendly pumpkin patches and carnivals, to psychologically thrilling immersive experiences and theme park mazes. There is, in true L.A. fashion, something for everyone.
Below is a list we've come up with so far, which in our usual style we've tried to make as comprehensive as possible. Please note that we will continue to update this post as new and interesting events pop up on our radar, so be sure to check back throughout October to see if anything fresh has been added.
2021 Halloween To-Dos (ordered by start date)
Halloween Horror Nights at Universal -> Universal Studios Hollywood brings their annual terror attraction back starting on Sep 9. This year's attraction will include the return of the "Terror Tram," featuring "The Ultimate Purge," along with a maze based on "Halloween 4: The Return of Michael Myers." GA tickets range between $69-$99, depending on the date of attendance. More info here.
Haunted Hayride -> After adapting to a drive-thru version last year, the Haunted Hayride is back in Griffith Park for 2021 with in-person activities based around a fictional town named Midnight Falls, circa 1985. In addition to the signature hayride, highlights for this year's event include a Trick or Treat Maze, the Midnight Mortuary Tour, and the Dead End Diner. Kicks off Sep. 24 and runs on select nights through Oct. 31. General Admission tickets are $39.99 (access to all attractions) and if you want to do the hayride only it'll run you $29.99. Get more info here.
Knott's Scary Farm -> The Orange County theme's park massive Halloween transformation includes a thorough assortment of spooky rides, scare zones, mazes, themed food options, art, and even an uncensored puppet comedy show. Open on select dates now through Oct. 31. GA tickets start at $50, and the Fright & Fast Line ticket (offering priority access to mazes and Fast Lane rides) is $109. More info here.
Reign of Terror Haunted House -> This award-winning haunted house and walkthrough experience located in Thousand Oaks is now in its 22nd season. The 2021 edition features 30 custom rooms in 10 different, inter-connected sections within 28,000 square feet of floor space. Standards tickets are $30. Available on select dates through Nov. 6. More info here.
Icons of Darkness -> Opening at Hollywood and Highland on Sep. 27, the new Icons of Darkness exhibit promises hundreds of rare props, costumes, effects and other film-used items, all pulled from privately-owned collections of authentic sci-fi, fantasy, and horror film memorabilia. Think T-Rex heads from Jurassic Park, original helmets from Star Wars, a screen-used Xenomorph creature costume from Aliens, or wands used in the Harry Potter series… you get the idea. Adult tickets are $30. Get more info here.
Creep LA -> JFI Productions' Creep LA has been a mainstay of local immersive horror shows since debuting in 2015, and this year's edition promises a more intimate experience. Starting Sep. 30, Creep takes over The Ghost Light venue inside the Three Clubs bar in Hollywood, only allowing six guests in per performance, according to Scare Zone. Shows runs during timed blocks on select dates from through Oct. 31. Tickets are $95 per performance, plus service fees. More info here.
Delusion: Reaper's Remorse -> Creator Jon Braver has teamed with 13th Floor Entertainment for the latest installment of the immersive Delusion series, entitled Reaper's Remorse. This year's production takes over the grounds of the historic Phillips Mansion in Pomona, guiding guests into the world of a solitary heiress (Esther Phillips), who boasts a terrifying collection of soul-tethered artifacts. The ticketed theatrical experience takes a little over a hour, and guests can also explore an "open world" environment at their leisure, apart from the theatrical portion. Tickets start at $89.99, and can run as much as $129.99 on high demand times/days. VIP tickets available for a $30 add-on, which offers access to a secluded second floor and an artifact collection. Shows run on select dates through Nov. 21. Get more info here.
House of Horrors: A Prime Video Pop Up Shop -> For Halloween 2021 Amazon Prime Video is stepping up their IRL game with a pop-up experience featuring show-inspired costume displays from multiple Amazon Originals, including The Voyeurs, Black As Night, Madres, and I Know What You Did Last Summer, which all will premiere on the streaming network in October. Visitors can shop select costumes, stop for photo ops with special displays, or swing by a candy kiosk. Free to attend. Runs Oct. 1-31 at Amazon Pop Up, 8551 Melrose Ave. Hours are 10 a.m. to 6 p.m. on Monday to Saturday, and 11 a.m. to 7 p.m. on Sundays.
Boo at the Zoo -> The Los Angeles Zoo goes wild this October with the return of Boo at the L.A. Zoo, featuring Halloween decor, a spooky stroll with photo ops, an extinct-animal graveyard, and other weird and wacky animal facts and educational opportunities. Weekends include special animal feedings, merry-not-scary entertainment, take-home crafts, and, during the last two weekends in October, trick-or-treat candy stations scattered throughout the Zoo grounds. Runs Oct. 1-31. All activities are included with Zoo admission, which is $22 for adults, and $17 for children 2-12. Tickets are More info here.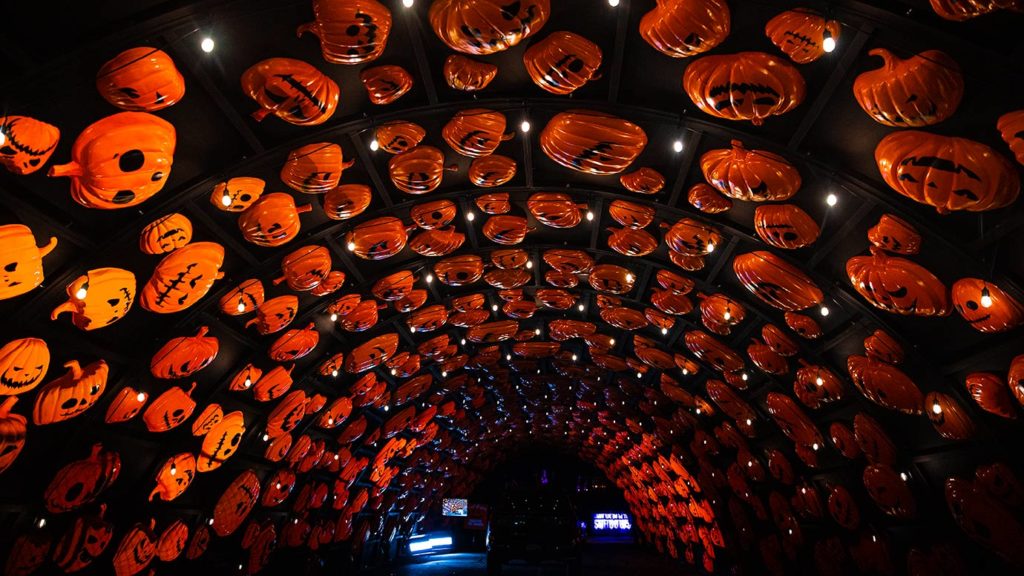 Haunt 'O Ween LA -> Building on last year's drive-through experience, this year's Haunt 'O' Ween LA at the Westfield Topanga expands into a spooky fun playground of family friendly in-person attractions, including a pumpkin patch, spooky graveyard, trick-or-treating area, food trucks, wine tasting, and more. Runs Oct. 1-31. Tickets are $30 per person on weekdays and $35 on weekends. More info here.
Urban Death Tour of Terror -> Zombie Joe's Underground Theatre's annual tradition of Urban Death continues with a new series of terrifying vignettes, bookended by walks through a creepy maze. Runs every Friday and Saturday in October starting on Oct. 1, and ends with special performances on Oct. 31 and Nov. 1. Tickets are $15 per person. More info here.
House of Spirits Soiree -> Taking place at The York Manor in Highland Park, this year's House of Spirits immerses guests in the fictional tale based on Russian holy-man Rasputin and the Romanovs. Explore the setting, interact with characters, sample mini cocktails, or pose questions to the giant Ouija board. A standard ticket runs $65, and VIP (which offers an extra mini cocktail and access to a special lounge) costs $91. Runs every Friday-Sunday through Oct. 31. More info here.
Mr. Jack O' Lanterns Pumpkin Patch -> This regional chain of pumpkin patches offers a host of family friendly activities including pumpkin bowling, animal viewings, photo ops, and candy cornhole. Admission is free, but most activities will run you a few bucks each. Four locations in L.A. area: West L.A., La Brea at the OG Farmers Market, Hollywood, and Torrance. Runs Oct. 1-31. More info here.
It's Alive! -> Starting Oct. 1, Mary Shelley fans can head to the Mountain View Mausoleum in Altadena for It's Alive! An Immersive Frankenstein Experience, produced by the Downtown Repertory Theater Company. The show transports guests into the mind of the Frankenstein author while offering audiences the chance to "meet the poets and radicals of Mary's inner circle" (Shelley famously palled around with Lord Byron and John William Polidori, who is credited with the first published work of modern vampire fiction). General admission tickets are $60, or $55 if you buy at the early bird rate. More info here.
Vampire.Pizza -> Last year, Vampire.Pizza introduced us to pizza delivery and puzzle pairings, perfect for a night safer at home during the pandemic. This year, the concept is back with a second chapter in the ongoing story, as players must decipher clues and messages to solve the mystery of a missing vampire. Teams that beat the game are eligible to win prizes like tickets to LA's Haunted Hayride, Two Bit Circus, MadCap Motel and Area15, or even an Oculus Quest 2. Games/meals are designed for 1-6 players. Available starting Oct. 1. You can place an order here.
Beverly Center Pumpkin Patch -> The Beverly Center's second annual family-friendly pumpkin patch kicks off on Oct. 1. Activities include pumpkin carving demonstrations, live music, photo ops, and of course pumpkins for sale. More info here.
We're Wolves at Hive Gallery -> Does werewolf art count as Halloween-ish enough? We're Wolves, opening at The Hive Gallery in DTLA on Oct. 2, promises an "immersive journey into a werewolf family's cabin," with what looks like a vast collection of drawings, paintings, and mixed media works, all dedicated to the transformative demihuman. The exhibition features contributions from over three dozen listed artists. Along with an opening event (RSVP required), special events slated in conjunction with the exhibition include a film fest on Oct. 9 and a moonlight performance night on Oct. 16. Check out the exhibition website for more info. Gallery hours Wednesday to Saturday from 1 to 6 p.m., or by appointment.
Nights of the Jack -> Set at the King Gillette Ranch in Calabasas, Nights of the Jack creates an interactive walking trail more than a half mile in length, lined with thousands of hand-carved, illuminated pumpkins and pumpkin inspired installations. Runs daily from Oct. 1–31. Weekday general admission is $34.99 per person, and weekends run $39.99. More info here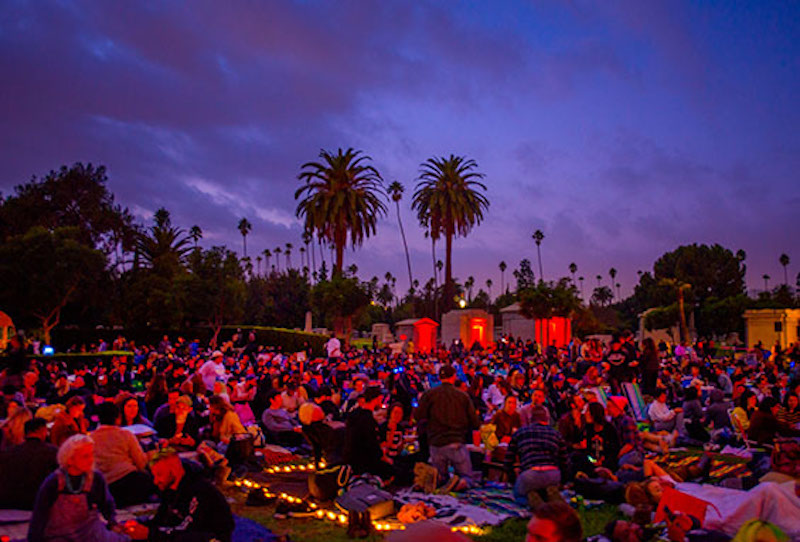 Horror Films at Hollywood Forever Cemetery -> Cinespia is closing out the 2021 season at Hollywood Forever with a slate of scary flicks throughout October including Nightmare on Elm Street (Oct. 2), Labyrinth (Oct. 9), Blade (Oct. 16), and The Shining (Oct. 23. General admission tickets are $22. More info here.
Oscar Frights! -> The brand spanking new Academy Museum of Motion Pictures (opening Sep. 30) opens its first full month of programing with series of 13 Oscar-nominated horror movies, showing on select nights at the state-of-the-art, 1000-seat David Geffen Theater. Slated films include The Bride of Frankenstein (Oct. 3), Psycho (Oct. 9), The Omen (Oct. 12), The Fly, (Oct. 23) and more. Adult tickets (for screenings only) are $10 a piece. More info here.
San Fernando Valley Drive-In –> For Valley dwellers who prefer to stay on four wheels, the folks at My Valley Pass are hosting back-to-back weekends (Oct. 8-9 and Oct. 15-16) of spooky drive-in double-features at the Lake Balboa Complex. Tickets are $20 for one flick, or $30 to see both parts of the double bill. More info here.
Mr. Bones Pumpkin Patch -> Culver City's favorite pumpkin village offers plenty of family fun, including photo ops in front of giant pumpkin installations, a straw maze, a super slide, giant rocking horses, and pumpkin decorating sessions. Dogs are even welcome too, on select days of the week. Runs Oct. 7-31. Tickets range from $5-20, depending on date of attendance. More info here.
Carved at Descanso Gardens -> Carved is a family-friendly event with hundreds of carved pumpkins, a pumpkin house, hay maze and themed food and beverages that create a fun harvest festival atmosphere. Runs Oct. 11-31, with general admission tickets costing $32-35. Keep in mind tickets for non-garden members will not go on sale on Oct 1. More info here.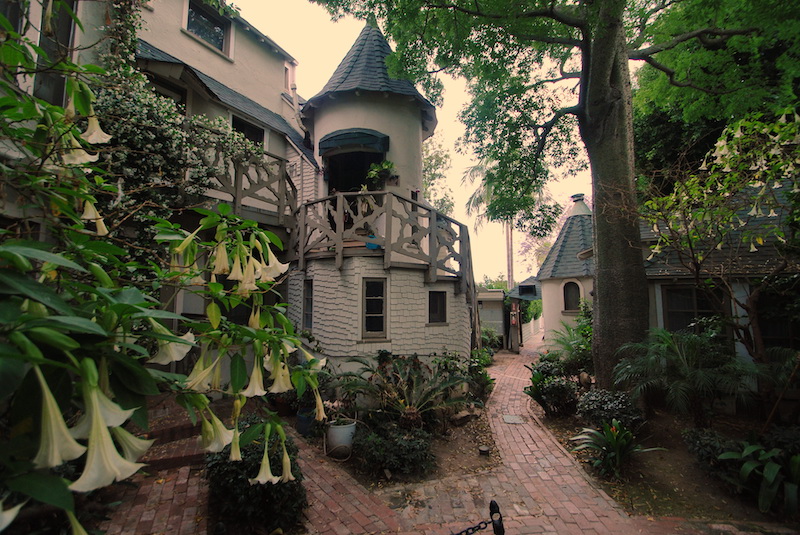 Witchy Architecture Tours -> For the second year in a row, actress Amber Benson (Tara Maclay on Buffy the Vampire Slayer) is teaming up with with Friends of Residential Treasures: LA (FORT:LA) to create a tour guide showcasing five fairy tale-inspired residences around the Los Angeles area. FORT:LA will also offer Grimm's tales passages read by actors to accompany guests as they drive through the Witches Houses 2 Trail. You can download the tour map on FORT:LA's website for free starting on Oct. 13. Read about last year's tours here.
Beware the Dark Realm -> Now in its fifth decade, The Silvey family's Beware The Dark Realm is one of the longest running mom and pop haunts in the county, offering what they describe as a "high intensity walk-through attraction filled with terrifying live monsters, amazing special effects, and incredible sets." Runs Oct. 15-16, 22-23, and 29-30. The event is free, but front-of-the-line tickets are available with a $10 donation to Family Promise of the Santa Clarita Valley. Get more info here.
Family Fun Festival at Runway -> On Oct. 16, Runway Playa Vista will theme out their family friendly Makers Market for the spooky season, with costumes encouraged and trick-or-treat stations available for the little ones. Free admission. More info here.
PUP-O-WEEN -> Cargo Snack Shack and Pawsitive MGMT are teaming up to host a dog-centric Halloween picnic at Los Angeles State Historic Park on Oct. 16. Bring your four-legged friend in costume and enjoy free treats from the Healthy Spot station, shop goods from women-owned business, or book an animal communication session or pet portrait. A burger/soda lunch is included with the price of admission, which is $30, and a portion of the proceeds benefit the California Fire Foundation. More info here.
Tricks for Treats Workshop -> Annenberg PetSpace is hosting a special edition of their Mutt Manners workshop on Oct. 24 where dogs can learn special Halloween-themed tricks, including cover their eyes, play dead, beg for a treat or the zombie crawl. Costs $45 to book a slot. More info here.
Cemetery Lane -> The victorian homes at Heritage Square Museum get a haunted makeover during this 5-day vintage trick-or-treat experience, running from Oct. 27-31. There are 13 themed trick-or-treat stops in all, and tickets are $25-$30 depending on time of entry. More info here.
Nightmare Before Christmas w/ Danny Elfman -> Elfman's live-to-film version of Nightmare Before Christmas was a longstanding tradition at the the Hollywood Bowl, but after a pandemic hiatus the show will now be hosted at Banc of California Stadium. Two shows are now scheduled, one for Friday, Oct. 29, and a second just recently added for Sunday, Oct. 31. Tickets available (as of first publication of this post) starting at $39. More info here.
Halloween Hootenanny Craft Beer Fest -> The Halloween Hootenanny festival comes to the Museum of Latin American Art in Long Beach on Oct. 30 for a day filled with over 40 craft breweries, local wineries and cideries, plus a "macabre marketplace" filled with creepy art vendors, collectibles, local artists, live performers, and food options. General admission tickets are $45. More info here.
Haunted Little Tokyo -> On Oct. 30, Haunted Little Tokyo offers two events, one for the daytime, and one for the evening. Beginning at 2 p.m. an all-ages scavenger hunt kicks off the day at Japanese Village Plaza, with free maps available to pick up at Cafe Dulce. At 7 p.m., a block party gets going that'll include DJs, drinks, food, and a costume contest. 21+ only for the latter event. RSVP for the block party here get more info on both events here.
Squid Game Halloween Party -> West Hollywood's Employees Only is hosting a Squid Game themed Halloween on Saturday, Oct. 30, complete with a 'Honeycomb Challenge,' available as a $20 activity. If you can successful carve your cookie (hopefully it won't be the umbrella!) you will receive a free specialty cocktail or shot of mezcal, and even if your cookie breaks you can still get a complimentary shot of mezcal. Drinks will be served by staff dressed in theme, and there will also be live music, spooky Squid Game-influenced decor, and episodes of the show streaming throughout the space. Proof of vaccination will be required. Reservations suggested.
Boonion Station -> This two-day Halloween event runs Oct. 30-31 on the south patio of Union Station. Guests can expect a slew of family-friendly activities and entertainment including a fun and fuzzy spider forest, Halloween crafts, tarantula tattoos and mad scientist slime sessions, costume contests, a trick-or-treat train trail, spooky stilt walkers, and more. Admission is free, but RSVP is required. Runs 11 a.m. to 5 p.m both days, with timed entry split into two sessions on each day. More info here.
Scariurm of the Pacific -> Family friendly event featuring a children's costume contest, creepy coloring contest, magic shows, underwater pumpkin carving, spooky storytelling, kooky crafts, and eerie animals in the Great Hall. Included with general admission purchase. Runs Oct. 30-31. More info here.
The Phantom of the The Opera at The Old Town Music Hall -> All throughout October, The Old Town Music Hall in El Segundo is screening spooky classics, including a Spanish language version of Dracula. On Oct. 31, the series of films caps off with two showings (2:30 or 7 p.m.) of the 1925 silent version of The Phantom of the Opera, which will be accompanied live on by the theater's Mighty Wurlitzer Pipe Organ. Tickets are $20 per person. More info here.
Trick-or-Treat at Grand Central Market -> GCM is hosting a family-friendly trick-or-treat session for kids aged 10 or younger on Oct. 31, beginning at 4 p.m. Free to attend. More info here.
Halloween Costume Ball -> Riviera 31 at The Sofitel Hotel will host Affinity Nightlife's annual Halloween Costume Ball on Sunday, Oct. 31. The event features spooky cocktails like 'The Ghost Rider', a Dia de los Muertos drink menu, live music indoor and outdoors, complimentary party favors, candy and more.
Vampire Ball -> DTLA wine shop and bistro Good Clean Fun is hosting a Vampire-themed Halloween Party this Sunday. Expect a costume contest (vampires encouraged, all costumes welcomed), spooky décor, and plenty of music. Costume contest winners will receive a free bottle of wine. Also on the menu are Mommenpop aperitif jello shots and a one-night only dessert special, the 'Broken Glass Blood Cake' (chocolate cake, white buttercream frosting, sugar candy 'glass' shards and raspberry 'blood') from pastry chef Marina Pilar-Aranda. Event kicks off at 5 p.m.
Halloween Kids Scoops -> Salt & Straw has a special Halloween-inspired menu (out now), which includes flavors such as The Great Candycopia, Don Bugito's Creepy Crawly Critters, and Jack o' Lantern Pumpkin Bread. Best of all, they're giving away one free kids scoop in a cup or sugar cone to all children (16 or under) who go to a Salt and Straw location in costume on Halloween, Oct. 31. And what kid says no to free ice cream?!?
Halloween Kids Scoops & Pup Cups -> Plant-based ice cream shop Dear Bella Creamery in Hollywood is treating kids (12 and under) and dogs who come into the store on Halloween in costume to complimentary ice cream and Pup Cups (ice cream for dogs.) Seasonal flavors this season includes "America's Favorite Candy Bar" a peanut butter nougat ice cream with ribbons of fudge and caramel-coated roasted peanuts and the "Caramel Apple" a house-made caramel ice cream with pockets of granny smith apple jam. The freebie runs noon to 11 p.m. on Halloween.
---
Did we miss an event you like? Have an idea for something that needs to be on this list? Feel free to drop us a line at [email protected], subject line "Halloween 2021." Worst we can say is no.