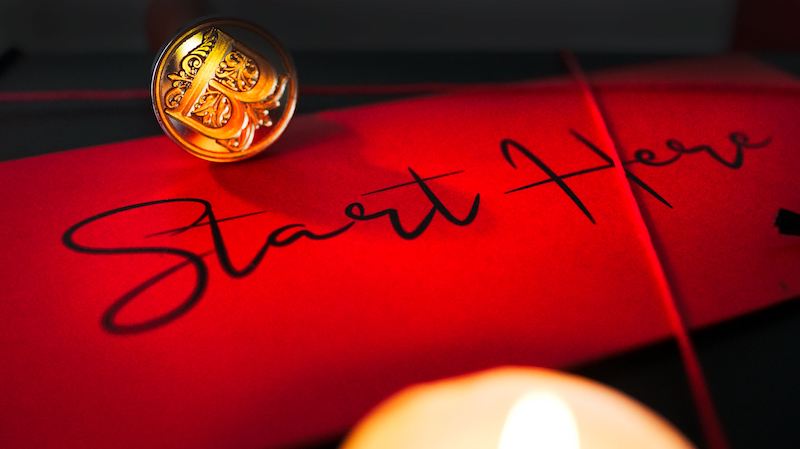 After a sold-out run earlier this month, Vampire.Pizza returns for another round of pies and puzzles May 1-3. The pop-up restaurant offers a meal and an interactive game you can play at home, while also supporting local artists.
Vampire.Pizza comes from Josh Sugarman, chief experience officer at Ravel, and Ghost Pizza Kitchen, with some help from the puzzle designers at Wild Optimists. It's a way for Angelenos to enjoy dinner and a game, while still abiding by the Safer at Home orders.
The story goes like this. Belle is both a vampire and the proprietor of the pizzeria Belle's Family Kitchen. It's not clear how or why a vampire would choose to open an eatery so heavy on the garlic, but she has. And you're a vampire, too. Belle is using her pizza shop to start a revolution among your kind, hoping to one day break free of the oppressive vampire leaders who demand you keep your true natures hidden. As a new recruit, you'll need to solve puzzles to earn Belle's trust and a place in her fanged army.
We tried out the game during its first sold-out run, during which about 650 vamps joined Belle's ranks. We thought the food was pretty standard: we got a fresh, hot pizza (you can choose among pepperoni, cheese, buffalo chicken, or vegan) and a small salad (your choice of house or Caesar). Dessert wasn't included in our run, but it will be in this upcoming run.
Despite the bloodsucker theme, the game is pretty cute and not too tricky. There are six main puzzles which, when solved, should yield a code to access the final piece of the game. Puzzles include logic games, codebreaking, wordplay, and more. If you get stuck, there's a hint and answer guide. There are also supplies for a small craft project you can do after the puzzles. We were able to complete our game with friends over Zoom without any issues if you prefer to puzzle with others.

This game is only the first chapter in an ongoing story. We won't spoil it for you, but expect to hear from Belle again if you complete her game.
You can order Vampire.Pizza for groups of two ($32.99/person) or four ($27.99/person). The package comes with pizza, salad, and dessert, plus the game. If you're within the delivery radius, you can have your Vampire.Pizza brought straight to your door. Otherwise, contactless pickup is available at Melrose/Fairfax or the Venice Boardwalk. Despite likely being immune to COVID-19, the vampires will make sure to adhere to social distancing guidelines when bringing you your pizza.
A portion of proceeds will benefit the League of Experiential and Immersive Artists (LEIA) emergency fund, which helps out artists and performers impacted by the current crisis.
Reserve your delivery or pickup date and time here.