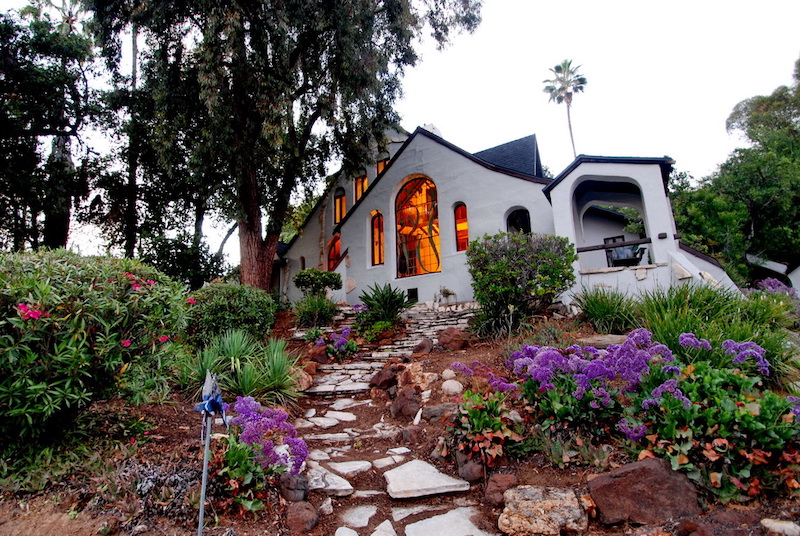 You can now take a self-guided tour of Los Angeles's witchiest homes curated by one of TV's best witches. Author, filmmaker, and Buffy star Amber Benson partnered with Friends of Residential Treasures: LA (FORT:LA) on a seasonally appropriate trail of architecture and mystery.
Benson starred as witch Tara Maclay on the supernatural drama Buffy the Vampire Slayer from 1999 to 2002. Tara is introduced in Season 4 as a UC Sunnydale student that Buffy's best friend Willow (Alyson Hannigan) meets at a Wicca group. The two eventually start practicing magic on their own and fall in love, becoming one of TV's first seasons-long LGBTQ relationships.
Since Benson's Buffy days, she's been busy acting, directing and producing her own films, and writing. Her fantasy series The Witches of Echo Park follows an L.A. coven that lives in Echo Park, as Benson did for several years. As she was writing the trilogy, she did a lot of research that unearthed local urban legends and fascinating locales.
"I was always very intrigued by Halloween and spooky things and movies," Benson said. "I remember begging my mom to let me watch Friday the 13th on Friday the 13th. I think was 9. I had a friend spending the night, and her mom said it was fine, so mine relented. We watched it. I ended up sleeping in the bed with my parents. I left my friend in my room by herself so Jason could get her."
To be fair, Benson's friend wasn't scared by the film and slept just fine. And despite Benson's initial Voorhees-inspired terror, she's maintained a life-long love of horror and the supernatural.
"I think it's because it's all tied to dying and death and what happens after we die," she said. "I think the idea that ghosts or supernatural things exist makes you feel better about that. I think that's really one of the things that drew me to it, unconsciously."
While Benson has yet to experience anything supernatural herself and is "lacking empirical evidence," she remains open to it. Like Mulder's poster, she wants to believe.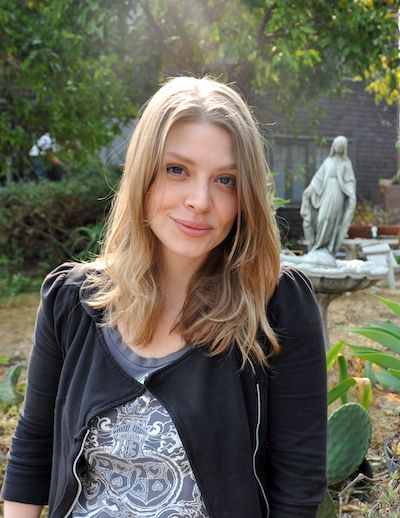 One of her favorite L.A. stories is how Echo Park Lake got its name. As the manmade lake was being constructed in 1892, voices were heard echoing around the site, prompting city parks superintendent Joseph Henry Tomlinson to name the finished lake as such. According to historian Chris Nichols, the echoes disappeared after landscaping and water were put in, though it's fun to imagine the disembodied voices had a more supernatural origin.
FORT:LA's mission is to study, preserve, and celebrate Los Angeles's most architecturally and historically significant homes. Each month, FORT:LA chooses one "trailblazer" to create a map dedicated to homes designed in a particular style. For example, a previous trail included small Neutra homes selected by Barbara Lamprecht, M.Arch., Ph.D.
Benson connected with FORT:LA through filmmaker Russell Brown, who founded the organization in 2018. She starred in his 2005 film Race You to the Bottom. Brown asked Benson, given her interests, if she'd like to do a "spooky" trail for October.

"He knows me well," Benson said with a laugh.
Benson's tour takes us to five "witch houses" from Culver City to Burbank. Their Storybook architecture makes them ideal settings for fantastical and otherworldly stories, though their actual histories are equally interesting. Intentionally, the famous so-called Witch House of Beverly Hills, also known as the Spadena House, is not on the list as Benson said they "wanted to shine a light on things that don't always get noticed."
The list includes The Hobbit Houses of Culver City, three extraordinarily whimsical structures designed by Disney artist Lawrence Joseph. A previous tenant was Joe Amsler, one of three men who kidnapped Frank Sinatra's son, Frank, Jr., and attempted to hold him for ransom in 1963.
There's also The Egasse-Braasch House in Eagle Rock, where Matt Damon and Ben Affleck lived when they wrote the script for Good Will Hunting. They called the house "The Castle," though neighbors would come to refer to it as "The Good Will Hunting House."
Also on the list is the Hlaffer-Courcier House, its design inspired by one of L.A.'s oldest restaurants, Tam O'Shanter. The Tam is currently offering outdoor seating and a new brunch menu if you want to take up Benson's suggestion and get a slice of prime rib and a dirty martini afterward.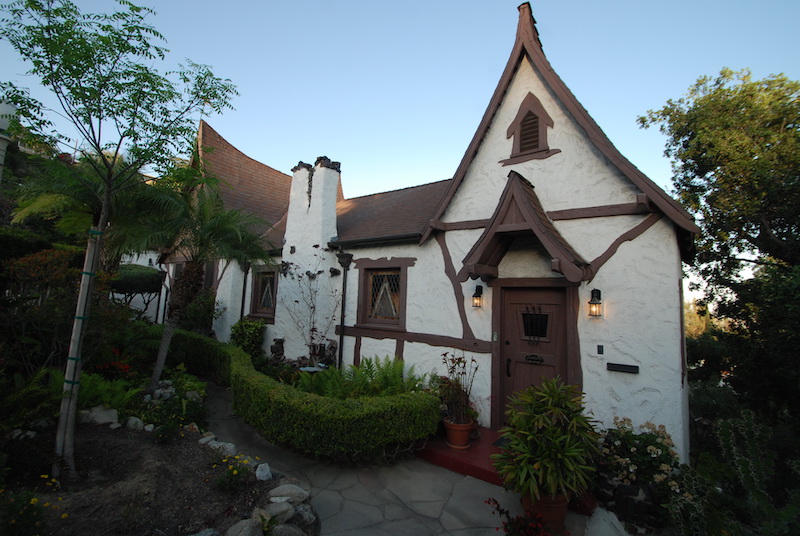 Though Benson said they contemplated a few Hollywood Hills candidates, she was won over by the ivy-covered Bogart House, where actor Humphrey Bogart lived for a short time. At one point during his stay here, he is said to have dated actress Peg Entwistle, whose tragic story has haunted Hollywood for decades.
Lastly, Benson said she has a soft spot for The Columbia Ranch dwarf houses in Burbank, the northernmost spot on the list.
"They just look like the Seven Dwarves and Snow White are right there, ready to come and hang out," she said.
In Buffy the Vampire Slayer, supernatural beings take the night off from terrorizing mortals on Halloween as a general rule. Given the pandemic, most of us humans are probably staying indoors, too. Benson anticipates celebrating with a B-movie marathon.
But if you want to try the Witch House trail, it could make for a nice socially distant Halloween activity. The trip accounts for about 40 miles, if driving, and comes with 70 pages of history to read between destinations.
FORT:LA's trails do come with a few rules. Basically, be nice. These are people's homes, so only take pictures of the outside, stay on public sidewalks, and don't annoy any people or animals you may find there.
As a Halloween bonus, here are some extra L.A. Buffy locations: