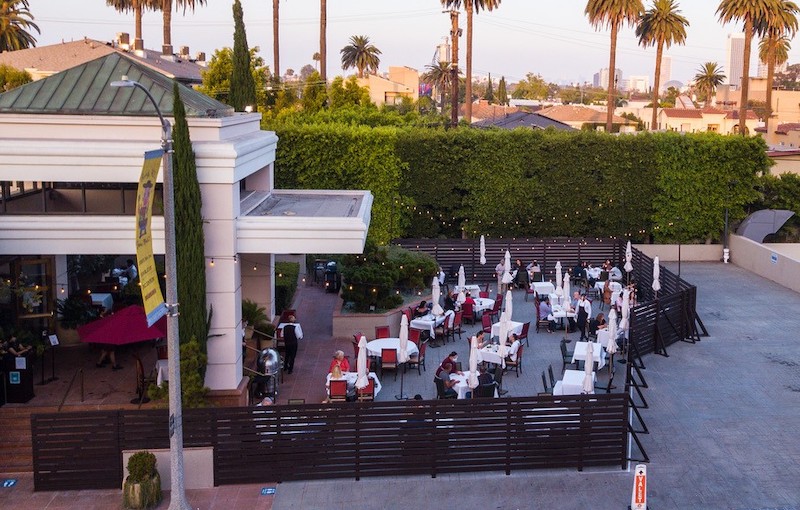 A storied institution often survives by reliably providing the same thing, year after year, with only minor modifications and renovations along the way. But for L.A.'s oldest restaurants, the same thing is literally banned by the County Public Health Department due to the ongoing threat of COVID-19. To stay open and in business, they've had to seriously adapt for the first time in decades.
A few, like The Red Lion Tavern and The Galley in Santa Monica, already had patios, while many older delis and lunch counters already served a large takeout, pickup, or delivery clientele. Some, like Bob's Big Boy, brought back carhop service. Here's what some of L.A.'s other long-time faves are doing.
Lawry's and Tam O'Shanter (1938, 1922)
Lawry's The Prime Rib in Beverly Hills decided to offer outdoor seating for the first time since it opened in 1938, while sister property Tam O'Shanter is offering its first brunch menu.
Lawry's is a classic, upscale place—a birthday, anniversary, your pilot got greenlit kinda place. According to Lawry's CEO Ryan Wilson, the restaurant's original design was never envisioned with a patio, and sidewalk seating felt a little too casual for a special occasion spot. So, the Silver Cart Terrace, located in the restaurant's valet pickup area, had to be created from scratch. 
"Inside Lawry's the Prime Rib you'll find grand, huge, high ceilings and spacious tables that are fundamental to the dining experience. As we thought through the outdoor experience, we knew that at its core, it had to be intentional and well-designed, keeping the service and standards that Lawry's is known for at the forefront while respecting requirements from the health department to ensure safety and comfort," Wilson said.
Lawry's added semi-permanent fencing and landscaping features, like live jasmine, making it feel a bit like it's always, intentionally been there. It also feels a lot safer than some of the tables you might pass by on the sidewalk that have no separation between pedestrians and unmasked diners. Additionally, service has been modified to have fewer employees touching items on the tables while those who do are, of course, equipped with all the appropriate PPE.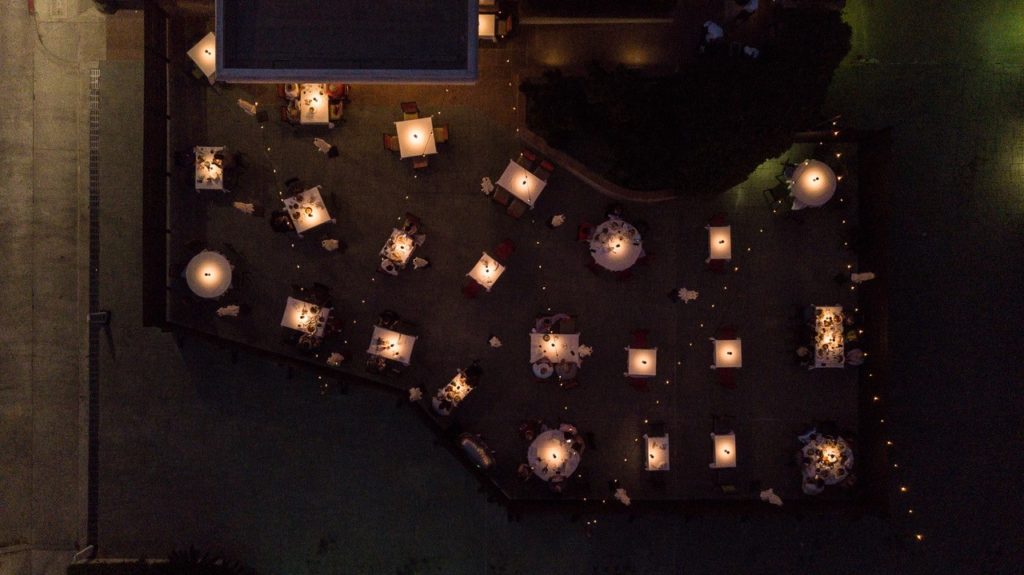 Though Lawry's doesn't have a space it could turn into a permanent patio at the moment, they are keeping their options open.
"People are loving being out in the lovely Southern California weather, so while we don't have any immediate plans to construct a permanent outdoor setting, it is something that we are considering as part of the restaurant's continued evolution," Wilson said.
Meanwhile, Tam O'Shanter in Atwater Village decided to reopen its patio for the first time in 70 years in 2018. Thus, it was already prepared for outdoor dining, but just launched its first brunch menu this fall. Tam has sort of been around since 1922, though when it first opened it was called Montgomery's Country Inn. It's got its new name and a Scottish theme in 1925.
Musso & Franks (1919)
After briefly offering takeout and delivery for the first time in its history, legendary Hollywood steakhouse Musso & Frank's is on pause until its dining room can reopen. If you don't mind the missing ambiance, you can try to recreate its martini at home using this in-depth piece from L.A. Magazine.
Philippe the Original (1908)
When the Safer at Home orders first went into effect, the famous 108-year-old French dip restaurant shut down entirely. Now, it offers outdoor dining, takeout, and delivery daily from 10 a.m. to 8 p.m. Philippe's al fresco area takes over one of its two parking lots, offering appropriately spaced, shaded benches. An outdoor beverage stand sells water, soda, beer, and wine. They have a pretty solid Family Meal Deal, too: four French rolls, meat for four Beef Dips with your choice of cheese, four side salads, pickles, au jus, and a bottle of hot mustard for $50.
Pacific Dining Car (1921)
Pacific Dining Car announced it would permanently close its Santa Monica location, open since 1990, and held an auction for its decor, appliances, and other items. In September, the restaurant announced it would auction off another batch of items from its nearly century-old downtown location. Still, owner Wes Idol III assured LA Magazine that it isn't closing and will return after "a large redecoration and renovation." Currently, you can sign up for a subscription service that brings corn-fed USDA prime steaks to your door.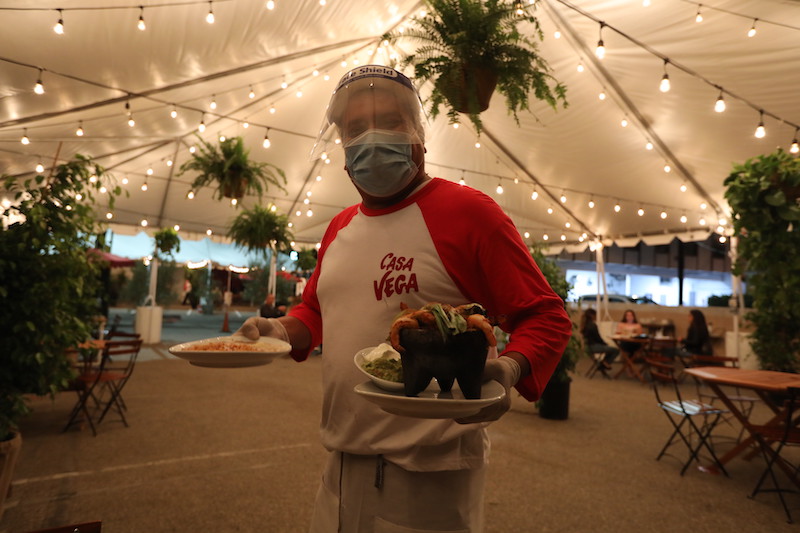 Casa Vega (1956)
Long-time Sherman Oaks Mexican restaurant Casa Vega has moved its operators outdoors, something it had never done before.

"We didn't have any outdoor service. It was solely interior, not even a window," owner Christy Vega and daughter of founder Rafael Vega, said. "We're the opposite kind of place you should be in COVID because, you know, it's a cozy place where everyone's kind of shoulder to shoulder. So I knew that we had to do a pretty big move in order to pay our bills." 
So, Vega said she looked at her assets and liabilities. Her liabilities were a lack of outdoor seating in any capacity, but her asset was space. Her father had bought the property around the restaurant years ago, giving them two parking lots. 
"Something in my gut told me that people weren't going to want to eat inside, even if it was available. Everybody would just feel more comfortable outside. So I took the gamble of tenting both lots. I thought, 'I'm just going to spend a little more and try to get more seating, and I hope that people will come and that people will want to eat outside,'" Vega said. 
The second lot provided 11 extra tables, and Vega was happy to see they all filled quickly. In addition to the tenting that shades the dining areas, she added some barricades for safety from cars driving through the alleyway that separates the lots and some trees and greenery to make it feel "like more than an afterthought." They also added custom signage explaining the mask rules restaurants must enforce, per County guidelines. 
Soon, they welcomed most of their regulars back, including a couple that's been stopping by nearly every day for 50 years.  
But it has been challenging. Many of Casa Vega's employees have been there for decades and now everything is new. There are countless health and safety guidelines. Servers must now use a cart to transport food outside as opposed to just whisking it from kitchen to table. The PPE servers must wear, including masks and face shields, are hot and stuffy. Casa Vega decided to trade its more formal uniforms for cooler, breezier T-shirts. And to ensure they could keep their menu in tact so that every regular could still order their favorite dish, they extended prep time and staggered shifts.
That all took a couple weeks to figure out, but the biggest hardship, profits-wise, is the missing indoor bar. That dings about 10-15%, Vega said, "but we're staying alive.
"We just keep going. We just work 15 times harder for 15 times less money," she said. "I don't get too depressed over it anymore because everybody's in the same boat. So I just feel like it's how creative you can be, how much hustle do you have inside of you? I know it sounds cheesy, but we're all in it together." 
In March, artist Mr. Cartoon painted a new outdoor mural at the restaurant. He had already planned to do so, but after his appearance at SXSW was canceled along with the rest of the festival—and pretty much every other event in the U.S.—he decided to start early. 
"It was this weird thing that we had this beautiful mural going up while we were shutting down the dining room and furloughing employees," Vega said. "But now with the outdoor dining, whenever I sit out there, I can look at the mural and think, 'Well, we kept going.'"
In fact, Vega may even attempt to make outdoor dining in at least one of the lots a permanent thing, if the city allows it. 
Canter's Deli (1931)
Jacqueline Canter told We Like LA she'll do whatever she can to ensure the restaurant that's been in her family for decades survives. Thus far, that's meant using all available means to get food to customers 24/7, 365 days a year. You can get food to-go, for contact-free curbside pickup, or delivery. To expand the deli's delivery radius, Canter's also has three ghost kitchens in Pasadena, downtown Los Angeles, and Santa Monica. It turns out that even in a pandemic, some people still don't like to cross whatever side of La Cienega they're already on. So wherever you are, enjoy your pastrami reuben!
Pink's Hot Dogs (1939)
Hot dog stand Pink's first launched in 1939, then moved to its current location on Melrose a decade later. Pink's initially shut down for several months at the onset of the pandemic. Granted, it'd be hard to social distance when standing in the kind of long lines that would form around the stand. However, it finally reopened on August 12 for outdoor dining at patio tables and with limitations on how many customers can wait in line at a time. You can also now order Pink's through Postmates on weekdays from 11 a.m. to 2 p.m.
The Original Pantry Cafe (1924)
The Original Pantry Cafe in downtown Los Angeles has been open since 1924 (though not always in the same location) and is considered a Los Angles Historic-Cultural Monument. For now, it's only offering takeout with reduced hours of 7 a.m. to 7 p.m. daily.
Apple Pan (1947)
Apple Pan is famous for its hamburgers and pies. And luckily, the pandemic hasn't slowed this institution down. In fact, in a Spectrum News 1 segment, management revealed it's had to hire more staff to keep up with the demand. While the lunch counter remains closed, Apple Pan now has a new takeout window. Place a pickup order via phone or just stop by.
Langers Deli (1947)
Langer's says it just isn't possible to reopen its dining room any time soon due to the physical layout of the space. That said, you can still get your pastrami fix from this classic deli through takeout and delivery. Walk-up to-go orders and pickup orders via phone are available from 8 a.m. to 4 p.m. Langer's is also available on delivery platforms daily from 8 a.m. to 3:45 p.m.
Nick's Cafe (1948)
Nick's Cafe is an old-school diner in downtown L.A. founded by a WWII vet named, as you probably guessed, Nick. He later sold the diner to two LAPD homicide detectives. Rod Davis owns it now, along with a second diner, but you'll still find the eponymous Nick's "famous ham 'n eggs" on the menu. Patio dining is an option, but online ordering for pickup is also available through a new website. Open daily 7 a.m. to 3 p.m.
Fugetsu-Do (1903)
Fugetsu-Do is a Japanese confectionary shop in Little Tokyo that's over a century old! They've got all sorts of hand-crafted mochi, manju, and more to enjoy. Takeout is available, as is new outdoor seating. You can also order treats for delivery.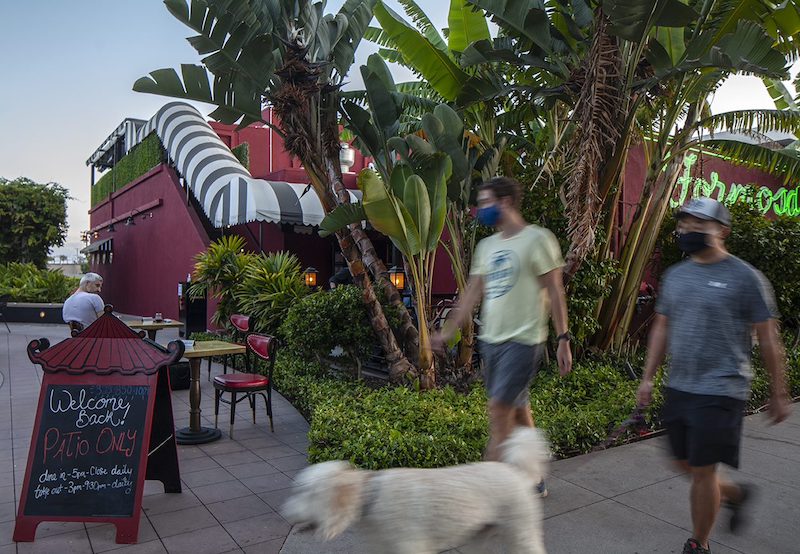 The Formosa (1925)

The Formosa Cafe has had a lot of ups and downs. Some accounts say prize-fighter Jimmy Bernstein opened it as the Red Spot in 1925 as a lunch counter inside an old trolley car, though those accounts may be incorrect. At some point, it expanded and became the Formosa, enjoying decades as a celebrity hotspot. It got a makeover no one liked in 2015, then closed the next year. The 1933 Group took ownership in 2017, revamped the place, and reopened it in 2019. So, yeah, kind of a whirlwind capped with a pandemic. Still, the Asian fusion restaurant and its beautiful remodel persevere. It currently offers seating for 30 upstairs on its rooftop and 16 on its ground floor piazza. Reservations via Resy are encouraged, but not required. You can order for pickup and delivery on Tock.
El Cholo (1927)
El Cholo is one of the oldest Mexican restaurants in L.A. According to the restaurant, its origin dates back to 1922 when Alejandro Borquez told his wife, Rosa, that she was such a great cook they should open a restaurant. Their daughter and her husband later opened their own restaurant in 1927 at Western and 11th. Right now, you can enjoy outdoor dining as well as orders to-go. Key here is that the latter option allows you to order margaritas by the gallon. All locations open at 11:30 a.m.
Nate 'n Al's (1945)
After some concern that this Jewish deli might close, Nate'n Al's was purchased by Apple Pan owners Shelli and Irving Azoff in 2019, with plans to move it around the corner, but keep it in Beverly Hills. For now, you can still get takeout and delivery. Order online, by phone, or via Postmates. 
Damon's Steakhouse (1937)
Damon's is a Polynesian-themed restaurant in Glendale that offers steaks and tiki drinks. Currently closed for dine-in service, Damon's is using this time off to renovate the space. Guests can expect the revamp to stay true to its original themes, but there will be new restrooms, booths, dining chairs, and a whole new second floor, replete with a password for entry. For now, you can get food and cocktails to-go or for delivery via UberEats.
Eastside Italian Deli (1929)

This old-school Italian deli is offering online ordering so you can still get a hot meatball sub or a mortadella-and-cheese should the craving strike.