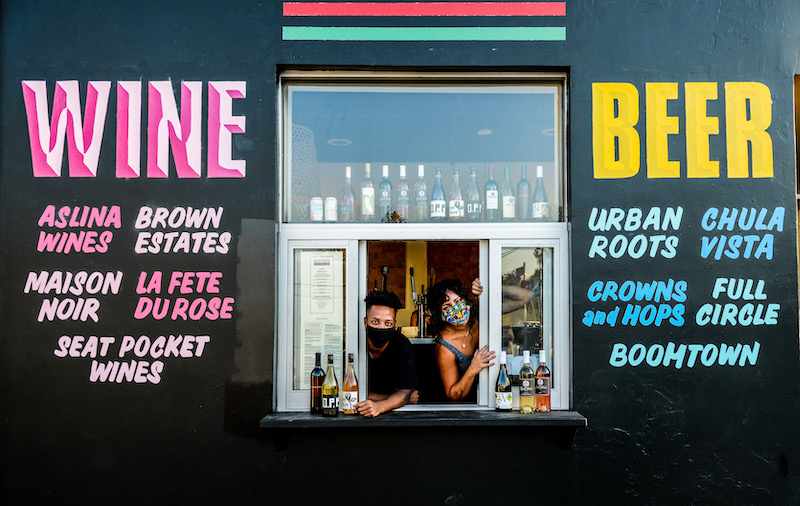 Gingergrass has a brand new beer and wine tent where you can enjoy adult beverages from Black-owned businesses with your meal.
You may have been to Gingergrass, a casual Vietnamese restaurant in Silver Lake, before as it's been around 16 years. Like all L.A. County restaurants that offer dine-in service, it's outdoor seating only at the moment. Thus, it's the perfect time to launch a new beer and wine tent.
As protests against racism and police brutality spread across the nation, many people began coming up with ways to support Black-owned businesses. We previously covered Kat Hong's list of Black-owned restaurants to support and Spicy Green Book, an online platform for discovering Black-owned food and beverage companies.
Gingergrass owners John Himelstein and D'nell Larson began researching Black-owned breweries and wineries and found that many did not have local distribution.
"I've opened many restaurants, negotiated with many landlords, received very favorable terms with vendors, navigated various government agencies, and raised investor money," Himelstein said via a release. "I know how hard it is to start and maintain a small business. I wanted to seek out Black-owned businesses that, all too often, deal with systemic racism in addition to all of the other roadblocks to achieving success in what is already a tough industry."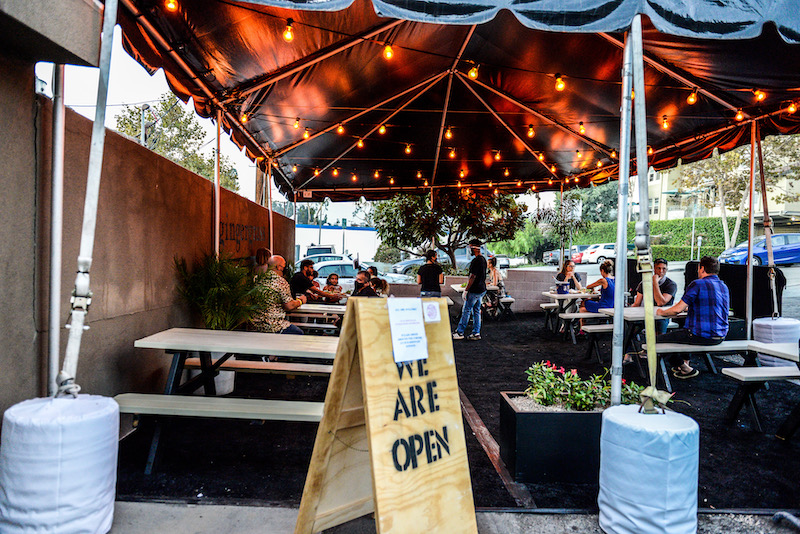 The craft beer industry is overwhelmingly white. Dave Infante explored this topic in a James Beard Award-winning piece for Thrillist in 2015. Celeste Beatty, the founder of Harlem Brewing Company, told Thrillist that the brewing industry was no exception to the racism Black Americans face in employment in any industry.
"There were a number of studies done by the Urban League where they went to speak with brewing industry [employers] in the '50s, and they tell them, 'There's no place for African-Americans, skilled or unskilled, in our breweries,'" she said.
Infante also spoke to Annie Johnson, an award-winning homebrewer who said she'd been unable to find employment in the industry anywhere, even when she applied at breweries outside of her home state of California.
Wine industry? Also overwhelmingly white. J'Nai Gaither wrote for VinePair about the myriad microaggressions she endures as a Black woman working in Napa Valley. Several Black wine professionals related similar experiences in interviews with Forbes. Racism in the wine industry is so prevalent, it has its own Wikipedia Page.
Despite all this, there is some fantastic stuff out there from Black winemakers and brewers who could use the support. The current vendor list at Gingergrass includes Brown Estates/House of Brown, the first and only Black-owned estate winery in Napa Valley; Maison Noir from former Per Se and The French Laundry sommelier André Hueston Mack; Seat Pocket, founded by drummer Oscar Seaton, Jr.; Aslina Wines, founded by South Africa's first Black woman winemaker, Ntsiki Biyela; Urban Roots; Boomtown; Crown and Hops; Full Circle, and more.
You can browse the full list here. For now, beer and wine is only available by the glass when you're seated in the tent, but takeout and delivery options are in the works.
Gingergrass is located at 2396 Glendale Blvd, Los Angeles. The tent is open Weds.-Fri., 5-9p.m. and Sat. & Sun., noon to 9 p.m.