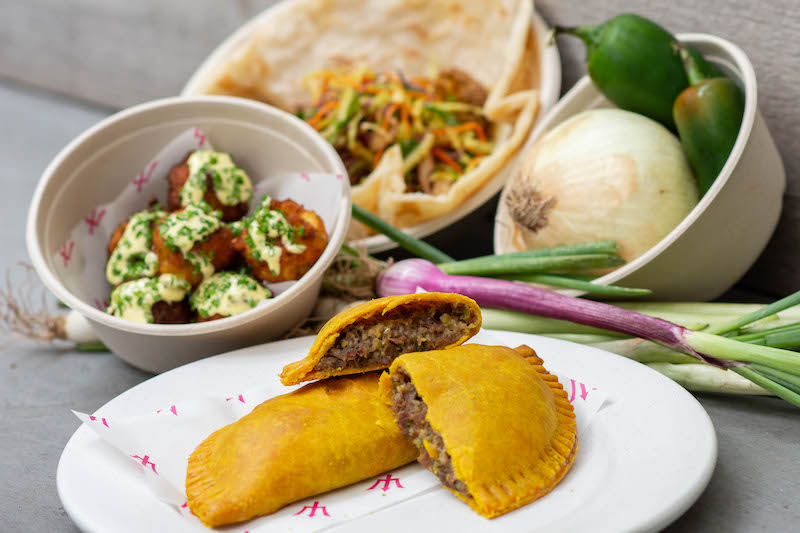 The Spicy Green Book helps promote Black-owned restaurants while helping the public find delicious food and drinks. Founder Danilo Batson, who lives in Orange County, said he founded Spicy Green Book in June after several friends reached out asking how they could take part in activism and social justice.
"I wanted to create a blueprint to make it easier for everyone to get involved," he said.
Spicy Green Book is a directory website that lists Black-owned businesses in the food and beverage industry. It also provides professional services to those businesses, including photography, branding, writing, design, and more. Batson noted that due to COVID-19, businesses that once relied on word of mouth and foot traffic now needed "a strong online presence." Spicy Green Book helps businesses achieve that.
Right now, there are about 35 Southern California businesses on the site, but businesses don't have to be on the West Coast to participate. Already, Batson has volunteer photographers in cities across the U.S.
Browse those listings, and you'll find an eclectic collection of offerings. There's a bakery that specializes in cheesecakes, a grocery store in Irvine, a distillery in Oceanside, and in L.A., a coffee shop and a Caribbean pop-up.
"We want to take away the stereotype of a community being monolithic and expose all different sorts of cultures. We have Haitian food, Caribbean food, American food, soul food, Mexican food, coffee, ice cream. It comes in a lot of different vibes, it's not just one representation," Batson said.
Batson worked as a server and bartender in various restaurants for about nine years but is now in nursing school. He was close to graduating before his classes moved online. For now, he's put nursing school on pause while he works on Spicy Green Book.
The name Spicy Green Book references the Green Book travel guide. Victor Green, a mailman in New York City, first published The Negro Motorist Green Book in 1936. It listed restaurants, lodging, and other businesses Black Americans could safely visit without fearing discrimination or violence as they traveled across the U.S. during the Jim Crow Era.
In the 2019 "Live Black" episode of Trigger Warning with Killer Mike on Netflix, Killer Mike of Run the Jewels attempts to only patronize Black-owned businesses for three days while in Athens, Georgia. It turns out to be harder than expected.
"[He'd] go to a Black-owned restaurant, but then where they got the food was not Black-owned," Batson said.
Killer Mike is unable to find a Black-owned hotel and has to walk everywhere because he can't take Uber. While getting a haircut at a Black-owned barbershop, Killer Mike says, "I would like to see a Green Book of sorts start again."
"As I was thinking of a name for this website, I was watching that series," Batson said.
Batson noted the name does not reference the 2018 film, The Green Book.
If you're a Black business owner who'd like to add your business to the directory, you can go to Spicy Green Book's website, select Add Listing, and fill out the form. From there, Batson or someone on his team will contact you and help you get started.
If you want to volunteer your skills to these businesses, you can select Volunteer. Right now, Spicy Green Book is looking for project managers, photographers, writers, designers, illustrators, content managers, videographers, social media ambassadors, and more. Additionally, if you know of a Black-owned business that might not see Spicy Green Book online, feel free to reach out and let Spicy Green Book know.