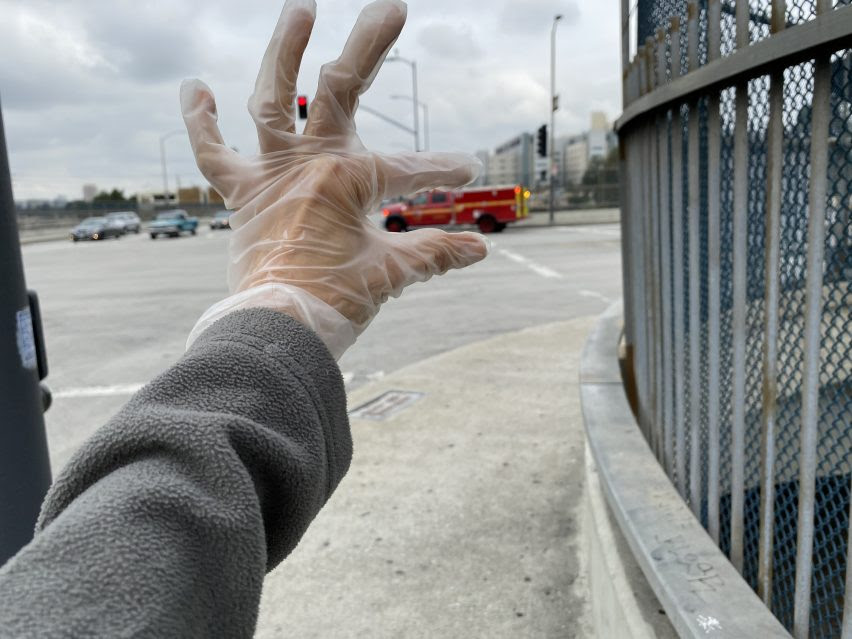 We used to tell you about all the things you could go out and do in Los Angeles on a daily, weekly, and monthly basis. Then, the coronavirus pandemic changed life for all of us, in a thousand small and massive ways. For a while, we posted strictly virtual events to keep you entertained and connected from your home. As the state, county, and city slowly reopen, we'll also include a mix of things you can do outside the house while still abiding by local health orders. We'll still offer plenty of online options for those of you who are self-isolating or who've decided to stay at home for the time being. We'll post a new list of options every Thursday morning. We hope they keep you busy, make you laugh, teach you something, or help you feel less alone.
This week, we've got more drive-in style events, a cake labyrinth, decadent night-in packages, a ceramics class and a poetry workshop, interactive mystery games, new podcasts, trivia, and more. Have something you want to submit for next week? Hit us up: [email protected].
---
Out-of-the-House Events
Artist Scott Hove's "The Beauty War" opens at Cakeland Gallery LA in Chinatown on July 17. Hove's work, which often takes the form of trippy cake mazes, will reflect on "the phases of life" including birth, self-discovery, integration, and death. To see it, you'll need to book a socially distant appointment in advance. Tickets are $17 for pre-bookings, $20 otherwise. The Beauty War is on display through Dec. 31. 
Tickets go on sale on July 16 at 10 a.m. for The Americana at Brand and Street Food Cinema's Level 8 Drive-in. The series runs select dates July 23 through August 1. Tickets are $30 per vehicle plus $8/person. Upcoming screenings include My Big Fat Greek Wedding, The Avengers, and Knives Out.
Rubicon Theatre in Ventura's Rubicon Goes Retro series is a drive-in music event. July 20-22 features "2 a.m. at the Sands: Samonksy Sings Sinatra" with Andrew Samonsky. Tickets start at $15.
The Tribeca Drive-In cruises into the Pasadena Rose Bowl for a month-long series of movie screenings July 2-26. Tickets available now.
Concerts in Your Car is a drive-in music series in Ventura. See this week's full schedule and ticket information here.
See artist Lita Albuquerque's site-specific work "Red Earth" The Huntington Botanical Gardens. According to a release: "[T]he installation centers around a boulder capped with bright red pigment placed among towering bamboo in a grove of the Japanese Garden. It is exclusive to this particular time and place and is 'a stand-in for what I am hoping the visitor to feel, a sense of calm in the midst of chaos," Albuquerque said." On view through Nov. 2.
Long Beach and Los Angeles and Orange counties participate in Burger Week, July 12-18. Select restaurants are offering burgers priced at $10 to $25 available for takeout, delivery, and outdoor dining. Find more info here.
The Gentle Barn in Agua Dulce offers a drive-thru program on Sundays through August 2. You'll get a tour of the farm and see its animals from the safety of your car. Tickets are $28 per person and include a vegan lunch. All proceeds go to the Gentle Barn Foundation. More info here.
Sunnyday Scoot is a tour company that allows you and one other person to take a mini-car on a fun tour of L.A. Sunnyday is open now with modifications including social distancing, mask-wearing, and online check-ins.
Alcove in Los Feliz will celebrate its 16th anniversary by giving back to its healthcare neighbors at Children's Hospital through a social media promotion. For every sweet item Angelenos purchase and post on social media with #AlcoveSweet16 from July 6-22, Alcove will give a slice of cake or cookie to CHLA at the end of the campaign.
Online/At-Home Events
Enjoy a concert and help support indigenous Amazonians at the same time during FOLK MEDICINE. The fundraising initiative has raised $32,000 so far to support pandemic relief throughout the Amazon. The second livestream concert will take place Thursday, July 16 at 5 p.m. on Zoom and Facebook Live with music from Bill Callahan, Sharon Van Etten, and Okay Kaya. Tickets start at $15 and 100% of the proceeds go to the cause.
Civitas LA is a new podcast from Gathering Space that highlights new civic entrepreneurs throughout greater L.A.
If you order a four-person family meal from SAJJ Mediterranean this weekend, July 17-19, you can get double protein for free. That means 32 oz. instead of 16 oz. More info here.
18th Street Art Center presents "Las Hijas de los Días: Postfeminism in the Diaspora," a conversation between Fiamma Montezemolo, PhD in Anthropology and MFA in Art, and Sara Solaimani, PhD in Art History, Theory, and Criticism. Frida Cano will moderate the dialogue, which will references themes in the Center's current exhibit, "Las Hijas de los Días —7 Female Views from the Margins." Catch it on July 17 at 1 p.m. on Zoom. Register here.
Test your knowledge of The Office via Geeks Who Drink's online trivia. It's on July 15 at 6 p.m. PST. Tickets are $6.
On July 21 at 2 p.m., The GRAMMY Museum presents the panel discussion "Celebrating Music with Pride" on its Facebook Page. Participants include Perfume Genius, Lynn Gunn (PVRIS), Zebra Katz, Donna Missal, Shamir, and Shawnee while Eve Barlow moderates.
The Akropolis Reed Quintet presents the Paradise Virtual Soiree, an hour-long Zoom gathering of conversation, education, and live performances. Check them out on July 16 & 17 at 4 p.m., July 18 at 11 a.m. or 5 p.m., and July 19 at 11 a.m. Tickets are $15 or free for all K-12 students.
LACMA, For Freedoms, GYOPO, and Stop DiscriminAsian present the virtual conversation "Learn: Racism is a Public Health Issue" on July 21 at 4 p.m. Panelists include Eraka P. Bath, MD, Associate Professor and Vice Chair for Equity, Diversity and Inclusion for the Department of Psychiatry at the Jane and Terry Semel Institute for Neuroscience and Human Behavior, UCLA; Ava DuVernay, Filmmaker and Founder, ARRAY; Darnell Hunt, Professor and Dean of Social Sciences, UCLA; and artist Rashid Johnson. LACMA Curator of Contemporary Art and GYOPO co-founder Christine Y. Kim will introduce the panel, while LACMA Vice President of Education and Public Programs Naima J. Keith moderates. RSVP here.
The Paley Center presents "TNT's The Alienist: Angel of Darkness: A Conversation" with stars Dakota Fanning, Luke Evans, and Daniel Brühl. See it on the Paley's YouTube channel starting July 17 at noon.
Nick Cave will perform alone inside Alexandra Palace in the U.K. on July 23. The ticketed event is $20 and will not be available to view online afterward.
Northwest String Summit's virtual fest "Hiding Out at Home" is July 17-19 featuring bluegrass, indie, funk, jam rock, and more. See the full lineup and get tickets here.
Bookshop presents an online conversation and Q&A with authors Ishmael Beah and Brad Fox on July 16 at 3:30 p.m. They'll explore the roles of writers in times of crisis. Register here.
The next episode of "The Receipts w/ Davon Williams" is July 16 at 1 p.m. The episode is "How to Be an Ally: A Roundtable Discussion for Anyone Trying to Get It Right." Panelists include William Belli, Zara MacIntosh, Abdullah Hall, and VinChelle the Tri-State Tribal Queen. Check it out and see past episodes here.
The Basement escape room in Sylmar has a new, creepy game you can play from home, "My Name is Jamie." Help Jamie, a captive of the infamous basement, escape by solving puzzles and clues. Book with your friends online. Tickets are $20/person.
Place orders now for Of the Night deliverable party packages from Disco Dining Club and BLAKESHiNE. Each one is designed for two people to have a decadent night in and includes snacks, beverages, decor, accessories, curated Spotify playlists, themed activities, and more. Add-ons, including birthday packages and theatrical deliveries, are available. Orders close on July 19 for delivery on July 24.
Whisperlodge Virtual is a live, 75-minute ASMR experience featuring performers who will whisper, tap, crinkle, and otherwise soothe your mind. Check it out on July 17, July 31, and August 7. Tickets are $15.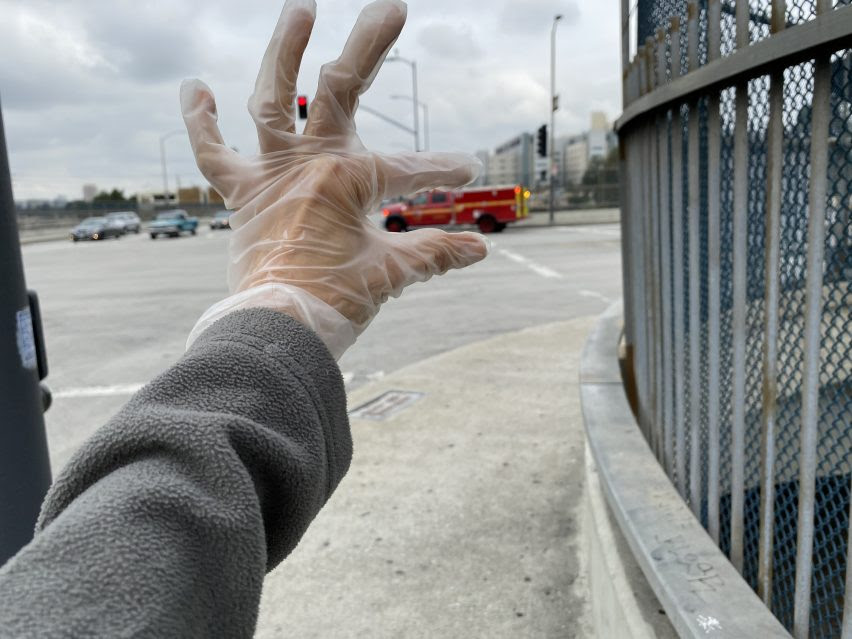 Join the Hammer Museum and Clockshop for a livestream presentation of Carmen Argote's short film "Last Light" on July 21 at 6 p.m. Synopsis: "Combining video and still images of an evacuated city with an intimate voice-over, the narrator reflects on feelings of vulnerability and betrayal and draws on childhood memories to make sense of a city transformed. Over the course of the piece, day moves to night as the artist traces a path from demolition and sickness to envisioning a different world." A Q&A will follow. RSVP here.
Elysian Valley Arts Collective hosts a free, online poetry basics workshop with Rex Weiner and Harry Gamboa Jr. on July 16 at 7 p.m. The one-hour class covers the different kinds of poetry, structure and form, rhythm and meter, and what makes a poem work.
Comedy Quarantine returns on July 17 with comics Jasmine Ellis, Daniel Webb, Maggie May, and Teresa Lee. Tips benefit @namicommunicate. Watch on Instagram Live at 7 p.m.
On display at Tierra Del Sol is artist Dru McKenzie. You can see her work through August 28 in-person by appointment or online here.
Listen to "California Love," a new podcast from Walter Thompson-Hernández who shares stories of growing up in L.A. "Listeners can expect to hear a version of LA they've never heard before. It's really rare for a person of color to be able to have a platform to tell LA stories. That role is usually reserved for white folks. This show is different. And we're all really excited about that," Thomas-Hernández told Remezcla. Check out that interview here, and the podcast here.
Another new podcast, check out The Messy Epicure from writer Jason Horn, which explores the many "messy" parts of food and drink. Listen here.
Have you ever wanted to learn about "every penguin in the world"? You're in luck because that's the title of Atlas Obscura's upcoming lecture with author-photographer Charles Bergman. He's going to show you 18 different kinds of penguins! It's on July 21 at 6 p.m. Tickets are $8.
On Sunday, July 19, bid on over 160 works by Latin American and Latino artists during an online benefit auction for the Long Beach Museum of Latin American Art.
On Sundays, July 19 through August 16, catch The Getty Villa's "The ODDyssey" on the Getty Museum's YouTube channel. The Troubadour Theater Company will present Homer's 24 books in short, family-friendly episodes.
The online panel "El Son de la Nueva Generación: Creating New Music with Traditional Mexican Instruments" is on July 17 at 7 p.m. It's hosted by Betto Arcos and features three musicians: Ik'Balam, requinto jarocho eléctrico; Pablo Emiliano, jarana tercera; and Vico Díaz, leona/bass. Register here.
Check out Pass the Mic, a play festival amplifying Black voices on July 16 at 6 p.m. on YouTube.
Vinovore's next edition of WINEsplaining features Vinvore owner Coly Den Haan, Olmsted's Zwann Grays, and wife-and-wife winemakers Mireia Taribó and Tara Gomez of Camins 2 Dreams. It's on Sunday, July 19 at 4 p.m. on Zoom. Tickets for both bottles and the Zoom link are $64 and benefit Seeding Sovereignty.
Check out an interactive murder mystery online from Little Cinema on July 19 at 4 p.m. The game is inspired by TNT's The Alienist. The synopsis: "Travel back in time to 1897 as an investigative journalist from The New York Times to explore and interact with 13 live theater actors as they live stream from 7 iconic, period-specific New York City locations. Everyone is a suspect. Each with their own motive. Participants will have 60 minutes to spot the real murderer, get the true story, and free an innocent man wrongfully sentenced to death." It's free, register here.
Take a virtual tour of Las Vegas's Neon Museum. You can click through the museum at night, visiting over 130 hotspots as you wander through glowing signs. Pieces from the museum's Tim Burton exhibit are included in the tour, too. Tickets are $10, but note that this isn't a timed experience. Buy once and you can access it whenever you like.
Los Angeles Chamber Orchestra (LACO) has free concert series every Saturday at 5 p.m. through Sept. 5. The ensemble has gathered, audience-free and with social distancing, to perform each concert at Zipper Hall in DTLA. Watch live here or on-demand here.
Enjoy a chill night of Rosé & Clay hosted by Still Life Ceramics on Friday, July 10 at 5 p.m. Happening every Friday on @still_life_ceramics IG Live, viewers will follow along with a clay making workshop while sipping on a bottle of wine from Rappahannock Oyster Bar. For $35, the package includes a bottle of wine and a pound of clay. You can also add a second pound of clay for your quarantine buddy. Orders for delivery or pickup any day (except Monday) can be made on Rappahannock's Caviar listing here.
Chef Eric's Culinary Classroom is now offering its kids' camps online. These interactive Zoom lessons allow children and adults to cook together. Participants receive shopping and equipment lists via email beforehand, with suggestions for basic tools if you don't have everything. Register online here.
Dance with The Music Center through online dance sessions, offered Friday nights now through September 4 at 7 p.m.
The L.A. Phil's YOLA National at Home is a series of courses, masterclasses, project-based learning offerings, and keynote addresses from Gustavo Dudamel and Thomas Wilkins. They're presented July 10-31 on Zoom and YouTube Live. See the full lineup here.
Even more at-home ideas:
Remember that if you want updates sent straight to your inbox, you can sign up for the We Like L.A. email newsletter.