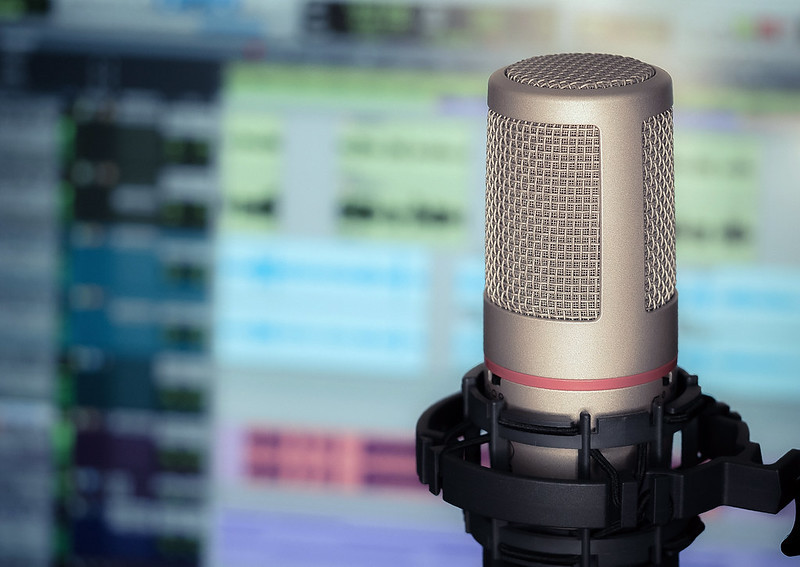 Here we are, on yet another day of staying home and social distancing to mitigate the spread of COVID-19. And again, we've compiled a list of things you can do inside. This time, we've got podcasts that are either about Los Angeles or produced by Angelenos. Many deal with L.A. history, but some feature conversations among friends, self-care tips, book readings, or interviews with artists. Fire one of these up while you reorganize every drawer in your kitchen.
You Must Remember This
Hosted by journalist Karina Longworth, You Must Remember This is a riveting, well-researched deep dive into Hollywood history. Some episodes are standalone, while others comprise season-long arcs. For example, "Charles Manson's Hollywood" delves into the infamous cult leader's connection to Hollywood. "Fake News: Fact Checking Hollywood Babylon" investigates the sensational Hollywood stories published in filmmaker Kenneth Anger's Hollywood Babylon to see how true they really are.
Welcome to LA
In KCRW's Welcome to LA podcast, host David Weinberg interviews Angelenos who have incredible, occasionally unbelievable stories. Guests include the creator of The People's Court and a successful gay pornographer who once voiced Ronald McDonald.
You Can't Eat the Sunshine

Kim Cooper and Richard Schave of Esotouric host a number of guided history tours throughout Los Angeles, all of them equally fascinating. Some explore true crime, others track the steps of literary or music figures like Raymond Chandler or Tom Waits. In their You Can't Eat the Sunshine podcast, the pair "visit with fascinating characters for wide-ranging interviews that reveal the myths, contradictions, inspirations, and passions of" Los Angeles. In their most recent episode, they chat about writer Elmore Leonard and public art piece The Triforium.
There Goes the Neighborhood: Los Angeles
This still incredibly relevant series from 2017 explores gentrification, rising rent costs, new developments, and their impact on long-term residents. It was produced by KCRW in partnership with WNYC Studios and hosted by reporter Saul Gonzalez.
Laughing in the Dark
Host Sara Jones and a guest comedian explore a different haunted location in every episode of Laughing in the Dark. Jones researches each spot in an attempt to separate fact and lore, and she tells listeners her findings as she and her guest bravely investigate firsthand. Some local episodes you might enjoy: The Comedy Store with Kyle Kinane and The Devil's Gate Dam—where rumors of sex cults and portals to Hell abound—with Tess Barker.
Skylight Books Author Reading Series

Skylight Books offers recordings of its author reading series so you can catch up on the ones you missed and to hold you over until the bookshop can host them again. Some recent readings include Crissy Van Meter's Creatures, Amina Cain's Indelicacy and—ooh la la—"Women's Erotica of the Year."
Behind the Curtain
Did you know that L.A. Opera has a podcast? Listen to interviews with composers, performers, and academics on various operas, how music impacts the brain, and more.
Valley of Smoke
Alex MacInnis's Valley of Smoke describes itself as "audio documentaries of Southern California: [a] microcosm of human experience, crossroads of everything." Episodes explore niche topics and people in L.A., but the one you might find most topical is "Episode 004: Working Without A Net." This audio essay talks about freelancers, who—as is apparent now more than ever—work without the financial security of salaried employees.
Hidden History of Los Angeles
Robert Petersen is a musician and a Deputy D.A. for the state. He's also a history buff who explores interesting facets of L.A. history, like how Disneyland came to be, the Los Angeles Times building bombing, and why Echo Park is called Echo Park. Check out the Hidden History of Los Angeles here.
No Proscenium
NoPro host and writer Noah Nelson and I have become friends thanks to our shared love and coverage of immersive entertainment. His long-running podcast covers immersive in all its forms, including theater, ARGs, theme parks, virtual reality, and escape rooms. While a lot of upcoming shows have been canceled, you can still listen to creators and enthusiasts talk about their work. And you can check our NoPro's guide to immersive things to do inside here.
Órale Boyle Heights
Writer and activist Erick Huerta interviews artists, writers, urban planners, and "anyone who says yes to being on the show." Listening to their conversations will almost feel like you're hanging out with your friends again.
Forever 35
There's no better time for a self-care podcast than when you can't leave your house. In Forever 35, Los Angeles writers Doree Shafrir and Kate Spencer talk about all the things we do to take care of ourselves, whether that's skincare, cooking, or maintaining friendships. They've even got recent episodes pertaining to our current predicament, with new ones typically dropping on Mondays and Wednesdays.
Locked on Dodgers
Hey, remember when we had sports and stuff? For local baseball fans, Locked on Dodgers is a daily podcast hosted by Dodger fans Vince Samperio and Jeff Snider.
This is California: The Battle of 187
Prop 187 passed in California over 20 years ago, its purpose to prevent undocumented immigrants from accessing key services like healthcare and public education. Reporter Gustavo Arellano explores who came up with this proposition, what it was really supposed to be about, and how it relates to today.
Patt Morrison Asks
Journalist Patt Morrison's L.A. Times column "Patt Morrison Asks" is now a podcast. In each short episode, Morrison offers an insightful, topical interview with a different expert. Each episode is under 20 minutes, making this one perfect for quick chores around the house.
To Live and Die in L.A.
Author and reporter Neil Strauss hosts true-crime podcast To Live and Die in L.A. The 12-episode series investigates the murder of Adea Shabani, a 25-year-old aspiring actress who disappeared in February of 2018. Throughout the podcast, Strauss works with both Shabani's family and the family of the prime suspect in a quest for the truth.
Home: Stories from L.A.
This podcast is on an indefinite hiatus, but there are still 27 episodes to catch. Author Bill Burr tells stories about L.A. figures, literal homes, and the concept of home. For example, here's the description of "Episode 19: Almost Utopia": "What happens to a utopia that never got off the ground? Bits and pieces of one, an experiment in postwar living for the masses, are hiding in plain sight in the hills above Sunset Boulevard. Architect and author Cory Buckner talks about Crestwood Hills, a Modernist vision for a cooperative future that never quite arrived."
L.A. Meekly
Daniel Zafran and Greg Gonzalez explore L.A. mysteries and weird history in their podcast, L.A. Meekly. Within their archive, you'll find ghost stories, urban legends, famous L.A. pets, the history of the Dodgers and The Kings, and much more. A recent episode discusses past earthquakes in Northridge, Sylmar, and Long Beach.
Bit by a Fox
The bars are closed, but you can still mix up a nice cocktail in the comfort of your own home. Every episode, L.A. cocktail and spirits writer Prairie Rose talks drinking culture, history, and trends. She also posts recipes on her Bit by a Fox blog. So if the stores are out of beans and pasta but flush with spirits, imbibers may want to give this one a listen.
Underbelly L.A.
Journalist and historical tour guide Hadley Meares hosts Underbelly L.A., a glimpse into the seedy parts of our sunny city—cults, murder, ghosts, kidnappings, and other dark tales unfold.
Smart Mouth
Former L.A. Weekly food editor and Rogue 99 co-author Katherine Spiers interviews a variety of people about their favorite dishes. Past guests have included Danny Trejo, Anthony Bourdain, and Disco Dining Club's Courtney Nichols.
Return Home
SoCal author Jeff Heimbuch's Return Home is a horror-comedy audio drama about a young man who is beckoned to his hometown by a mysterious entity. When he arrives, he and his best friend find out that the town's been overrun with supernatural happenings that only they can stop. This one's ideal for Buffy/Reaper/Sabrina fans looking for a little light-hearted creepiness.
Bone and Sickle
Al Ridenour is why Los Angeles has so many awesome Krampus events every winter (he is, in fact, the author of The Krampus and the Old, Dark Christmas). And, he also hosts Bone and Sickle. The twice-monthly podcast delves into a number of delightfully spooky topics including murder ballads, ghost ships, necromancy, gothic vampire literature, and more. The show also features author Sarah Chavez (The Cabinet of Curiosities, Death in the Afternoon) narrating historical tomes and texts. 

More indoor guides:
26 'Virtual' Things to Do for Angelenos Under Quarantine
Here's All the Free Online Stuff You Get With Your L.A. Library Card
22 Los Angeles-Centric TV Shows to Binge While Social Distancing