As you know, we're a website that focuses on exploring the city we love. But it's hard to get out and explore L.A. during a global pandemic, especially in the face of the numerous event cancellations. So, we've decided to offer tips on how to enjoy Los Angeles in the comfort of your home.
Maybe you can't go out in Los Angeles, but you can enjoy it on your TV. Here, we offer 22 binge-able shows set in and around Los Angeles, including hard-hitting dramas, witty comedies, and supernatural detectives.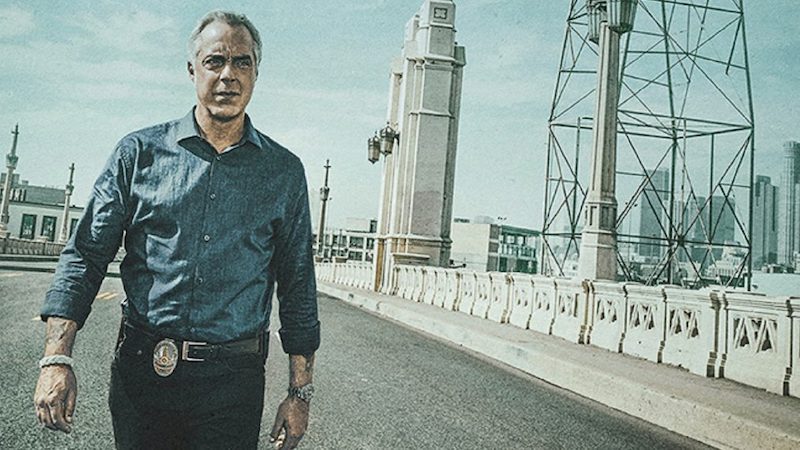 Bosch
Based on author Michael Connelly's detective series, Amazon's Bosch is a moody crime drama set in modern Los Angeles. The series stars Titus Welliver as LAPD Detective Harry Bosch. He works the Hollywood Division and bought his gorgeous Hollywood Hills home with money he earned consulting on a TV crime drama. You may see several familiar L.A. sites, including Angels Flight, where one of the show's many murder victims is found. Bosch has five seasons with a sixth dropping this April.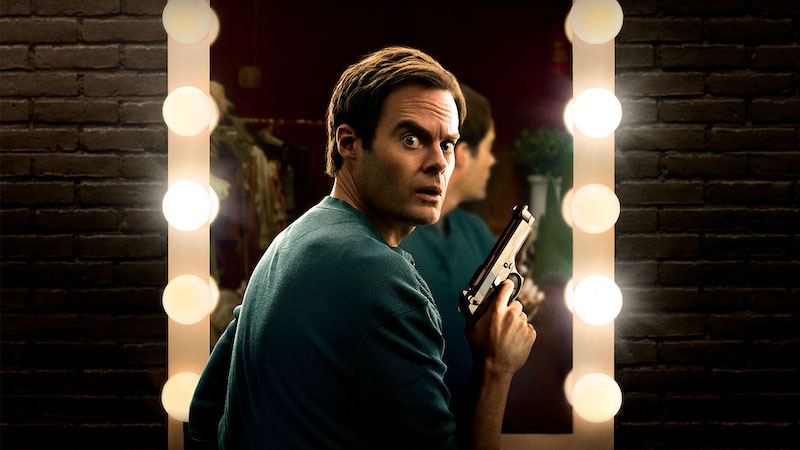 Barry
Bill Hader stars as the titular Barry, a veteran-turned-hitman who realizes he wants to be an actor. He enrolls in a local theater class (Henry Winkler plays the instructor), falls for a fellow thespian, and tries to follows his dreams, but his past isn't ready to let him go. Barry is very funny, but also very dark, so keep that in mind. Fun fact!: HBO uses my apartment pool as Barry's apartment pool, so we're basically neighbors, right?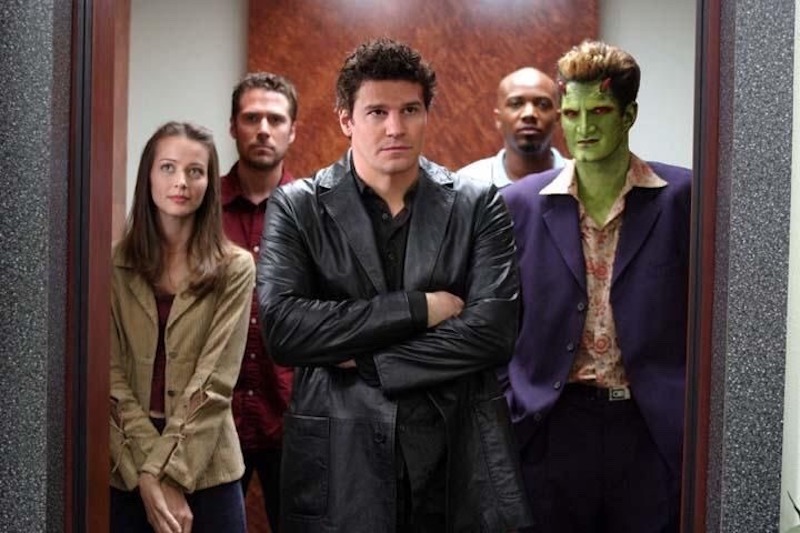 Angel
Following the season 3 finale of Buffy the Vampire Slayer, star David Boreanaz left to helm his own spinoff series. He plays Angel, a brooding vampire with a soul trying to earn redemption by "helping the helpless." He's basically a vampire P.I., and if that isn't binge-worthy in times of trouble, then I don't know what is. Among other locations, you may recognize the exterior of his office as the Los Altos Apartments on Wilshire or the exterior of demon law firm Wolfram & Hart as One Culver in Culver City. And, despite running from 1999 to 2005, it's still relevant to the modern Angeleno. In one episode, Angel's colleague Cordelia (Charisma Carpenter) refuses to move out of her very haunted apartment because it's rent-controlled. Cordie, I can relate.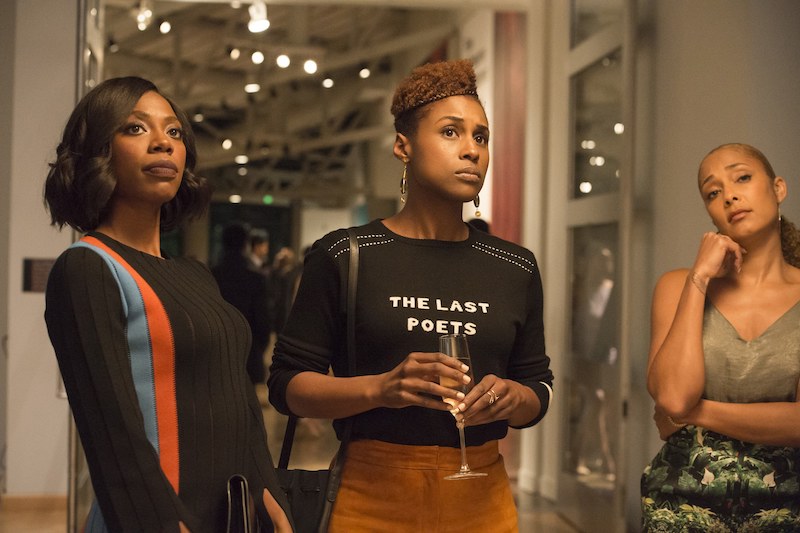 Insecure
Issa Rae and Yvonne Orji star as Issa and Molly, two 20-something best friends living in Los Angeles. Issa works at a nonprofit, while Molly's a corporate attorney. Partly based on Rae's web series, Awkward Black Girl, the sitcom explores friendship, relationships, and what Rae calls the complexities of blackness. L.A. locations you may recognize include Ethiopian restaurant Merkato, the California African American Museum, and Saddlerock Ranch.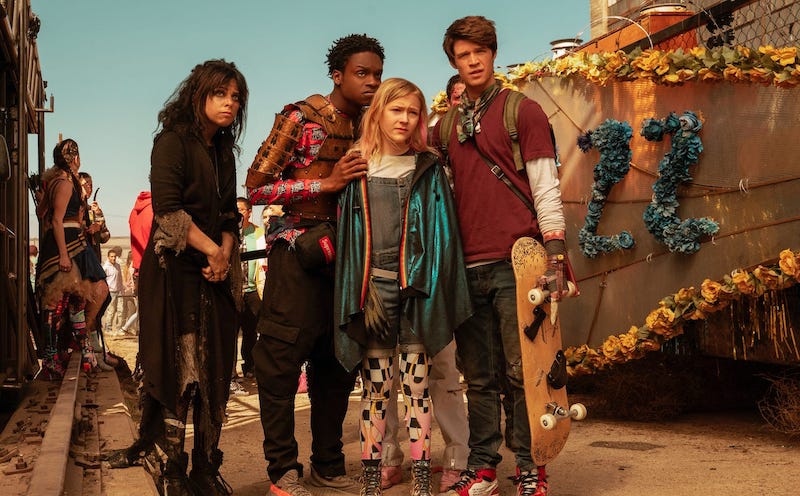 Daybreak
Distract yourself from real-life horror with Daybreak, a fictitious end-of-the-world comedy set in Glendale. Following a biological attack, all the adults have turned into mindless zombies, leaving the children and teens to fend for themselves in a harsh, hazard-filled world. The series stars Colin Ford as Josh Wheeler, a resourceful teen hellbent on reuniting with his girlfriend Sam, who disappeared in the early hours of the Apocalypse. This one's only a single season, so good for a quick binge.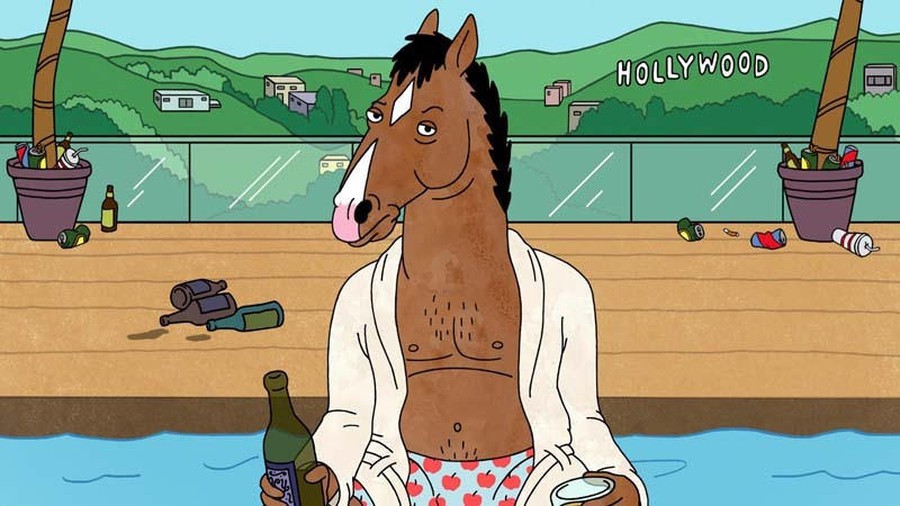 Bojack Horseman
I don't know if Bojack Horseman is a great show to binge or a terrible show to binge. Like Barry, it's genuinely funny but often intense. Either way, this cartoon for adults takes place in a Los Angeles where people and anthropomorphic animals live as one. Will Arnett stars as Bojack Horseman, a washed-up actor who creates nothing but destruction for himself and those around him. It's both a witty, often absurd commentary on Hollywood (or, as it's sometimes known in the show, Hollywoo) and a frank look at trauma, depression, and addiction.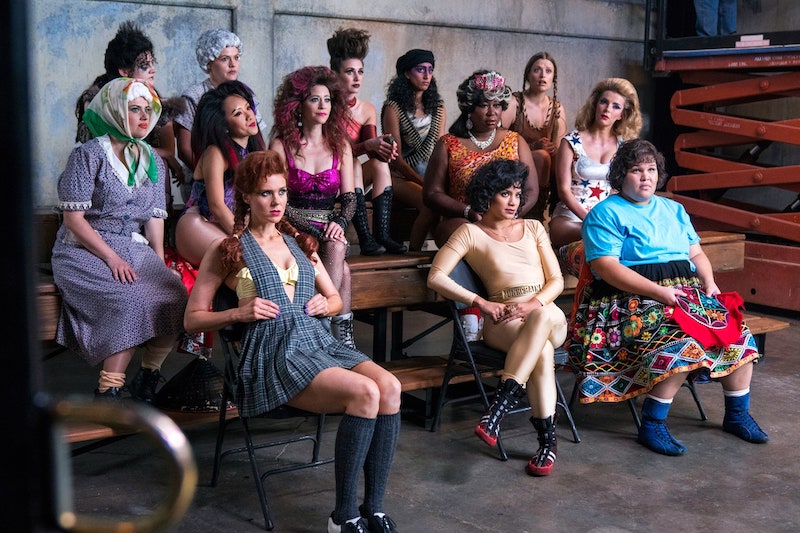 GLOW
Set in 1980s L.A., GLOW follows the formation and tribulations of the Gorgeous Ladies of Wrestling. The series stars Alison Brie as Ruth, an aspiring actress who must try to make amends with her ex-best friend and soap star Debbie (Betty Gilpin) when they both get cast in GLOW. But, it's the diverse ensemble cast that really makes this dramedy pop while it explores feminism, motherhood, friendship, race, and sexuality. (Note: We don't want to spoil you, but not every season takes place entirely in L.A.)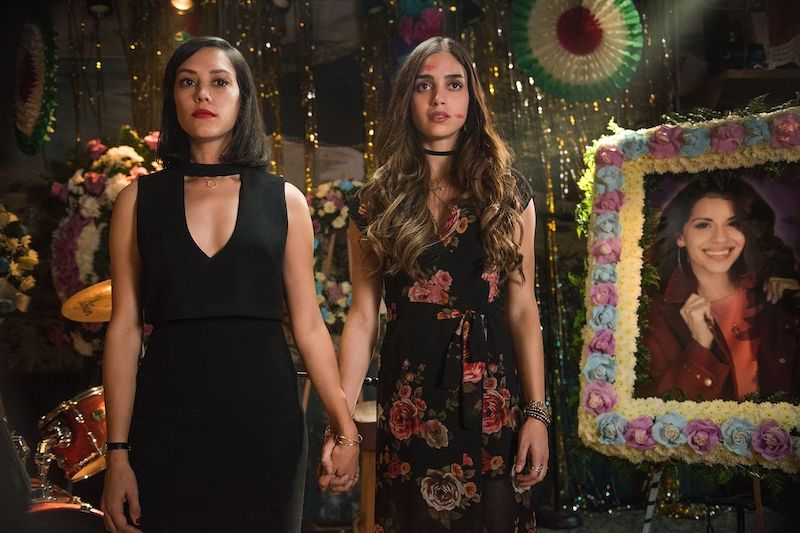 Vida
Vida is about two estranged Mexican-American sisters who, despite their differences, reunite in Boyle Heights after their mother's death. The sisters soon learn that their mother's roommate, Eddy, was actually her wife and that the small bar her mother left behind is an important community staple in need of saving.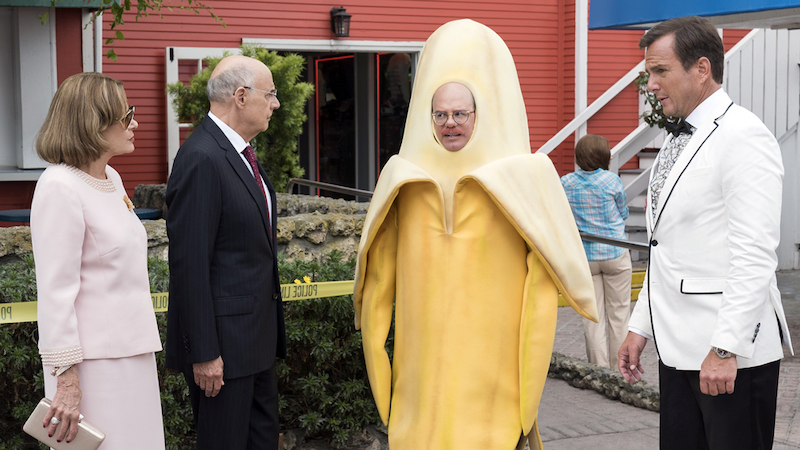 Arrested Development
This beloved sitcom is a classic binge choice set in Newport Beach (but filmed in Marina del Rey). While you barricade yourself in your home, you can watch the wealthy, mostly terrible Bluth family be their worst selves near the ocean. You can almost taste those delicious chocolate-covered bananas the Bluths sell out of their ever-lucrative, seaside stand. The show initially ran from 2003-2006 on FOX and has since been revived by Netflix for your viewing pleasure.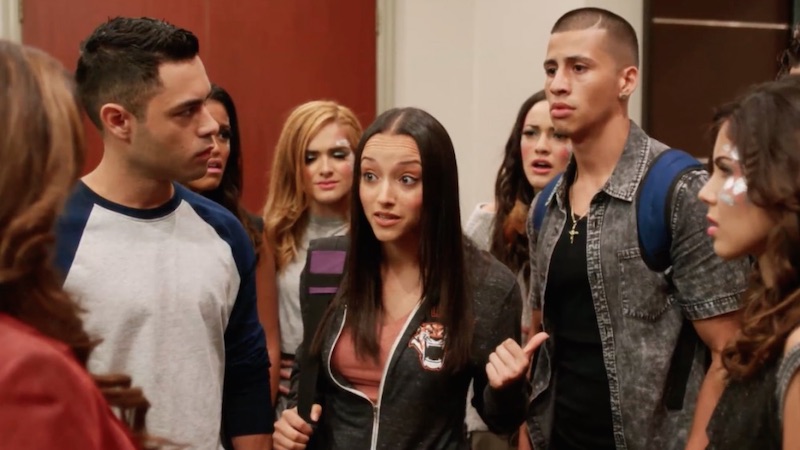 East Los High
East Los High follows a group of Latino students at an East L.A. high school. While the series contains all of the trials and tribulations teen dramas love, it also serves another purpose. According to NPR, the writers collaborated with social scientists and health workers to incorporate useful health and wellness info beneficial to a young Latina audience.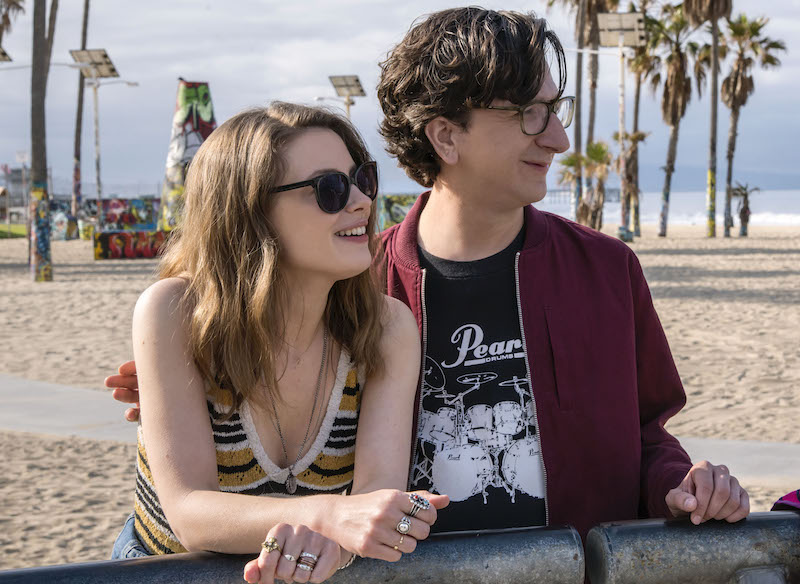 Love
Love is about two seemingly mismatched Angelenos building their sometimes wonderful, often tumultuous relationship. Paul Rust stars as Gus, a child celebrity tutor and aspiring screenwriter, who falls in love with Mickey (Gillan Jacobs), a radio producer and recovering addict. You may recognize several L.A. locations, including the L.A. Metro (which Mickey rides with Andy Dick, who plays himself).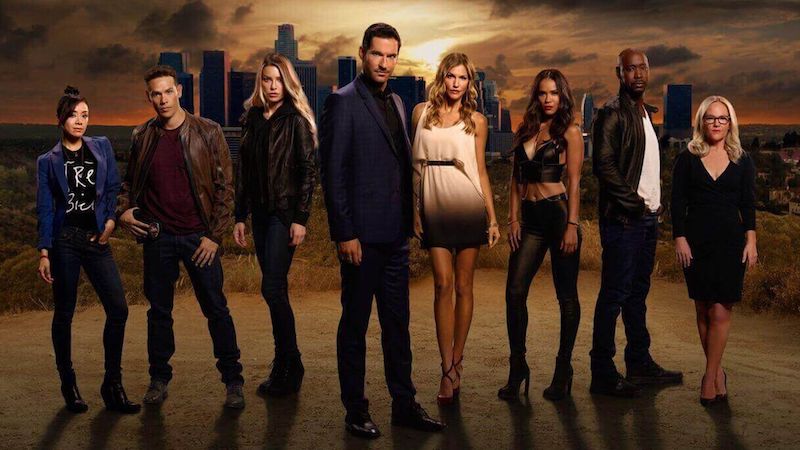 Lucifer
How about a silly police procedural starring a bunch of hot people? Lucifer, loosely based on Neil Gaiman's The Sandman, stars Tom Ellis as Lucifer Morningstar, aka the Devil. Lucifer, bored with Hell, has moved to L.A. to become a nightlife impresario. When he meets LAPD Detective Chloe Decker (Lauren German), he decides his true passion is solving crimes. Though she finds his outlandish behavior difficult, he does have a powerful way of convincing criminals to confess their deepest desires. It's real campy, and perhaps Lucifer describes it best in the episode where he writes his own theme song: "Crime-solving devil/it makes sense/don't overthink it." Originally aired on FOX, Netflix picked this one up for seasons four, five, and maybe more.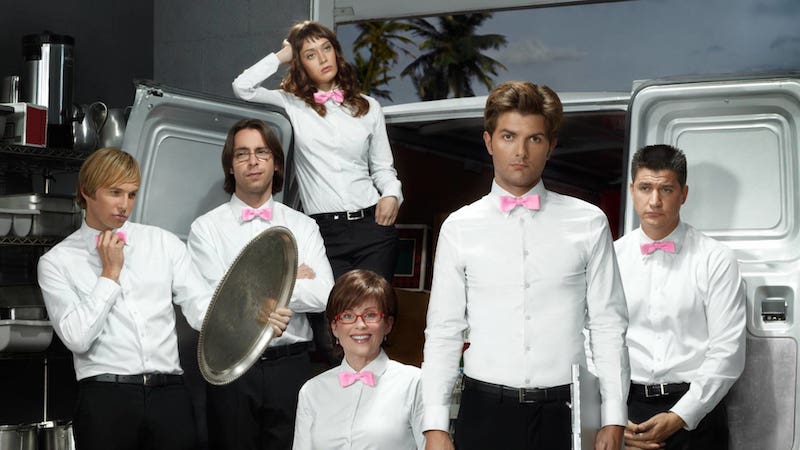 Party Down
There are only two seasons of this brilliant sitcom about a group of Los Angeles caterers. The crew works a different event each episode, including spoiled teen birthday bashes, corporate retreats, and failed sex parties. The ensemble cast features Adam Scott (Parks and Rec), Lizzy Caplan (Masters of Sex), and Martin Starr (Silicon Valley).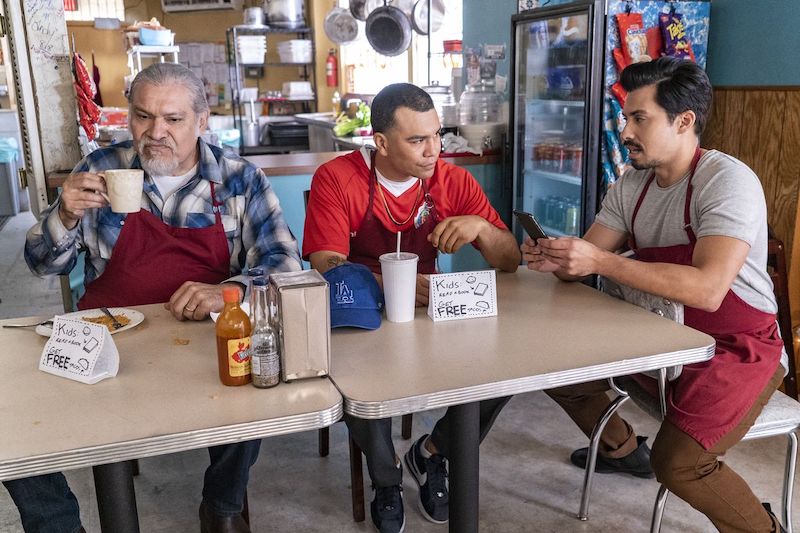 Gentefied
Gentefied just premiered on Netflix in February of this year. This bilingual dramedy follows three Mexican-American cousins who, while pursuing their own dreams, must work to keep their grandfather's Boyle Heights taco shop afloat while their neighborhood continues to change.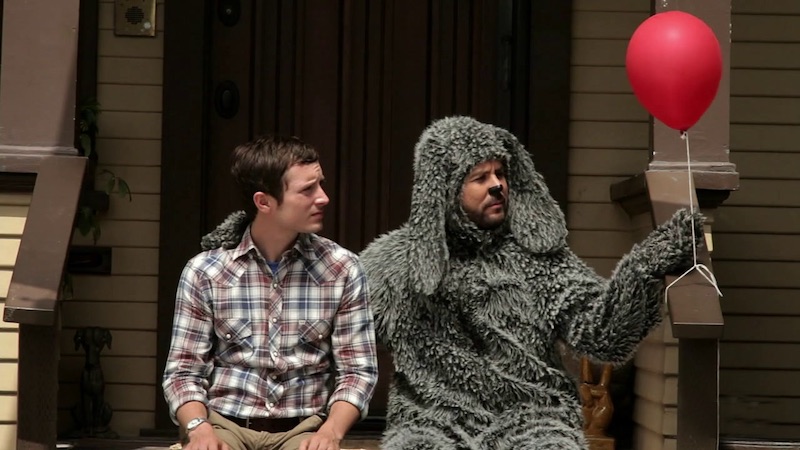 Wilfred
If you're social distancing with supplies from your local dispensary, this weird show should do the trick. Wilfred is set in Venice and stars Elijah Wood as a seemingly ordinary ex-lawyer. Except for the part where he sees his neighbor Jenna's dog as an Australian man in a dog costume. The pair share a series of increasingly bizarre adventures throughout the show's four seasons.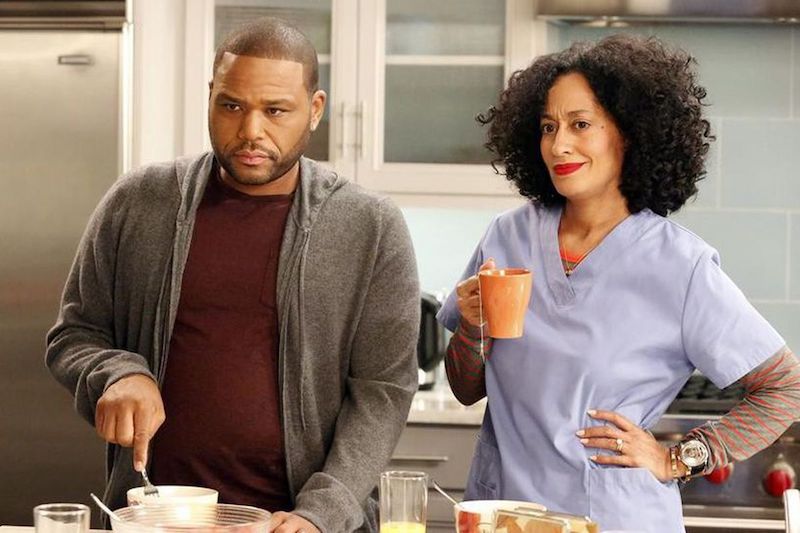 Black-ish
Black-ish is about Dre (Anthony Anderson), an advertising exec, and his wife, Bow (Traces Ellis Ross), an anesthesiologist. Together, they're raising four kids in the suburbs while dealing with typical family and topical issues alike. The show has earned itself two spin-offs: Grown-ish, which follows their daughter to college, and Mixed-ish, which explores a young Bow's biracial upbringing. You can see several of the filming locations here, including the Johnson family house in Pasadena and Dre's office in Marina del Rey.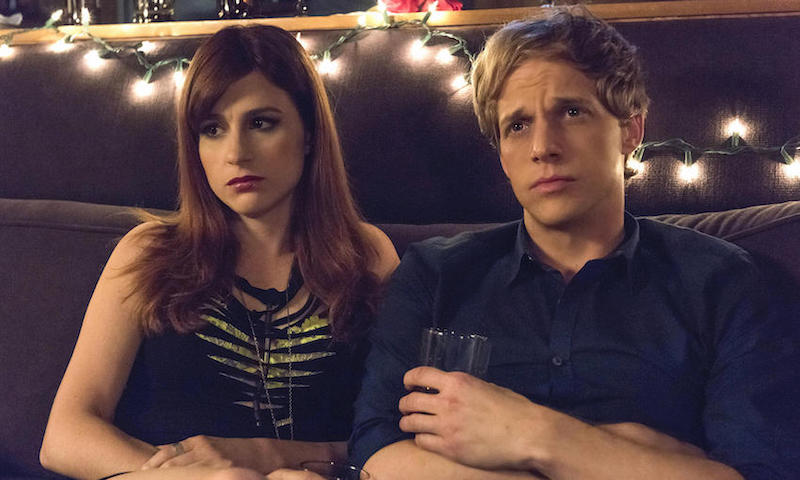 You're the Worst
Writer Jimmy (Chris Geere) and publicist Gretchen (Aya Cash) meet at a wedding where he's attempting to annoy the bride (his ex), and she's stealing a wedding gift. Just like that, two horrible people fall in love and hilarity—and occasionally, some surprisingly touching drama—ensues. The couple and their friends end up at numerous L.A. landmarks over this comedy's five seasons, including BriteSpot, MacArthur Park, and No Vacancy.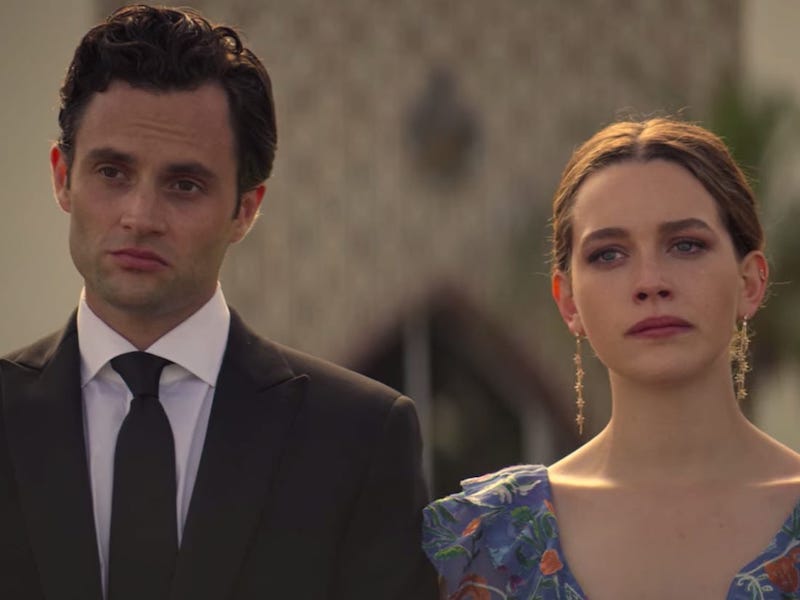 You (Season 2)
In the first season of You, the obsessive Joe (Penn Badgley) begins a deadly infatuation with aspiring writer Beck (Elizabeth Lail) when she visits the New York bookstore he manages. In season 2, Joe tries to start over in Los Angeles, trading the bookstore life for a job at an organic health food store. Of course, he soon finds a new obsession, and the madness begins anew. Despite the show's overall corniness, its compelling storyline and accompanying snark have made it a binge favorite.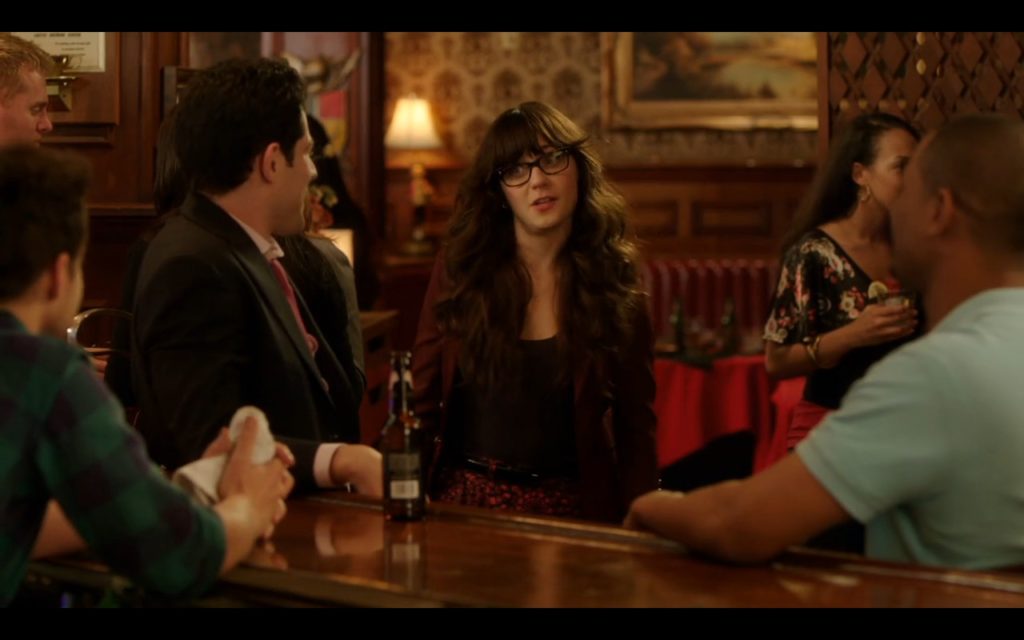 New Girl
This long-running sitcom stars Zooey Deschanel as Jess, a 30-something teacher who moves into an L.A. apartment with three roommates after she catches her boyfriend cheating on her. Along with the group's professional and personal dramas, a key star is Koreatown bar The Prince. Jess's roommate, Nick, bartends at a fictional watering hole. The show used The Griffin in Atwater Village as its exterior and The Prince in Koreatown as its interior (before eventually recreating it on a soundstage). You'll recognize it in several scenes throughout the series.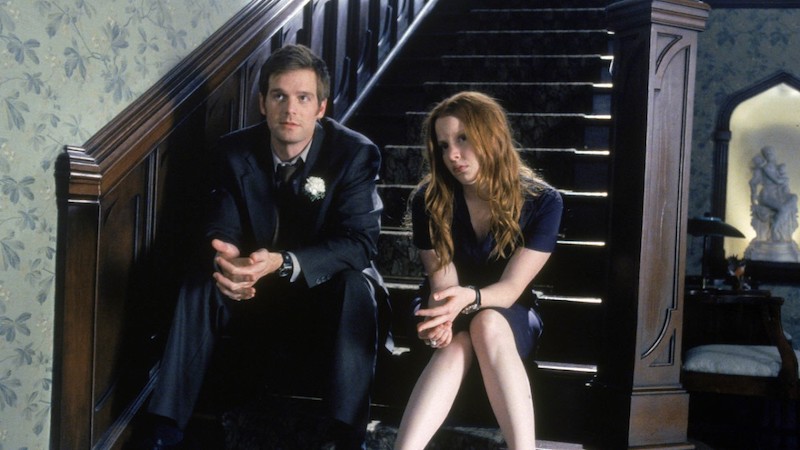 Six Feet Under
Given that they're in the funeral business, the Fisher family is accustomed to death. But after patriarch Nathaniel Fisher is killed when a bus hits his hearse, his wife, children, and their loved ones must deal with a different kind of grief. This darkly funny drama deals with the family's personal lives as well as their work in their West Adams funeral home. Every episode features a different corpse the family must take care of. Though it isn't a supernatural show, various family members occasionally work through their own issues by having chats with the recently deceased—including Nathaniel.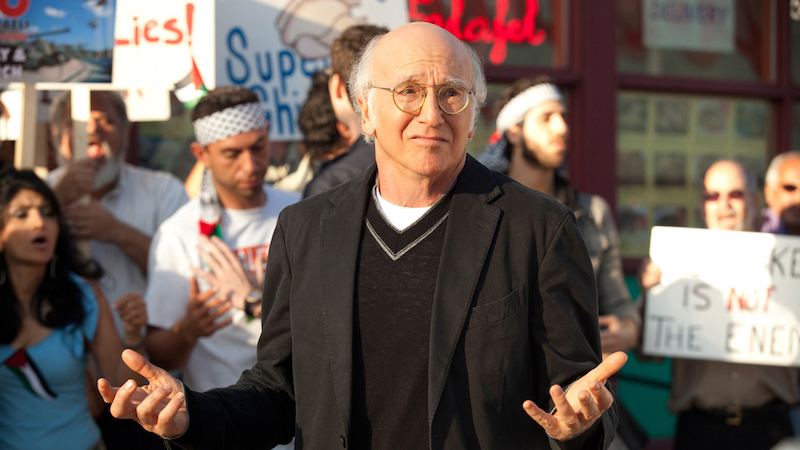 Curb Your Enthusiasm
Set mostly west of the 405, Curb Your Enthusiasm stars Seinfield creator Larry David as a fictional version of himself. He is seen going to his HBO office and dining at familiar spots including Canter's, Marmelade Cafe, and Brighton Coffee Shop. This series also once saved an innocent man from prison. In "The Car Pool Lane," David hires a sex worker to ride with him to Dodgers Stadium so he can use the carpool lane. In real life, 24-year-old Juan Catalan was accused of committing a 2003 gang murder. Catalan told investigators he couldn't have done it because he was at a Dodgers game with his daughter at the time. He was unable to prove this until he remembered seeing a film crew at the game, which turned out to be HBO filming that particular Curb episode. Catalan and his daughter appeared in the background of a scene, ultimately leading to Catalan's release.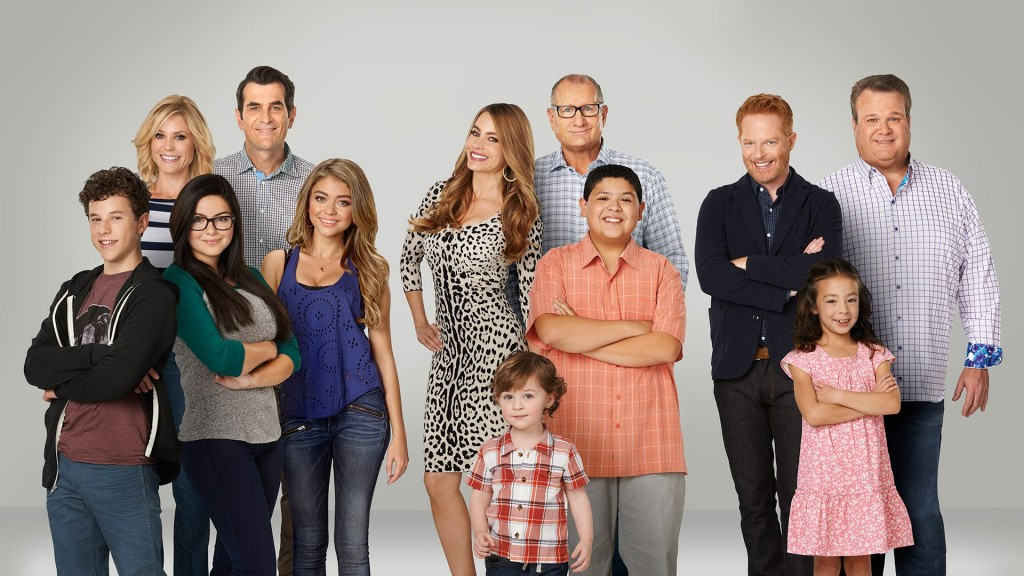 Modern Family
Modern Family's final episode will air on April 8th, giving you 11 seasons of ABC's popular, Emmy-winning sitcom to binge. The series revolves around three related, but structurally different families who all live in suburban Los Angeles. Some sites you may recognize include the Rialto Theater, Will Rogers Memorial Park, and Palisades High School.