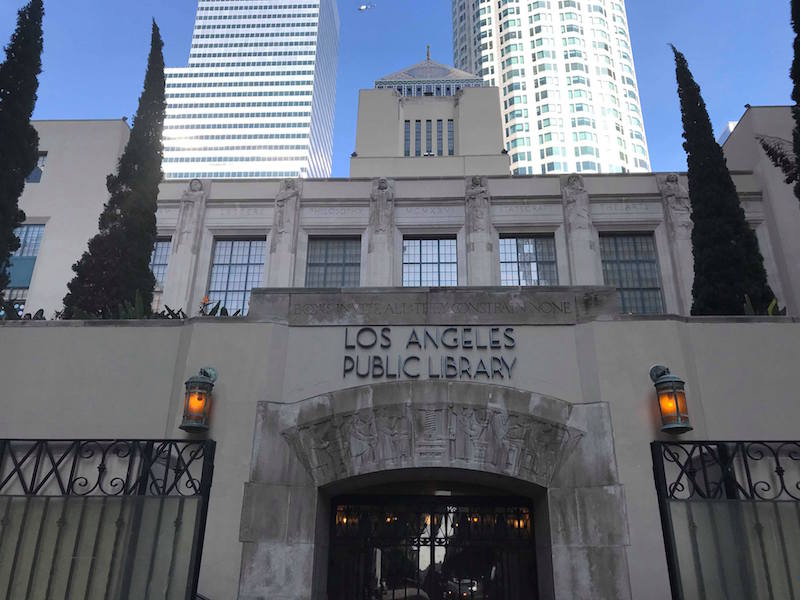 Much like everything else in L.A., the Central Library and 72 branch libraries are closed through at least March 31 due to COVID-19. But, there's plenty of online content and information you can still access with your library card. We've listed some of our favorite options below. And if you don't have a library card yet, you can get an e-card here.

1. Using the app Hoopla, you can access free audiobooks, movies, music, ebooks, TV programs, and comics. I use this app frequently to read comic books, and now, so can you! There's also plenty of content for kids, so you can keep them occupied while the schools are closed.
2. You can listen to ALOUD, a speaker series presented by the Library Foundation of Los Angeles. Each episode is recorded at the Mark Taper Auditorium and features various authors, artists, researchers, and others in discussion or performance. For instance, the most recent episode you can download is a conversation with author Michael Pollan, who "offers a mind-bending investigation into the medical and scientific revolution taking place around psychedelic drugs—and the spellbinding story of his own life-changing psychedelic experiences as he set out to research the active ingredients in magic mushrooms."
3. You can stream thousands of movies via Kanopy, including Criterion Collection classics, documentaries, recent releases, indie and foreign films, and festival picks. You can also stream a movie called I Bought a Vampire Motorcycle, which is what I'll be doing.
4. L.A. in Focus is a lecture series featuring images from the library's collection. You can watch videos of past presentations online here. I recently watched "The Night Stalker Case Revisited," which featured a talk with retired LASD Lieutenant Gil Carrillo, who investigated the Night Stalker murders in the mid-80s. 
5. You can browse newspapers, magazines, and other educational materials using LAPL's research section. I use it to read old Los Angeles newspaper articles, but there is seriously so much here. There's a section on the history of cooking, a collection of more than 11,000 theater programs, a database of pop-up books, access to genealogy programs, and much more. Anything you want to research or learn about, it's probably here.
6. Using Overdrive and/or the app Libby, you can download e-books and audiobooks. Those audiobooks may be a game-changer if you're planning on cleaning your entire house, doing lots of cooking, or getting into at-home workouts. Check out the library's list of audiobooks about L.A. here. 
7. Your card or e-card also grants you access to numerous online classes and courses, including language courses, video tutorials, and one-on-one tutoring. Why not use this time to learn something new?
For a complete list of the e-media and digital content you can access with your library card, click here.