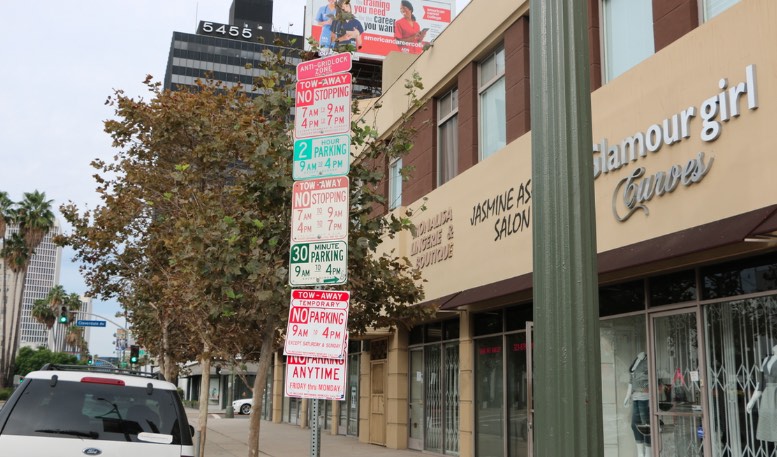 [Update: May 15, 5:30 p.m.] Today, L.A. Mayor Eric Garcetti announced that these parking enforcement changes, which were supposed to end today, have been extended to June 1.

"We will regularly asses…what the conditions are and never penalize you for having to stay at home and doing the right thing," Garcetti said.
---
In response to COVID-19, Los Angeles Mayor Eric Garcetti announced several temporary changes to the way the city issues and collects fines for parking tickets. 
In a briefing held today just after 5 p.m., Garcetti said, "more people at home means there's more cars on our city streets." Well, parked cars, that is. The following changes to parking enforcement are effective immediately and will remain in place for at least two weeks.
Changes to parking include:
There will be no street sweeping tickets in residential areas
There will no tickets for parents or caregivers who are picking up meals around closed schools
The city will freeze parking fine increases for the next 60 days and extend all payment deadlines to June 1
There will be a moratorium for ticketing and towing on abandoned vehicles, oversized overnight parking, and peak-hour restrictions
Parking enforcement at this time will instead focus on "street sweeping around encampments, ensuring emergency access, keeping colored curbs clear, and repaving and slurry operations." Metered parking enforcement will continue, hopefully encouraging turnover at businesses where people are picking up or dropping off food. There will also be an extended grace period for anyone picking up or dropping off groceries or other items.
You can watch the entire briefing here.
This most recent announcement follows an earlier press conference in which Garcetti assured Angelenos that there is no food shortage in L.A. He gathered with several local grocery representatives to encourage Angelenos to only buy what they need so that store employees can restock barren shelves.