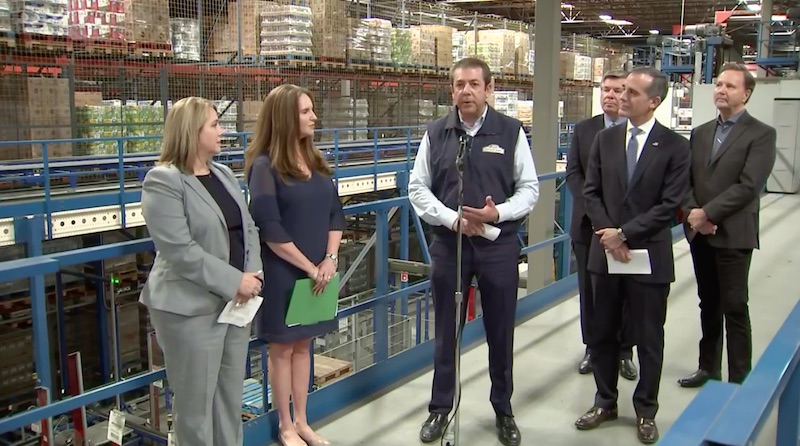 This morning, Los Angeles Mayor Eric Garcetti assembled representatives from local grocery chains at a Ralphs distribution center in Paramount to address shortages and hoarding. What you most need to know: there is no food shortage in Los Angeles. You're seeing empty shelves because people are buying a lot of items in one trip and stores need time to restock. Panic buying and hoarding are unsafe, due to both overcrowding in the stores and because it prevents people who need food or other items from getting them.
"We don't just have food for days or weeks, but for months and that will continue unabated," Garcetti said this morning.
He continued:
"There's no reason to make a run to the supermarkets. It's appropriate to buy food for a week, as we do, but to buy so much for a month or even for months has consequences. Not just for you, but for your loved ones, for grocery workers, and, of course, for those who are most vulnerable and who need food right now…Supply chains are completely uninterrupted and there's no shortage of food. So I'm imploring Angelenos not to overbuy, not to panic-buy. Hoarding is hurting our most vulnerable Angelenos."
The grocery spokespeople represented chains including Ralphs, Gelson's, Food 4 Less, Albertsons, and Northgate Market. According to the stores, the problem is just getting caught up from all the purchases people have made over the last several days. If Angelenos are prudent in the amounts they're buying at one time, stores are confident they can get restocked. Plus, it's hard to practice social distancing—that's keeping six feet between you and others—if you're in a packed store or waiting in a long line at the register.
In addition to buying responsibly, Garcetti also suggests checking in on your senior or vulnerable neighbors and making sure they have the supplies they need.
This conference follows an earlier release from LADWP, assuring citizens that there's no threat to the city's tap water at this time. So, if you were drinking and bathing in tap water before, you are safe to continue to do so now.
You can watch the entire conference from this morning here.