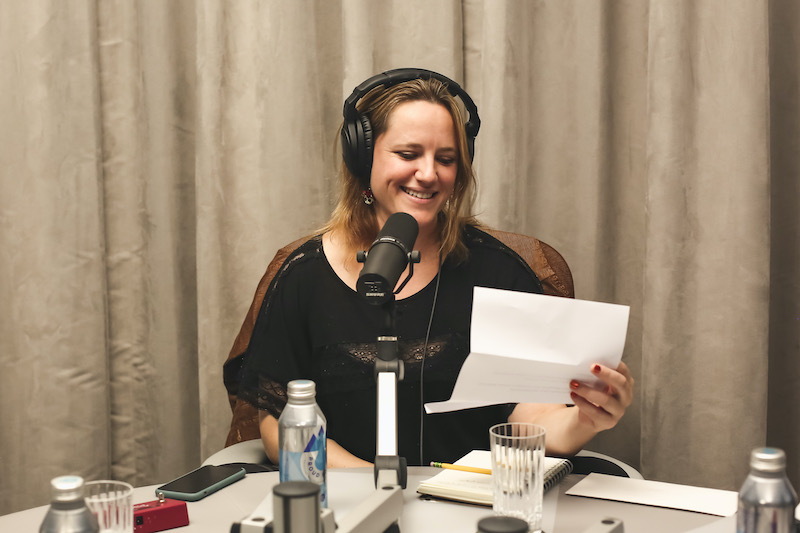 A Moment of Your Time is a new podcast that invites you to share. It doesn't matter what, really: a story, a song, an idea, anything. However you're feeling or whatever you're making right now, whether you're stuck at home or an essential worker braving the world each day, is fair game.
The podcast comes from Jenny Curtis, a producer at podcast network CurtCo Media. Before all this, Curtis was preparing for a series of performances with the Speakeasy Society, the immersive theater group of which she's a member. They were going to put on a workshop at CalArts and a show this spring. They were going to perform at HERE Summit, the immersive design festival that should have happened in Pasadena in late March. All of that is now on hold. Curtis also worked in casting, a job that's come to a halt alongside the industry.
It was in the days leading up to this mass shutdown of life as we know it that Curtis decided to put together A Moment of Your Time.
"I just needed to get something out of my system. I assume that most people feel this way and actually having an outlet to create for…just makes me feel like none of us are gone because we're all doing this together even if we're all doing it apart," she said. "I hurt so much seeing the people I love hurt and so [for] everyone who is feeling stuck, I want to do something to help. And this is the only way I know how to offer help—to give you a space to express."
Thus far, A Moment of Your Time consists of just over a dozen episodes. They're short, ranging from around two to seven minutes—easy to throw on while you wash dishes, fold laundry, or feed the sourdough starter we all now seem to have. There are poems, observations and calls to action, pieces of creative writing, songs, and sketches.
Chris Porter's "Coda" is written from the perspective of Porter's cat, who is unaware of the pandemic, but is aware that his owner's been home a lot more. It's surprisingly heartwarming. Saxon Jones talks about all the jobs he's had up until his current dream job at the nonprofit Charity: Water, which creates water solutions around the world for communities without access to clean water. Teddy Shiloah composed and recorded a stunning piano piece titled "Grampa's Vacation." The story it wordlessly tells is about a grandfather who is contemplating his mortality and the possibility that he may never see his family again, but who ultimately decides to take a "vacation" from worrying.
This morning's episode is an essay about missing baseball. Upcoming episodes include a sketch from a high school biology teacher from North Carolina who now must interact with her students over Zoom. Without this podcast, Curtis admits she may have never connected with someone who lives that far across the country. During a time when interactions with even our closest neighbors are sparse, that's a good feeling.
"That's what been really cool about this whole thing," she said. "Connecting with people and realizing we're not alone."
People with submissions in mind don't need fancy recording equipment to participate. In fact, many creators can't access their usual tools, locked out of the rehearsal spaces, studios, theaters, and other venues they used to use. You don't have to identify as a professional creative either. This is for everyone, whether it's your first poem, song, or essay or your hundredth. All people have to do is make something and then send it, whether it's an attached text file or a recording you make with your phone, via email. If selected (and they're trying to take as many submissions as possible), Curtis will reach out and help you produce your piece.
"We can either help them develop the piece if it's not quite there yet or if they're looking for help, I'm here to help," she said. "And if they submit a complete piece, I take that and work with our audio engineer to make it sound the best."
Additionally, parents and kids can tune into A Moment for Kids, a subseries within the podcast. The first episode, "Smee Shake Boogie Break," features voice actor Jeff Bennett, who voiced Mr. Smee on Disney Junior series Jake and the Never Land Pirates. Future episodes will feature other voice actors and kids themselves talking about their own thoughts and feelings.
Ideally, Curtis says this podcast will outlast the pandemic. But for now, you can catch a new episodes (and find submission details) here.