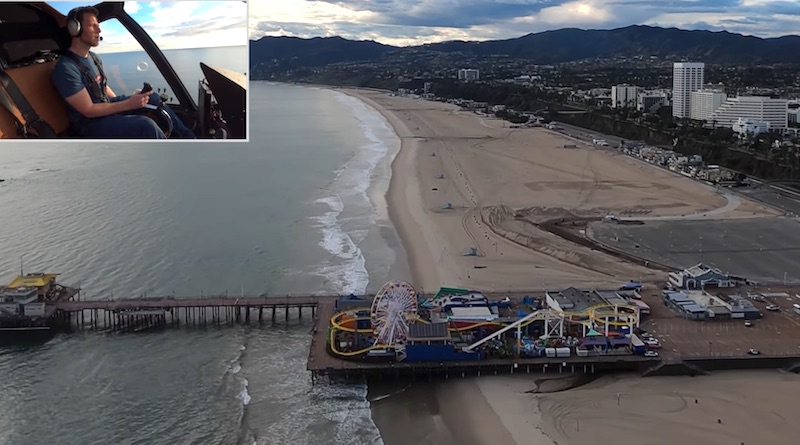 There's perhaps no better way to see the vast emptiness of Los Angeles's streets and beaches right now than from a bird's eye view. Micah Muzio, Managing Editor of Kelley Blue Book, has been flying his helicopter over these now-vacant stretches and uploading his journeys to YouTube. 
Muzio has been flying over L.A. since 2008. He added a commercial pilot rating last year and currently owns an Enstrom 280C helicopter. 
"I've been making videos with cars and my helicopter for years but when L.A. life came to a near standstill in March, I knew the aerial views would be striking," he told We Like LA.
Muzio often flies on Fridays during what would typically be rush hour.
"The absence of gridlock has been jarring," he said, noting that the traffic has become even more sparse between his March 20 and April 10 flights, most noticeably on the 405. 
In addition to the reduced traffic, Muzio says the other big surprise is the beaches. 
"[The beaches] seem to be a bellwether for social standards. On my first Corona-era flight I could literally see social distancing in action with small groups nicely sequestered from each other on the sand," he said. "On a more recent flight, everything had changed. Most beaches were abandoned. Even the surfers were gone.
L.A. County decided to close its beaches on March 27. Newport Beach both shut down the Balboa Island boardwalk and restricted hours at The Wedge.
Many of Muzio's viewers aren't Angelenos, but hail from all over the world. They ask questions about L.A. in the comments, like why Muzio puts a "the" in front of "405" and "10" when commenting on L.A.'s empty roadways.
"My sense is that people in other countries are curious how the U.S. is managing the pandemic. And for many, Los Angeles is the part of the U.S. they recognize most," he said.
Many of them in particular, he said, recognize Los Angeles from Grand Theft Auto 5.
Muzio intends to continue making videos throughout the COVID-19 pandemic. Being way up in the sky, he's definitely practicing social distancing (there's also contact-free entry to access his helicopter). He also talked to an LAX air traffic controller who assured him that due to reduced flights, Muzio's flights put no burden on controllers. Muzio said he's received requests from individuals asking him to fly over their neighborhoods—Pasadena, Glendale, and Irvine, to name a few—and he's happy to oblige. 
"It is a unique privilege to view greater Los Angeles from the air. My goal is to share that privilege with others," he said. 
To see Muzio's flights (or his many auto reviews), follow him on YouTube here.