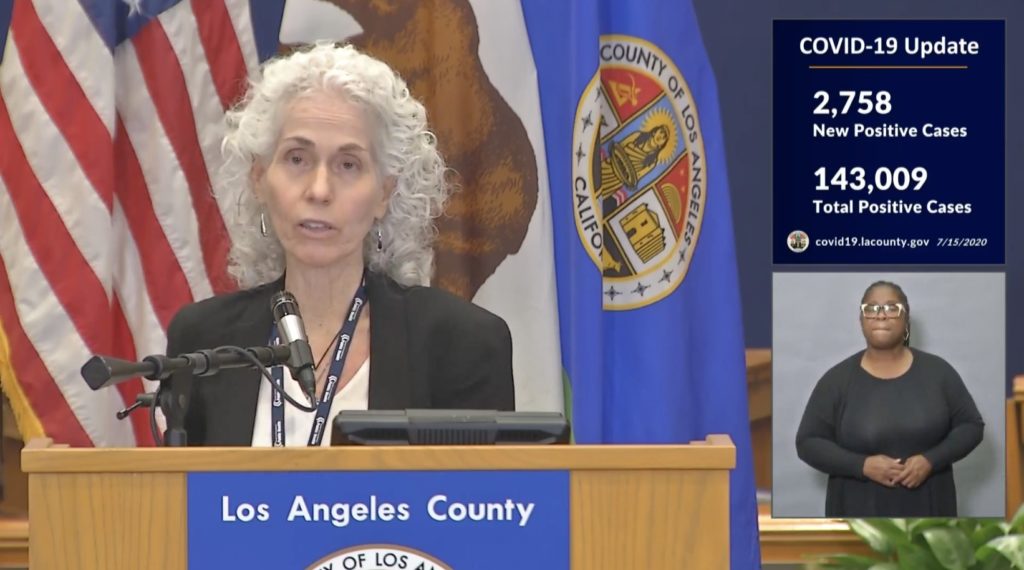 44% of people currently infected by COVID-19 in Los Angeles County are ages 18-40, and over the past few weeks there has been a marked increase in hospitalizations within that age demographic, according to the latest briefing from Los Angeles Public Health.
"We are at an alarming and dangerous phase in this pandemic here in L.A. County," L.A. Public Health Director Dr. Barbara Ferrer said today. "These alarming trends reflect behavior from three weeks ago, and it will take several weeks to see if our behavior now, including the rollback of previously opened sectors, slows the spread of the virus. What we do today impacts our lives in the weeks and months ahead."
Since Memorial Day, younger people (ages 18-40) have been getting infected at significantly higher rates than before. That rise in infections had also led to an increase in hospitalizations among the same age range. There are currently 2,193 COVID-19 hospitalizations in the county, and over 25% of those are 18-40. In April that same demographic made up just 10% of the hospitalized cases. The percentage has been rising steadily since the beginning of May (see graph below).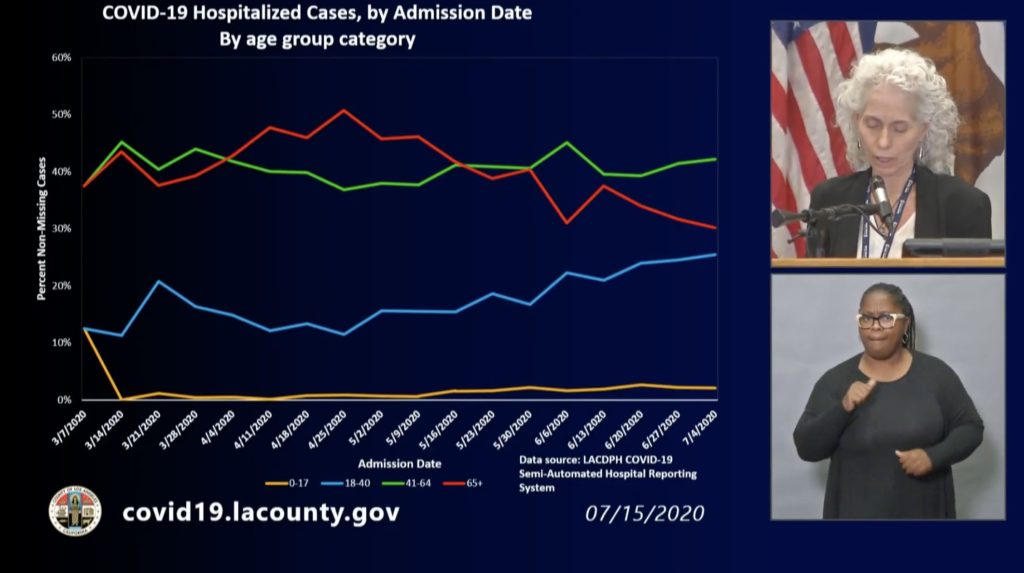 Overall, in the three week period starting June 20 total COVID-19 hospitalizations have been increasing between 7-17% per week. COVID-19 Intensive Care cases have also increased during this same three-week period.
Hospitalization and ICU trends portend a likely increase in deaths over the coming weeks, and just yesterday the county reported 73 new COVID-19 fatalities, one of the highest totals in weeks. Given an expectation of increasing deaths, Dr. Ferrer implored residents to stick to strict social distancing protocols and avoid close contact from individuals outside their household.
"Even though we all miss summer barbecues, pool parties, and other fun and normal things we would be doing on a hot summer's day in July, it still isn't safe or smart to return to friends or family that you don't live with," Dr. Ferrer said.
The briefing also highlighted an ongoing racial disparity in both infection and mortality within the county. Latinx residents are twice as likely to be infected and die of COVID-19 as White residents. African Americans are 25% more likely than Whites to be infected, and twice as likely to die from the virus. Areas with of high levels poverty have also continued to show significantly higher rates of infection than wealthier communities.
The disparity in infection spread by race and income underscores the need to provide adequate testing capacity for the county's most vulnerable populations. With that in mind, L.A. Health Services Director Dr. Christina Ghaly announced the county would be expanding testing sites by 65% over the coming weeks.
All new sites will be in areas of high testing demand, including locations in Montebello, South Gate, Azusa, Panorama City, Compton, and Downey. The county will also be adding new access at existing testing locations at areas determined to be high-need, such as Bellflower, El Monte, and East L.A.
44 deaths and 2,758 new cases were reported today, bringing the pandemic totals to 3,932 dead and 143,009 confirmed infected. Since the crisis began, roughly 1.4 million people have been tested in L.A. County. 9% have tested positive over time, and the most recent 7-day rolling positivity rate is 9.8%. Currently, the county is averaging 2,859 cases per day on a 7-day rolling basis.
Late in the briefing, Dr. Ferrer made the point that the spread of infection is in all of our hands. As a county, Angelenos were able to lower the infection rate before and they can do it again if the right behaviors are implemented. Nonetheless, a renewed Safer-At-Home order isn't something the county is ruling out completely.
"We do know as a fact that we have to do everything we can to protect the healthcare system for everybody," Dr. Ferrer said. "That's why nothing can be off the table."