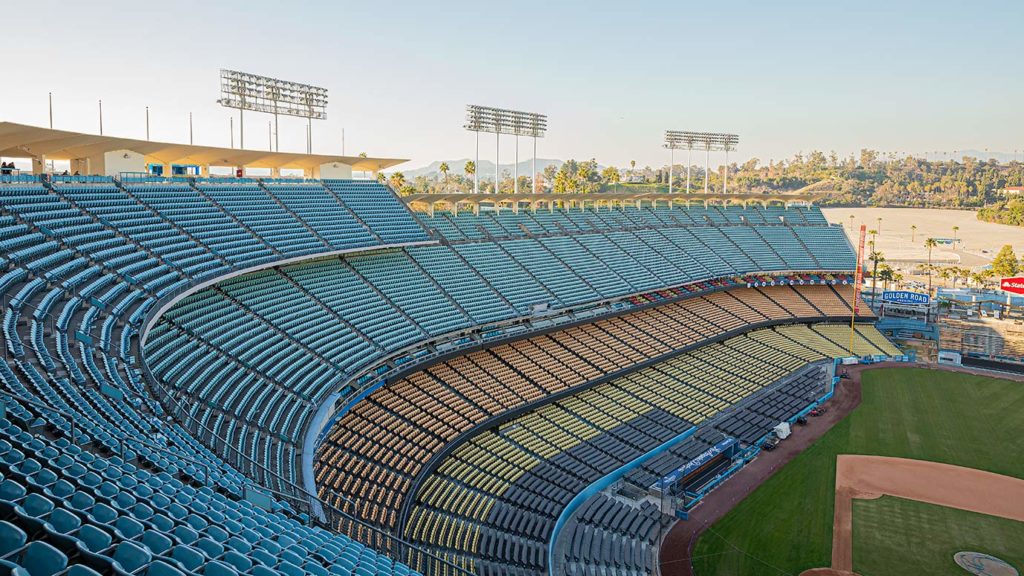 When the Dodgers 2020 season starts on July 23 they won't have live fans, but they will have fan faces. And that face could be yours.
Like several other MLB franchises, the Dodgers will employ "virtual" fans to occupy the stands at some seats this year. Specifically, they'll be using 30×18 inch weatherproof cutouts of fan faces to create the appearance of an actual crowd in certain sections of the stadium during home games. And you, the viewing public, can now submit your photo to be used as one of these virtual fans. But getting a spot isn't free.
A cutout slot is selling for $149 at the field and loge levels, and $299 for placement at the dugout club behind home plate or at the new "home run" seats behind the outfield wall. Net proceeds will to go to the Dodger Foundation,  the official charity of the Los Angeles Dodgers
If you want to grab a spot, you'll likely have to act fast. A presale for season ticket holders started yesterday, and sales to the general public began this morning at 10 a.m. Space is limited, and orders will be processed on a first-come, first-served basis.
To book a cutout, the most important thing you'll need (besides the funds) is a good photo. The submission guidelines outline the basics: A waist-up shot, arms at your sides, good lighting, a contrasting background, no selfie-style shots. Most importantly, you should be wearing either official Dodger gear or plain clothes.
Cutouts cannot be used to cheer on an opposing team, according to the official guidelines. So if you're a sneaky Giants or Astros fan who thinks you're going to showcase your team's logo amongst the virtual crowd, think again.
There are additional restrictions on political statements, social media handles, third party branding, or any form of obscene, lewd, or otherwise inappropriate language. Submissions will also be rejected if they include negative references to other teams.
As a bonus, if you do book a cutout you'll be able to pick it up at the end of the season, and it will be authenticated as game-used via the MLB Authentication Program.
Should the Dodgers bring live fans into the stadium later this year, they've stated said they would reserve the right to relocate or remove fan cutouts, and no refunds would be issued.
Complete guidelines are embedded below.