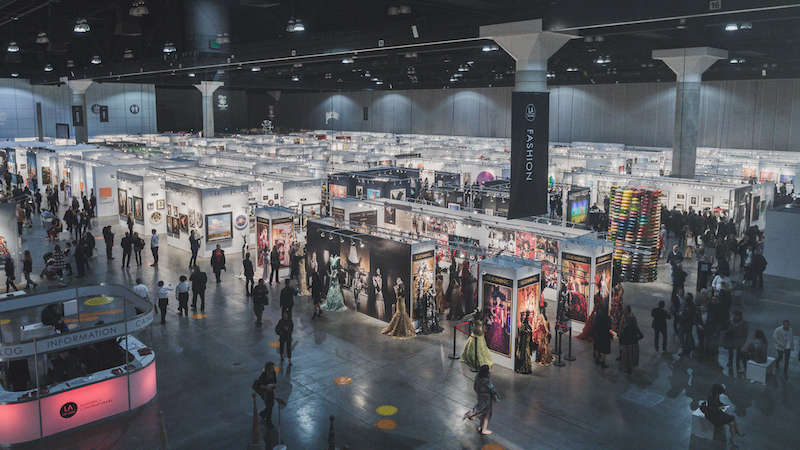 There's always lots to do in Los Angeles, and per usual we're here with a bi-weekly (Monday and Thursday) rundown of the best of what's happening in the city and county.
This week, from July 26 to July 30, features a the LA Art Show, a Levitt Pavilion concert, the return of KCRW Summer Nights, a Happy Hour Plant Exchange, Gallery Weekend Los Angeles, and more!
Monday/ Throughout the Week
1. Ultra -> The Torrance Art Museum has collaborated with over 20 artists to create a series of public art installations freely accessible in locations around the City of Torrance, now through Aug. 28. More info here.
2. Grand Park's Portraits of Freedom: Building a Life in L.A. -> Now through the end of the month, Grand Park in DTLA hosts a month-long public art installation examining the themes of home and freedom, with publicly viewable photography, video exhibitions, and a special nighttime projection installation. Free to the public. More info here.
3. Legacies of Exchange ->The Los Angeles County Museum of Art (LACMA) presents Legacies of Exchange: Chinese Contemporary Art from the Yuz Foundation. Featuring Ai Weiwei, Huang Yong Ping, Wang Guangyi, Xu Bing, and more, the exhibition brings together 20 works of Chinese contemporary art created by 15 artists in response to international trade, political conflict, and global artistic exchange. Runs through Feb. 13, 2022.
Tuesday
4. Is South L.A. Forging a New American Identity? -> Zócalo Public Square's first in-person event of 2021 will be a discussion on immigrant identity and Black-Brown co-existence, moderated by Angel Jennings from the L.A. Times and hosted at Mercado La Paloma in South Los Angeles. Tuesday from 6:30 to 7:30 p.m. Free to attend. RSVP here.
Wednesday
5. Gallery Weekend Los Angeles -> From July 28-31, a group of Los Angeles Art galleries is banding together to offer extended hours and special events as a way to encourage art viewers back to physical spaces. Check the full list of participants and dates here.
6. Vegan Playground -> Weekly Arts District night market at Boomtown Brewery brings you all things beery, vegan and eco-friendly commerce. Admission is free. More info and RSVP here.
7. The OC Fair -> After a 2020 cancellation due to the pandemic, this year's OC Fair returned on July 16 and runs Wednesdays to Sundays through August 15. Tickets are $12 weekday general admission (Wednesday, Thursday) and $14 for weekend general admission. General parking is $10. Get more info and purchase tickets here.
8. Free Summer Lunch Cruises -> Every Wednesday at noon, Shoreline Village in Long Beach offers a free free 30-minute harbor cruise with purchase of lunch to-go from a participating on-site restaurant. A reservation is required. Program runs through Aug. 25. Get the full details here.
Thursday
9. LA Art Show -> The city's biggest art show returns to the Los Angeles Convention Center from July 29 to Aug. 1. An opening night reception will be held on Thursday ($250 tix) and then the show will be open for general admission from noon to 8 p.m. on Friday to Sunday ($30 tix). Get more info here.
10. Felix LA -> Four-day art fair focused on Los Angeles-based galleries, and hosted poolside at a cabana setting on the grounds of the Hollywood Roosevelt Hotel. $75 tix still available for a four-day pass. Students with valid I.D. can receive free admission on Sunday. More info here.
11. Happy Hour Plant Exchange -> This Thursday at the El Segundo Museum of Art, LAB artist-in-residence Krystal Chang will host a special discussion where guests can learn about the local flora used in her latest art installation, swap cuttings with fellow home gardeners, and sip on floral-infused beverages. RSVP required. More info here.
Friday
12. KCRW Summer Nights at California African American Museum -> Enjoy live sets from KCRW DJs Novena Carmel and Aaron Byrd, plus after-hours museum access including to CAAM's newest exhibition, Sanford Biggers: Codeswitch. Guests can also enjoy bites and sips for purchase via on-site food trucks and beer garden. Free to attend. Masks required. More info here.
13. Parks After Park Movies -> LA Parks After Dark the public can take advantage of a wide range of free community program this summer across 33 parks. Friday night movies, arts and health workshops, and Saturday night concerts are all parts of the program. This Friday's lineup includes Dora and the Lost City of Gold at Belvedere Park, Coco at Charter Oak Park in Covina,
14. Levitt Concerts Return -> The first in-person concert of 2021 at the Levitt Pavilion in McArthur Park is this Friday. The event will features a live performance by Mexican singer Flor Amargo plus a DJ set by La Banda Elastica. Free to attend. Starts at 7 p.m. More info here.
15. Beer & Magic -> Magicians from the Magic Castle will make a special appearance at Absolution Brewing Company in Torrance this Friday to dazzle thirsty patrons as they sample some of the brews on tap. More info here.
16. Block Party Screening -> This Friday evening Exposition Park will host a 15th anniversary screening of Dave Chapelle's Block Party, which will include a special virtual intro from director Michel Gondry, pre and post-screening music, plus food and drink for purchase. GA tix start at $25, and can be purchased here.
17. NHM Extended Hours -> Every Friday now through Aug. 6, Natural History Museum will offer extended Friday hours (from 5 to 8 p.m.) that feature a live DJ in the Nature Gardens along with do-it-yourself family activities and food for purchase from the NHM grill. Admission is $15 for adults and $7 for children. More details here.
18. The Huntington -> Enjoy the gardens during twilight hours Fridays through Sundays when The Huntington hosts Summer Evening Strolls from 4:30 p.m. to 8 p.m. June through August. Advance tickets ($20 per adult) are required.
19. Angel City Market: Summer Nights -> This week's edition of Angel City Market features over 30 small biz vendors, DJ'd music, outdoor games, kids activities, and more. Admission is free. More info here.
Dining
20. Esperanza Cocina de la Playa -> Esperanza will officially open on July 29 with a Baja inspired menu and the largest tequila and mezcal list in the South Bay. Located right in the heart of Downtown Manhattan Beach, the open air space features a stunning first floor and rooftop space that's reminiscent of the coastal architecture of Cabo San Lucas. Menu standouts include crunchy whole Shrimp Taquitos, Fajitas Del Mar, and huge Crispy Tacos stuffed with short rib and queso blanco.
21. $1 Chicken Wings -> Celebrate National Chicken Wing Day with $1 wings at Brooklyn Ave Pizza Co. on July 29. Flavors include Flamin' Hot Cheetos, Lemon Pepper, Buffalo and newly debuted flavors, Tapatio, Honey Dijon Mustard, and Spicy Habanero.
22. Bar Sala -> It is the last week to experience the Broken Spanish pop up, bar sala. The speakeasy-style mezcal bar features a curated agave cart serving mezcal and tequila tastings table side and small plates from Broken Spanish. A live five-piece jazz band will perform on Friday and a live DJ will spin tunes on Saturday night. Bar Sala is open Friday and Saturday 8:30 p.m. to 11 p.m. Reservations for the bar are not required.
---
Any notes or corrections? Want to suggest an event we should add to an upcoming list? Hit us up at [email protected]