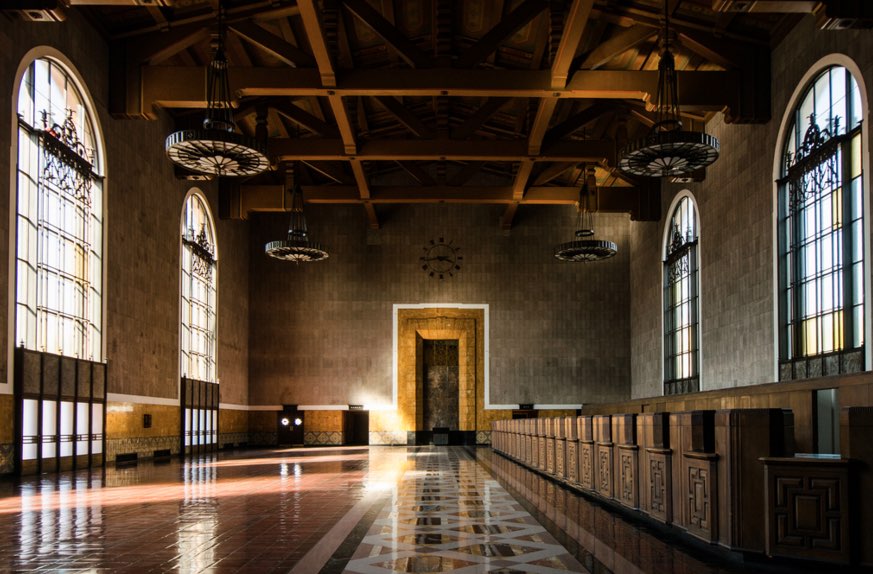 As Los Angeles finds its way out of the pandemic and restrictions gradually ease, we're continuing our bi-weekly round-ups of fun to-dos, mixing in the occasional online/virtual event with an ever-growing listen of in-person experiences.
This weekend, from July 30 to August 1, features the LA Art Show, Plantopia at Union Station, The Princess Bride in concert, a Grand Performances dance party, and more!
Friday / All Weekend
1. KCRW Summer Nights at California African American Museum -> Enjoy live sets from KCRW DJs Novena Carmel and Aaron Byrd, plus after-hours museum access including to CAAM's newest exhibition, Sanford Biggers: Codeswitch. Guests can also enjoy bites and sips for purchase via on-site food trucks and beer garden. Free to attend. Masks required. More info here. [UPDATE: KCRW has decided to postpone their first three Summer Nights events, including the one that was to be held at CAAM Friday, July 30, due to the rise of the Delta variant in L.A. County.]
2. LA Art Show -> The city's biggest art show returns to the Los Angeles Convention Center from July 29 to Aug. 1. An opening night reception will be held on Thursday ($250 tix) and then the show will be open for general admission from noon to 8 p.m. on Friday to Sunday ($30 tix). Get more info here.
3. Ultra -> The Torrance Art Museum has collaborated with over 20 artists to create a series of public art installations freely accessible in locations around the City of Torrance, now through Aug. 28. More info here.
4. Gallery Weekend Los Angeles -> From July 28-31, a group of Los Angeles Art galleries is banding together to offer extended hours and special events as a way to encourage art viewers back to physical spaces. Check the full list of participants and dates here.
5. Parks After Park Movies -> LA Parks After Dark the public can take advantage of a wide range of free community program this summer across 33 parks. Friday night movies, arts and health workshops, and Saturday night concerts are all parts of the program. This Friday's lineup includes Dora and the Lost City of Gold at Belvedere Park and Coco at Charter Oak Park in Covina. Check the link for the full lineup.
6. Levitt Concerts Return -> The first in-person concert of 2021 at the Levitt Pavilion in McArthur Park is this Friday. The event will features a live performance by Mexican singer Flor Amargo plus a DJ set by La Banda Elastica. Free to attend. Starts at 7 p.m. More info here.
7. Non Fungible Jokin' -> Dynasty Typewriter is hosting the first ever in-person comedy that will be sold as an NFT on the blockchain (yes, that's a thing). Two shows, Friday and Saturday evenings. The lineup (varies by night) includes Pete Holmes, Maria Bamford, Beth Stelling, Moses Storm, Chaunte Wayans, Adam Raym Ian Edwards, Brooks Whelanm, and Zainab Johnson. Tickets are $30. More info here.
8. Beer & Magic -> Magicians from the Magic Castle will make a special appearance at Absolution Brewing Company in Torrance this Friday to dazzle thirsty patrons as they sample some of the brews on tap. More info here.
9. Felix LA -> Four-day art fair focused on Los Angeles-based galleries, and hosted poolside at a cabana setting on the grounds of the Hollywood Roosevelt Hotel. $75 tix still available for a four-day pass. Students with valid I.D. can receive free admission on Sunday. More info here.
10. The OC Fair -> After a 2020 cancellation due to the pandemic, this year's OC Fair returned on July 16 and runs Wednesdays to Sundays through August 15. Tickets are $12 weekday general admission (Wednesday, Thursday) and $14 for weekend general admission. General parking is $10. Get more info and purchase tickets here.
11. NHM Extended Hours -> Every Friday now through Aug. 6, Natural History Museum will offer extended Friday hours (from 5 to 8 p.m.) that feature a live DJ in the Nature Gardens along with do-it-yourself family activities and food for purchase from the NHM grill. Admission is $15 for adults and $7 for children. More details here.
12. DiscOasis -> Lights, disco, live performances, and food trucks, all presented in a lush, late-afternoon garden setting. That's the premise behind DiscoOasis, a new timed experience kicking off at the South Coast Botanic Garden this Friday, and continuing through Sep. 6. Tickets start at $39 per person. Get more info and buy tickets here.
13. Angel City Market: Summer Nights -> This week's edition of Angel City Market features over 30 small biz vendors, DJ'd music, outdoor games, kids activities, and more. Admission is free. More info here.
Saturday
14. Grand Performances -> Grand Performances summer schedule of concerts continues with an afternoon dance party to celebrate DEEP's 21st Anniversary. Music by Marques Wyatt, Jeremy Sole, Big Cee and Juliet Mendoza. Saturday from 2 to 9 p.m. Free. All ages. Outdoors. More info here.
15. Plantopia -> A plant and pottery market dedicated to all things botanical, taking place at Union Station on Saturday from 10 a.m. to 3 p.m. An assortment of plant vendors will sell leafy offerings while guests can query the Plant Doctor, Cillie Barnes (aka THE BLACK THUMB) on how to nurture ailing plants and keep them living their best green lives. Free to attend. Reservations recommended, but walk-ins will be accepted if space is available. More info here.
16. Skidrow Fashion Week x Dover Street Market -> There's a block party this Saturday to celebrate a special collaboration between philanthropic streetwear brand Skidrow Fashion Week and Dover Street Market. The limited collection of tees, hoodies and accessories will help raise money for new water fountains and showers for the residents of Skidrow. There will also be a clothing and food drive benefiting the community. Free to attend and happening from 11 a.m. to 5 p.m. outside of Dover Street Market in Downtown Los Angeles. More info here.
17. MindTravel at Santa Monica Beach -> Experience a Pacific Ocean sunset while live piano compositions are streamed to provided headphones, helping you zone in on the vibe of the moment. Offered both this Saturday and Sunday starting at 7 p.m. Tickets are $15. More info here.
18. The Princess Bride in Concert -> Catch a storybook story on the grandest of stages this Saturday when the Hollywood Bowl hosts a screening of The Princess Bride. The evening includes an intro from director Rob Reiner plus a brand new orchestral arrangement of composer Mark Knopfler's score performed by the LA Phil. Tickets still available as low as $27. More info here.
19. Sometimes Soft, Sometimes Solid -> This Saturday starting at 4 p.m., Launch LA hosts an opening reception for artist Coffee Kang's new residency, Sometimes Soft, Sometimes Solid, presented by Level Ground. Free to attend, but RSVP required. More info here.
20. Hike to Yoga -> Take a morning hike at Kenneth Hahn Park and meet up with a local group for beginner-friendly yoga. Details here.
Sunday
21. Free Self-Defense Workshop in San Gabriel -> Compassion in SGV is hosting a free public self-defense training at session at Vincent Lugo Park this Saturday with instruction by Kevin Leung of Kong's Siu Lum Pai Kung Fu Association. Complimentary refreshments and safety kits to be provided. More info here.
22. Sunday Concert in The Valley -> As part of theThe Valley Cultural Foundation free summer concert series, Fleetwood Mac tribute Mirage and Heart tribute band Dog n Butterfly will perform this Sunday at Warner Park. No ticket required, but advanced paid parking and VIP packages available. Concert starts at 5:30 p.m. More info here.
23. Free Sunday at MOLAA -> The Museum of Latin American Art in Long Beach recently reopened, and it still offers free Sunday admission. More info here.
24. Reggae Night at The Bowl -> KCRW's World Festival continues this Sunday at the Hollywood Bowl with performances by Ziggy Marley and Wailing Souls. Tickets still available as low as $38. More info here.
Dining
25. Zodiac Pop-up Bar -> Eataly LA will debut a new Zodiac Pop-up Bar on Saturday during brunch at rooftop restaurant Terra. In partnership with The Spirit Guild, guests will fill out their name, zodiac sign and spirit of choice on a card and Terra's expert bartenders will create a special cocktail delivered with an astrology affirmation tailored to the person. The program happens every Saturday during brunch through October 2.
26. Paper Please x Lem Party Pop Up -> Chinatown stationery shop Paper Please will host a food pop-up at their store this Saturday with small batch charcuterie company Lem Party and Hello Bakery selling mini snack cups ($7) that include salami, an assortment of cheese and crackers. The pop-up runs from 9 a.m. to 2 p.m. or until sold out.
27. Taste of Lunetta Menu -> Chef Raphael Lunetta created a special coastal Italian themed "Taste of Lunetta" menu available now until Satruday. Guests will savour five courses for $68 that include sweet corn summer ravioli, herb wood grilled swordfish, mixed berry bread pudding and more. Reservations are highly recommended.
28. Genghis Cohen -> The New York style Chinese restaurant is opening its dining room on Sunday, August 1 for the first time since March 2020 and they've also added 24 outdoor seats to their front patio.
---
Any notes or corrections? Want to suggest an event we should add to an upcoming list? Hit us up at [email protected].