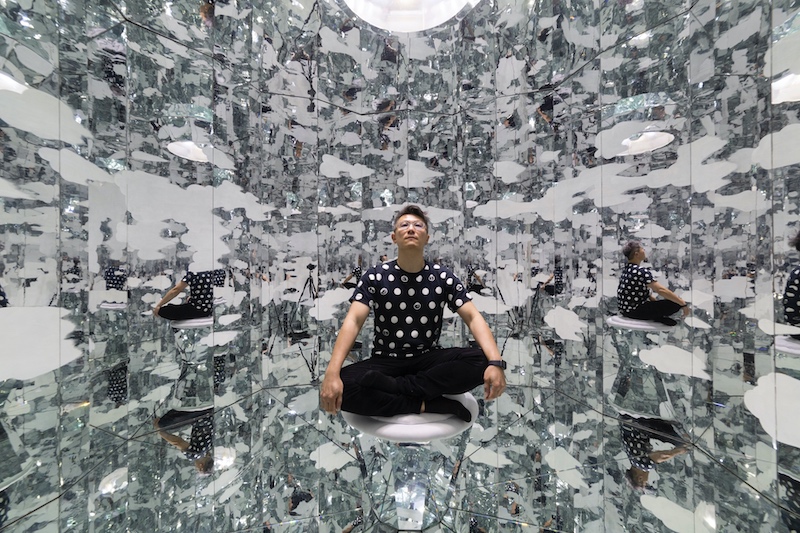 There's always lots to do in Los Angeles, and per usual we're here with a bi-weekly (Monday and Thursday) rundown of the best of what's happening in the city and county.
This week, from July 5 to July 9, features Divine Immersion at the Pacific Asia Museum, a Cardboard City on 3rd Street Promenade, the 626 Night Market in the SGV, National Fried Chicken Day, more!
Monday
1. Grand Park's Portraits of Freedom: Building a Life in L.A. -> Now through the end of the month, Grand Park in DTLA hosts a month-long public art installation examining the themes of home and freedom, with publicly viewable photography, video exhibitions, and a special nighttime projection installation. Free to the public. More info here.
2. The Art of the Brick -> The latest exhibit at the California Science Center showcase the world's largest display of LEGO® art. Timed-entry required for the museum. Special exhibit prices run $19.75 for adults and $12.75 for kids. More details here.
3. Jazz Eclectic -> On Mondays starting at 8 p.m., head to Riviera 31 at the inside Sofitel Los Angeles at Beverly Hills for an evening of jazz music led by Ryan Cross and his band show, alongside special guest performers. No cover, but a table reservation is recommended. More info here.
4. L.A. LIVE -> L.A. LIVE's Summer Series lineup kicks off with restaurant week specials at Katsuya, Paxti's Pizza, and Sovca. Get more info on the special menus here.
Tuesday / Throughout the Week
5. Thinkspace Gallery -> Starting July 3, Thinkspace will present a new limited-run exhibition entitled Real Life is Fragile, group shows featuring 10 creative artists from West African. Show ends on July 10. Admission is free, but limited. Masks required. More info here.
6. The Plastic Bag Store -> In association with CAP UCLA, artist/director Robin Frohardt has produced a public installation that critiques consumer culture by creating a faux retail store featuring thousands hand sculpted item, each made from discarded single-use plastics found on the streets and in garbage dumps. The installation is free to visit with reservations, though there is a $10 suggested donation. Runs from June 30 to July 11 at gallery space in the Arts District. Get more info and book a timed visitation slot here.
7. Legacies of Exchange ->The Los Angeles County Museum of Art (LACMA) presents Legacies of Exchange: Chinese Contemporary Art from the Yuz Foundation. Featuring Ai Weiwei, Huang Yong Ping, Wang Guangyi, Xu Bing, and more, the exhibition brings together 20 works of Chinese contemporary art created by 15 artists in response to international trade, political conflict, and global artistic exchange. Runs through Feb. 13, 2022.
8. The Petersen Automotive Museum -> ADV:Overland is a new exhibit in partnership with the Motorcycle Arts Foundation featuring 23 vehicles that celebrate the spirit of adventure through "off- road" and "off-world" motorcycles and other related vehicles. Located in the Richard Varner Family Gallery, vehicles include record-setting motorcycles, Hollywood sci-fi vehicles, and spacecraft models on loan from NASA's JPL.
9. The Autry -> The Autry Museum in Griffith Park is now reopened with two new exhibitions: Four Centuries of Pueblo Pottery and Making a Big Noise: The Explorations of Charles Lummis. Museum hours are 10 a.m to 4 p.m. on Tuesday through Sunday. More info here.
10. Hilltop Coffee + Kitchen Reopens for Indoor Dining -> Founded by Los Angeles natives Yonnie Hagos and Ajay Relan, Hilltop Coffee + Kitchen will finally open indoor dining at all three locations. Find tasty house-made lattes, espresso, and tea beverages alongside Crispy Chicken Sandwiches, Short Rib Grilled Cheese, and Beignets. Locations include Inglewood, Eagle Rock and View Park.
Wednesday
11. Free Summer Lunch Cruises -> Every Wednesday at noon, Shoreline Village in Long Beach offers a free free 30-minute harbor cruise with purchase of lunch to-go from a participating on-site restaurant. A reservation is required. Program runs through Aug. 25. Get the full details here.
12. Avi Cue x Off The Menu -> BBQ Pitmaster Avi Yalin (@avi_cue) is back for a one-night pop-up at Employee's Only this Wednesday. Known for his BBQ meets modern Middle Eastern cuisine mash ups, the menu for the pop up includes Wagyu Beef Arayes and Wagyu Beef Kebabs. An Employees Only cocktail, Karbach hard seltzer and Stella are also on the menu for the night. The event is open to the public but guests must make a reservation and pay in advance to attend. For anyone that attends the event and wants to sign up to be an Off The Menu member, use code 'bama' to join for $5 for the first month.
Thursday
13. Divine Immersion -> This Thursday, a new exhibition featuring the work of Taiwanese-American artist Nick Dong opens at USC Pacific Asia Museum in Pasadena. Dong's works invite high levels of viewer engagement, whether it's absorbing a kinetic light sculpture inspired by the Big Bang in Becoming Horizon, or self-reflecting on earthly accomplishments, fears, and pressures in Heaven. The exhibition features five of Dong's works in all. On view through Oct. 3. GA Admission is $10 for adults. Advanced tickets required. Get more info reserve tickets here.
14. Honest Purpose -> On July 8, Heidi Duckler Dance presents a special performance at the Culver City Steps to showcase the power of art in public space and celebrate of the reopening of the city. Tickets are $20, and guests are invited to attend early for a special community conversation on creating civic and commercial spaces, and the power of art to animate space. More info here.
15. The Work of Black VFX Artists –> This Thursday the Academy Museum of Motion Pictures will host a special virtual panel highlighting the shared experiences of six Black film artists in the VFX industry. Free to attend online, but registration is required. More info here.
16. Cardboard City -> Starting this Thursday, Third Street Promenade will be home to a 10,000 square foot pop-up art center featuring large-scale cardboard sculptures created by local artists and sponsoring architecture and design firms. Cardboard City is free to attend, open Thursday through Sunday from noon to 6 p.m. through Aug. 29. More info here.
17. The Fowler Museum -> UCLA's Fowler Museum has now reopened to the public with two new exhibitions on display, including a showcase of work from Cameroonian photographers Jacques Toussele, Joseph Chila, and Samuel Finlak. Hours are Thursday through Sunday from noon to 5 p.m. Admission is free. More info here.
Friday
18. NHM Extended Hours -> Every Friday now through Aug. 6, Natural History Museum will offer extended Friday hours (from 5 to 8 p.m.) that feature a live DJ in the Nature Gardens along with do-it-yourself family activities and food for purchase from the NHM grill. Admission is $15 for adults and $7 for children. More details here.
19. 626 Night Market -> The SGV's signature outdoor market returns to Santa Anita Park this weekend (July 9-11) with bites and goods for purchase from hundreds of food, merch, and craft vendors, plus arts, games, music, and entertainment attractions for the whole family. Admission is $5. Parking is free. More info here.
20. Grand Performances -> The first in-person summer event of 2021 from Grand Performances features an Ethio Cali homage to the Golden Age of Ethiopian Jazz and Soul, with collaborations with DJs Rani de Leon and Cut Chemist. Free. All ages. Outdoors. More info here.
21. Summer Weekend of Noir -> Hollywood Legion Theater is hosting a three-day run of classic Noir films, kicking with a double-feature this Friday of Nightmare Alley (1947) & The Big Clock (1948). Tickets start at $22 per adult. More info here.
22. The Huntington -> Enjoy the gardens during twilight hours Fridays through Sundays when The Huntington hosts Summer Evening Strolls from 4:30 p.m. to 8 p.m. June through August. Advance tickets ($20 per adult) are required.
Dining
Celebrate National Fried Chicken Day on July 6 with a few of our favorite spots below:
23. Poppy + Rose -> Husband-and-wife duo Michael and Kwini Reed have perfected the recipe for buttermilk fried chicken at their DTLA restaurant Poppy + Rose. Find juicy fried chicken on top of waffles and in sandwich form topped with aioli and house pickles. 
24. Honey's Kettle -> Chef Vincent Williams has over 40 years of fried chicken experience. His casual restaurant Honey's Kettle uses a top secret batter and cooks the chicken in a kettle drum, to replicate traditional frying techniques of kettles over an open fire. The result is crispy crunchy chicken with none of the grease. Locations include the Culver City flagship and two delivery and pick up operations in Hollywood and DTLA.
25. Hotville Chicken -> Kim Prince's family has served Nashville hot chicken since 1936. Here in Los Angeles, Kim's Baldwin Hills restaurant Hotville Chicken uses a secret spice mix on the chicken and guests can choose their own heat levels from West Coast Plain, Cali Mild, Music City Medium, to signature Nashville Hot.
---
Any notes or corrections? Want to suggest an event we should add to an upcoming list? Hit us up at [email protected]