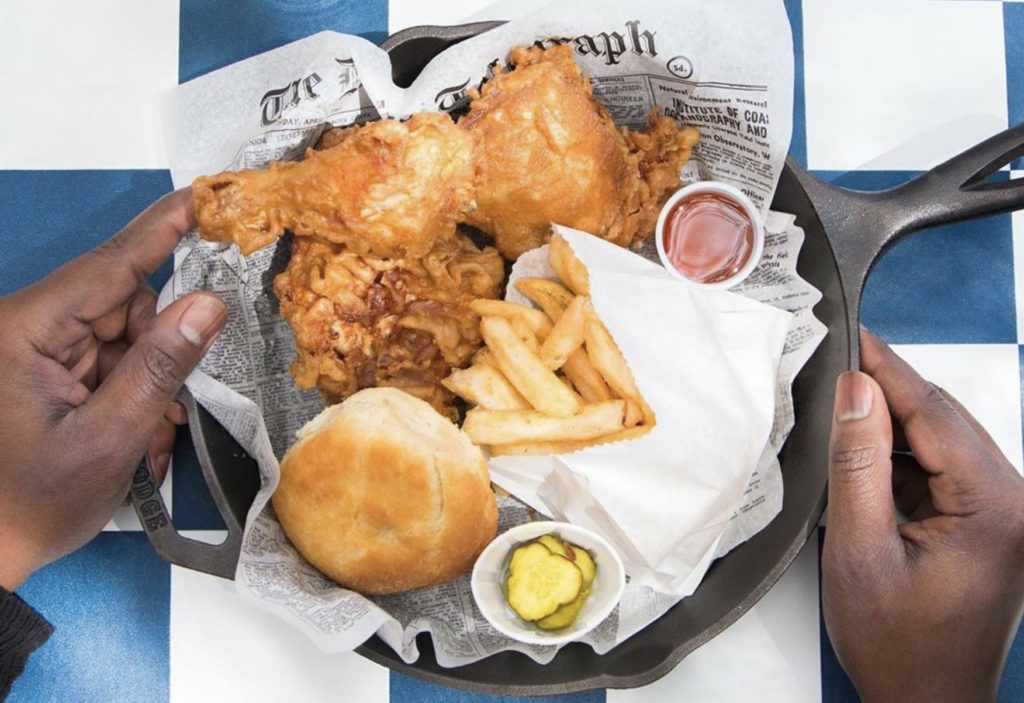 Here at We Like L.A., we're spilling the beans on where to find our favorite fried chicken in Los Angeles. We've got traditional, hot, sandwiches and everything in-between (including vegan). There's something for everyone on this mega list.
Honey's Kettle (Culver City)
Chef Vincent Williams has been perfecting his fried chicken for over 40 years. At Honey's Kettle, he uses a secret batter to fry his chicken in peanut oil inside a kettle drum, replicating traditional frying techniques of kettles over an open fire. The result is super crispy chicken with none of the grease. More information.
Hotville Chicken (Baldwin Hills)
Kim Prince's family has served Nashville hot chicken since 1936. The Prince's Hot Chicken Shack in Nashville, Tennessee has been a mecca for all hot chicken fans around the world. Here in L.A., Kim's spot offers chicken fried in her secret spice mix then paired with a slice of white bread and dill pickles. Choose your heat level from West Coast Plain, Cali Mild, Music City Medium, or the signature Nashville Hot. More information.
Krispy Krunchy Chicken (Alhambra)
Don't discount this Cajun fried chicken counter inside of a convenience store. You can grab fried chicken, tenders, and saucy wings here. Finish your order with a couple of beers; the store is fully stocked. More information.
Doomies (Hollywood)
These guys have perfected American comfort food made vegan. Their fried chicken is one of the most popular items on the menu. Yes, it tastes like the real thing. Watch out for the "bone" when you sink your teeth into the drumstick. Enjoy friend chicken as a meal with sides, Nashville Hot Tenders or sandwiched between a bun. More information.
Tokyo Fried Chicken (Monterey Park)
The marriage of Japanese flavors and Southern-style fried chicken has been a huge hit at this SGV eatery. Fried chicken is served with house-made ponzu honey and sides include truffle edamame, dashi collard greens, and soy-glazed yams. More information.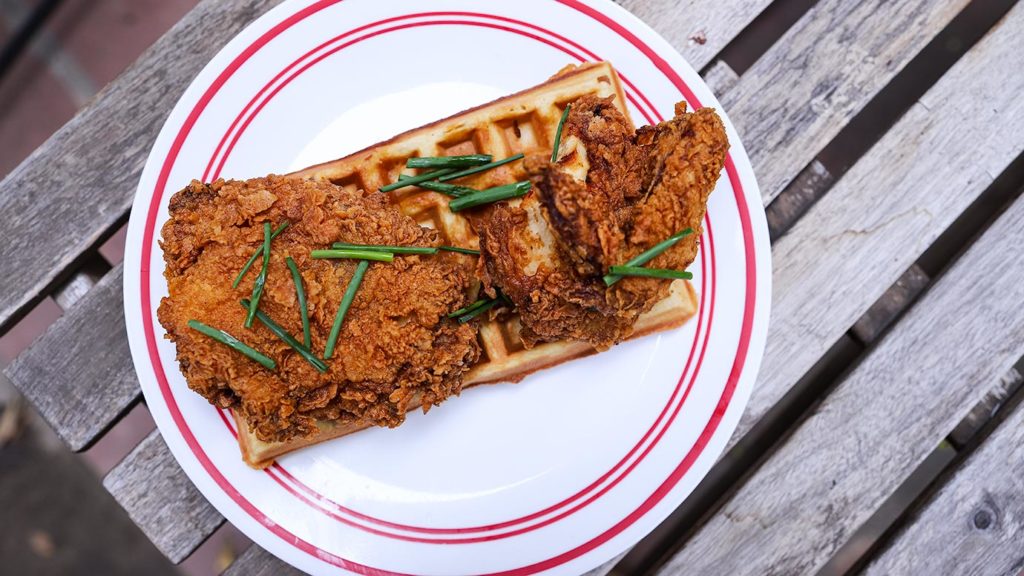 Poppy + Rose (DTLA)
You can find buttermilk fried chicken & waffles with smoked honey butter and chives on the breakfast menu at chef Michael Reed's American comfort spot. A fried chicken sandwich topped with aioli and house pickles is also on the menu. Or get fried chicken as a side for $3. More information.
Dave's Hot Chicken (Multiple locations)
This popular fried chicken tenders spot offers seven levels of spiciness from "no spice" to "reaper." Tenders can be made into sliders and your meal comes with crinkle fries. More information.
Comfort LA (DTLA & Inglewood)
Comfort LA started as a pop-up by actor-turned-chef Jeremy McBryde and business strategist Mark E. Walker. Focused on locally sourced organic ingredients and healthier cooking methods, they offer organic fried chicken wings, classic sides, and an eye-catching spicy chicken sandwich on a black bun. More information.
My Vegan Gold (Silver Lake)
This Thai-influenced restaurant offers a detectible drumstick starter made with soy protein and served with your choice of bbq or buffalo sauce. They also have "fried chicken" as a wrap, nuggets, or sliders. More information.
Jim Dandy (Vermont Vista)
Old-school Southern-fried chicken is what you'll get at Jim Dandy. Choose between crispy (original) or spicy and definitely add the corn fritters, as famous as the chicken. Make sure you have some cash on hand because they don't accept credit cards. More information.
Dulan's Soul Food Kitchen (Inglewood & Westmont)
This legendary soul food spot has seen many dignitaries and celebrities stop in for a bite. They serve Southern-fried chicken with a couple of sides and cornbread. Come with a large appetite. The portions are extremely generous. More information.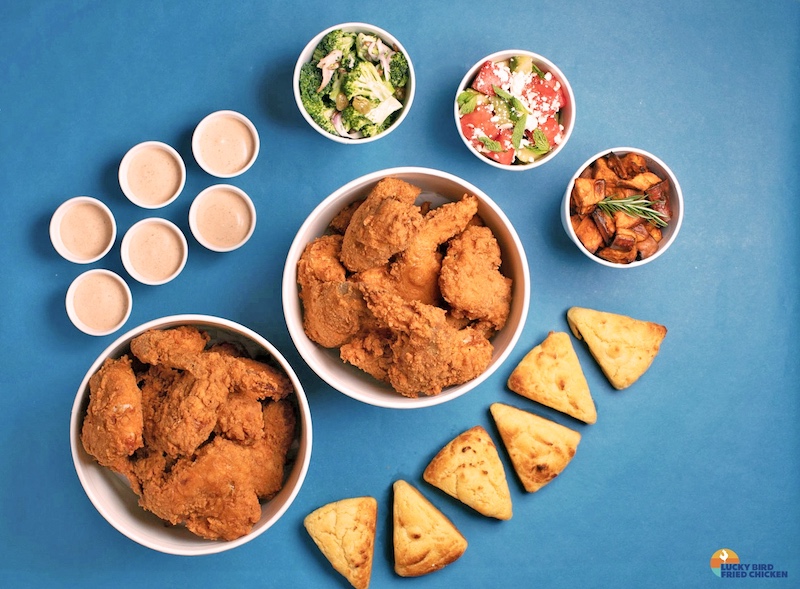 Lucky Bird (DTLA & Eagle Rock)
Lucky Bird makes everything from scratch, even the hot sauce. The organic free-range chicken comes in many forms including wings, sandwiches, filled in a bucket, and on salads. Add on sides include waffles, cast iron corn bread, slaw, mac & cheese and more. More information.
Sweet Chick (Fairfax & Dodger Stadium)
The west coast locations of this Brooklyn-born Chicken & Waffles operation offer a number of fun sandwich creations like a Spicy Honey Butter Friend Chicken Biscuit alongside a classic chicken and waffles, and crispy chicken on salads. More information.
Dinah's Chicken (Glendale)
The Pearson Family has owned and operated Dinah's Chicken since 1967. A blend of four different flours plus 11 herbs and spices coats the chicken, which is then broasted to seal in the juices. More information.
Gus's World Famous Fried Chicken (Multiple Locations)
This fried chicken empire started in the South over 60 years ago with one recipe that went on to open 29 locations in the U.S. We're lucky to have three (Burbank, Long Beach, and Mid-Wilshire.) More information.
A.O.C. (Beverly Grove)
The Spanish-fried chicken has been a staple at Suzanne Goin's wine bar. It's served with a romesco aïoli and chili-cumin butter during dinner and gets a cornmeal waffle during brunch. More information.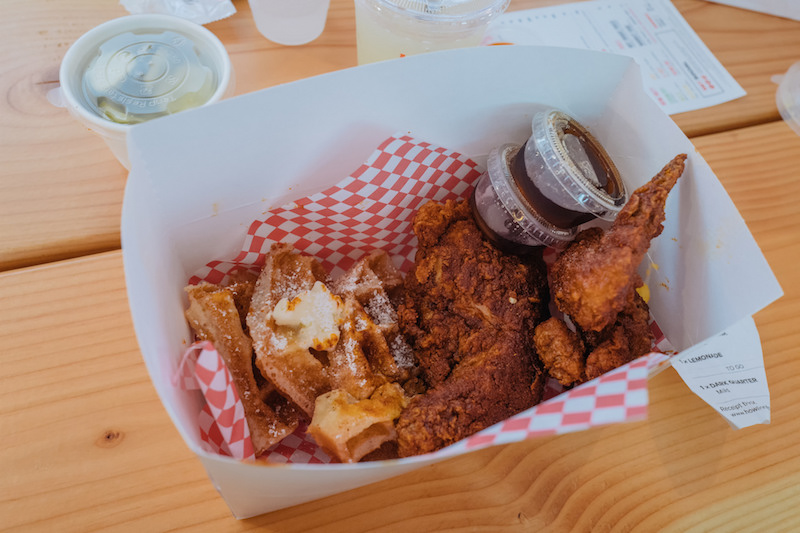 Howlin' Ray's (Chinatown)
The Nashville hot chicken obsession known for its epic line is still going strong. Get your chicken "country fried" if you can't do spicy or "howlin' hot" if you want to melt your face off. Chicken is served with white bread and pickles. More information.
Chao Krung (Fairfax District)
The Thai garlic chicken wings are marinated in fish sauce and fresh garlic, then topped with fried garlic and served with sweet chili sauce. More information.
Boneyard Bistro (Sherman Oaks)
On "Fried Chicken Mondays" at this popular BBQ spot, you can get a half chicken. Choose from traditional or Nashville hot. More information.
HoHo Chicken (Westlake)
The Korean fried chicken spot lets you season your chicken in a variety of Korean and American flavors. Chicken comes out crumbly in the best way and the meat is juicy on the inside. More information.
The Chicken Koop (Multiple Locations)
This place has all your chicken craving needs. From fried chicken & waffles (weekends only) to stacked sandwiches, chicken nachos, and chicken poutine, the list seems endless. More information.