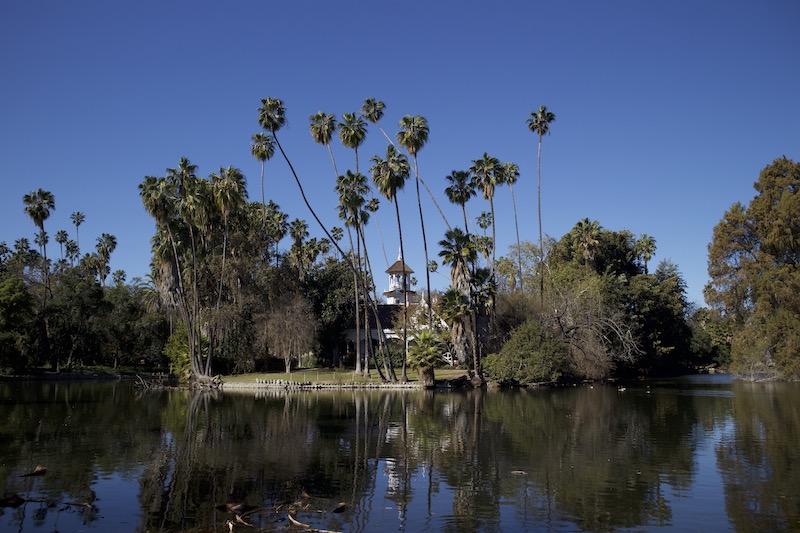 As Los Angeles finds its way out of the pandemic and restrictions gradually ease, we're continuing our bi-weekly round-ups of fun to-dos, mixing in the occasional online/virtual event with an ever-growing listen of in-person experiences.
This weekend, from July 9 to July 11, features the return of 626 Night Market, a Night Sky Star Party at Paramount Ranch, a Bazaar Bizarre at Zombie Joe's, Pasadena POPS at the Arboretum, an outdoor art experience in Santa Monica, Grand Performances in DTLA, and more!
Friday / All Weekend
1. Bazaar Bizarre -> Bazaar Bizarre is part rummage sale and part immersive experience, taking place nightly from 7 to 10 p.m. from tonight through this Sunday, July 11 at Zombie Joes Underground Theatre in North Hollywood. It's free to walk around the sale, while tickets to the immersive performance will run you $10. Ages 15 and up only will be admitted.
2. NHM Extended Hours -> Every Friday now through Aug. 6, Natural History Museum will offer extended Friday hours (from 5 to 8 p.m.) that feature a live DJ in the Nature Gardens along with do-it-yourself family activities and food for purchase from the NHM grill. Admission is $15 for adults and $7 for children. More details here.
3. 626 Night Market -> The SGV's signature outdoor market returns to Santa Anita Park this weekend (July 9-11) with bites and goods for purchase from hundreds of food, merch, and craft vendors, plus arts, games, music, and entertainment attractions for the whole family. Admission is $5. Parking is free. More info here.
4. Grand Performances -> The first in-person summer event of 2021 from Grand Performances features an Ethio Cali homage to the Golden Age of Ethiopian Jazz and Soul, with collaborations with DJs Rani de Leon and Cut Chemist. Free. All ages. Outdoors. More info here.
5. Night Sky Star Party at Paramount Ranch -> The Santa Monica Mountains invite the public Night Sky Conservation and Constellation Tour at Paramount Ranch on Friday from 8-10:30 p.m. The presentation will be followed by a star party with telescopes for public use. This event is free to attend.
6. Cinelounge Sunset -> Boutique art house theatre Cinelounge in Hollywood is open for indoor and outdoor movie screenings. This weekend they'll screen Summer of Soul, The Exorcist Extended Directors Cut and Boogie Nights.
7. Summer Weekend of Noir -> Hollywood Legion Theater is hosting a three-day run of classic Noir films, kicking with a double-feature this Friday of Nightmare Alley (1947) & The Big Clock (1948). Tickets start at $22 per adult. More info here.
8. The Art of the Brick -> The latest exhibit at the California Science Center showcase the world's largest display of LEGO® art. Timed-entry required for the museum. Special exhibit prices run $19.75 for adults and $12.75 for kids. More details here.
9. RECONNECTING: A Vision of Unity -> A new exhibit by artist Kengo Kito is now on display at Japan House LA. Kito's work takes 2,021 hula hoops to create a massive, unified art piece that explores issues of connection and re-connection in the wake of the past year's unprecedented events. Admission is free to the gallery. Walk-ins accept, reservations are recommend. Exhibits runs from June 16 to Sep. 6. Learn more here.
10. The Huntington -> Enjoy the gardens during twilight hours Fridays through Sundays when The Huntington hosts Summer Evening Strolls from 4:30 p.m. to 8 p.m. June through August. Advance tickets ($20 per adult) are required.
11. Legacies of Exchange ->The Los Angeles County Museum of Art (LACMA) presents Legacies of Exchange: Chinese Contemporary Art from the Yuz Foundation. Featuring Ai Weiwei, Huang Yong Ping, Wang Guangyi, Xu Bing, and more, the exhibition brings together 20 works of Chinese contemporary art created by 15 artists in response to international trade, political conflict, and global artistic exchange. Runs through Feb. 13, 2022.
12. Marina Drive-In Movies -> The Marina Del Rey drive-in movie series continues this weekend with two nights of screenings. Trolls and The Goonies play Friday followed by The Wizard of Oz and Ferris Bueller's Day Off on Saturday night. Tickers run $20 per car (includes all passengers), max 8 people per vehicle. See the full schedule for the season and reserve a spot here.
Saturday
13. LEFT/RIGHT/HERE -> On Saturday, the 18th Street Arts Center in Santa Monica hosts one-night only interactive outdoor and indoor art experience featuring contributions from more than a dozen artists as part of the exhibition Recovery Justice: Being Well. Free to attend, but reservation required. Get more info here.
14. Secret Movie Club -> The Secret Movie Club returns to the Million Dollar Theatre for a weekend matinees series screening David Lynch's Eraserhead and Mulholland Drive.
15. Angel City Market -> Outdoor market in Inglewood that brings 60+ vendors together and offers outdoor games, a live DJ, a photo booth, and more. Pet friendly. Free to attend. More info here.
16. Date Night Drive In / Silents Under the Stars -> Co-hosted by Hollywood Heritage and sponsored by Music in Motion, Date Night Drive In will screen Buster Keaton's Our Hospitality at the historic Paramount Ranch. Tickets are $40 per car and include free popcorn. Donations go towards helping restore the historic buildings at Paramount Ranch that were destroyed by the Woolsey Fire back in 2018. More info here.
17. The Great L.A. River Cleanup -> Friends of the Los Angeles River (FoLAR) is hosting multiple trash and debris cleanups along the L.A. River this Saturday. Registration information, along with a schedule of other cleanups scheduled for this summer, can be found here.
18. Pasadena POPS -> The Pasadena POPS summer concert series is back this Saturday with a performance by The Road to Motown at the Los Angeles County Arboretum. Entry to all Pasadena POPS concerts will require proof of receiving a fully completed Covid-19 vaccine at least two weeks prior to the concert date.
19. Parks After Dark -> The 10th annual Parks After Dark hosted by the Pasadena Parks, Recreation, and Community Services Department (PRCS) returns with a full schedule of activities including basketball games, soft ball tournaments, swimming , movie screenings, coffee and tea workshops and so much more. Registration and the schedule can be found here.
20. Street Food Cinema -> The 10th season of SFC continues with a screening of Indiana Jones and The Raiders of The Lost Ark at L.A. State Historic Park and Mean Girls at Will Rodgers State Historic Park. Tickets will be sold for socially distanced pods of 2, 4, or 6 attendees. A two-person GA pod starts at $46. Get tickets and more information here.
21. Will Geer's Theatricum Botanicum -> Enjoy a production of Julius Caesar under the stars this Saturday when Will Geer's Theatricum Botanicum Repertory's season of outdoor theater shows return for the summer.
Sunday
22. Burger Week -> The second annual Burger Week (July 11-17) will feature restaurants in Los Angeles, Orange County and Long Beach hosting burger-centric menus priced at $10, $15, $20 and $25.
23. $1 Micheladas at Golden Road -> Prepare to celebrate National Michelada Day on July 12 with Golden Road Brewing's newest canned michelada, the Guava Chelada Cart for the special price of $1 per can (no limit, while supplies last) from Sunday, July 11 through Saturday, July 17 from noon to 4 p.m. Available at Atwater, Anaheim and Huntington Beach pub locations, the Guava Chelada Cart special can be accessed through this link here starting July 11 to order for delivery or pickup. Consumers can also visit any of these three locations and purchase to-go on-site, as well as call ahead for pick up. 
24. Smorgasburg -> ROW DTLA's weekly outdoor food market is back for the summer season with dozens of vendors offering an array of foods and goods. Free admission. More info here.
25. When Worlds Collide -> On Sunday, the Los Angeles Jewish Film Festival presents a special virtual screening of Kenny Scharf: When Worlds Collide, which documents the life of the Los Angeles-born pop artist. This special online event will be followed by a rare Q&A with the Los Angeles artist himself. Tickets are $10. More info here.
26. Rose Bowl Flea Market -> Happening on the second Sunday of every month, the Rose Bowl Flea Market has showcased the best in vintage for over 50 years.
Dining
27. Arth Bar + Kitchen -> New modern Indian restaurant Arth Bar + Kitchen opened in Culver City this week serving an eclectic menu of reimagined Indian dishes and craft cocktails in a contemporary atmosphere. Menu highlights include the Bombay Burger, "Sexy Fries" topped with green chutney, tomato gravy, with mayo and several proteins cooked in tandoor ovens.
28. Bar Calo -> The mezcal bar in Echo Park has reopened with a new menu of cocktails by Josh Goldman and shareable bar bites.
---
Any notes or corrections? Want to suggest an event we should add to an upcoming list? Hit us up at [email protected].